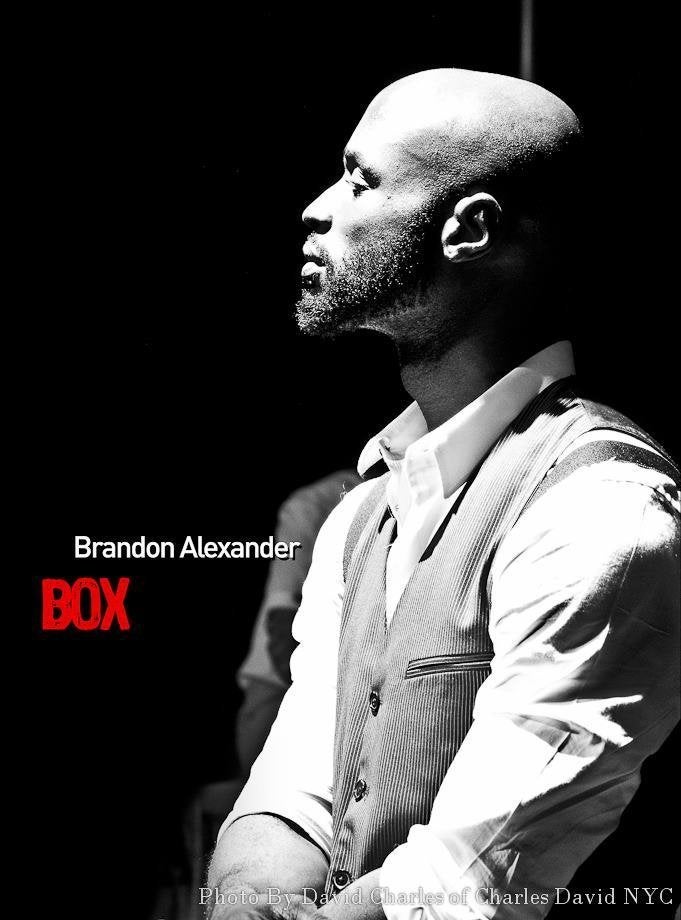 From the moment I saw my first Broadway show at the tender age of five, I began to recognize the power of theatre. As I sat watching Stephanie Mills sing her teenage heart out as Dorothy in The Wiz, I had an immediate connection with a girl who looked like me. More important, the play left an indelible impression on my mind to hear and see the story of The Wizard of Oz from an African-American perspective. Through the years I have been moved by theatre ranging from Edward Albee to Tennessee Williams. I celebrate the brilliance of August Wilson and Lorraine Hansberry for telling stories of the African-American experience. Several days ago, I was so moved by a performance of Box, a new off-Broadway play, I woke up in the middle of the night thinking about it. Days later I am still inspired by the play's powerful performances and themes about Haiti, slavery, the African male diasporan experience, immigration, and the cost of freedom.
Written by award-winning playwright Fred Shahadi, Box explores the journey of four Haitian men who stow away aboard a freighter in 1988 seeking freedom by sealing themselves inside a large coffee container. In their quest for freedom, the ghost of historical figure Henry 'Box' Brown, a former slave who mailed himself in a large, wooden box to freedom in 1848, confronts each of them as they come to grips with their mortality. The production dares to deal, among other things, with the touchy issue of immigration. We watch and listen to men willing to risk their lives as well as defy the law to flee a country and society collapsing upon itself due to the violent and oppressive Jean-Claude 'Baby Doc' Duvalier regime. Fred Shahadi intricately weaves a plot that allows the audience to reach the conclusion that slavery in 1848 and contemporary Haitian life in 1988 are almost eerily similar.
Box is quite unique to the New York stage because of its all African-American male ensemble cast. The actors are a veritable tour-de-force interpreting Mr. Shahadi's words in four well-paced acts full of pathos, pain, and socio-political commentary. Kevin Brown (Magnum) is a familiar face on the comedy circuit as well as the Emmy Award winning sitcom 30 Rock. Lawrence Saint Victor (Edgar), formerly of Guiding Light is a stage-trained actor who appeared last year in the off-Broadway production of Black Angels Over Tuskegee. Ayinde Howell (Christophe) is also a DJ and spoken word performer with a fair amount of stage performances and film credits under his belt. Brandon Alexander ('Box' Brown) was an athlete during his early years of college who transitioned into acting and is a 'quiet storm' on stage. Rashad Edwards (Toussaint) utilizes the full-force of his training as he throws himself into his role.
Equally significant, the production team is a beautiful mosaic. Fred Shahadi is a man of Italian and Lebanese descent. Director Mariska Phillips is an African American woman. All of the producers (Emilyn Stuart of Stuart Films, LLC, Kevin Brown of Browntown Entertainment, Michael Peoples of Michaela Productions, and Fabrice Armand of Fabrice J. Armand, Inc.) are of African descent. This team is an excellent example for young people to see that it is just as important to have people of color behind the scenes as well as on the stage or in front of the camera. Kevin Brown has the good fortune of co-producing and acting in Box. For the youngest producer, twenty nine year old Fabrice Armand, the play is another component of his philanthropic work to bring attention to his beloved Haiti and the post-earthquake role of America as well as other countries in the rebuilding efforts.
Laughing Between the Tears
In an age when too many of us are accustomed to having emotional experiences served to us via formulaic television and cinema, Box gives the theatergoer an opportunity for an authentic connection. Behind-the-scenes, the actors have gone through the full range of emotions to bring forth stories based in reality. Magnum is a brutish character using his imposing physique and harsh words as a cover for his damaged and guilt-ridden soul. Edgard is literally hungry for food as well as a better life beyond poverty and self-degradation. Christophe questions the existence of a compassionate God who allows people to live and die in awful conditions. Toussaint struggles with youthful optimism against a backdrop of political, social, moral, and spiritual corruption. Henry 'Box' Brown is a messenger sent to restore hope in the midst of hopelessness. These characters had loved ones violently ripped out of their lives, lived in anguish due to poverty and lack of opportunities, and swallowed the bitter pill of racial oppression. In spite of each man's personal struggles they are unified by the desire to cry out like their brethren during the Civil Rights era "I Am A Man."
Although many of the themes are universal, the characters and situations present a great opportunity for discussion, especially among young men of color. In a time when there is still great frustration in African American communities regarding violent crime, joblessness, and educational empowerment, Box can be an effective tool in encouraging men to open up about the internal and external forces that may be hindering their success.
Attendees should not fear that Box is a bleak and morbid tale. There is a fair share of laughter between the tears. Fred Shahadi carefully crafted the comedic beats that make it easier to get through some very tough subject matter.
Harnessing the far-reaching power of social media, people are talking, tweeting, and texting others to look inside Box the stage play. Like rolling thunder the word is spreading across communities. Those who attend the play are pleasantly surprised at the quality of the writing and acting. Box gives poetic dignity to those who suffered the indignity of slavery as well as people experiencing modern-day forms of involuntary servitude and oppression. Box provides a transformative experience by asking us a singular, cathartic question: Are we really free?
I am sure that it is only a matter of time before Box is performed in other cities and/or made into a motion picture. Its greater transformative effect begins after the audience leaves the theatre to examine the 'box' that may exist in our own lives.
Performances of Box will are running now through October 6, 2011 on Tuesdays, Wednesdays, and Thursdays at 8 p.m. and on Sundays at 3 p.m. at the Midtown Theatre at 163 West 46th Street between 6th and 7th Avenues in the Broadway Theatre District, New York, NY. For more information, you can visit www.boxtheplay.com
REAL LIFE. REAL NEWS. REAL VOICES.
Help us tell more of the stories that matter from voices that too often remain unheard.