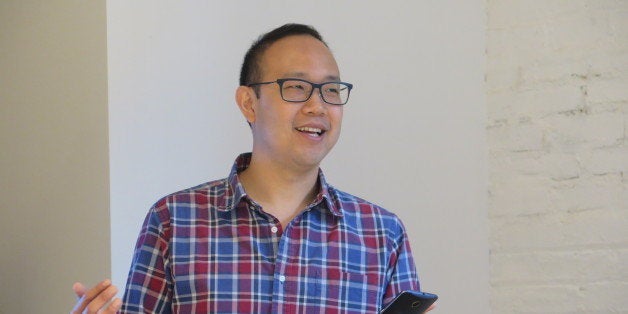 The chief executive of online wholesaler Boxed is offering workers an extremely unusual benefit: full college tuition for their children.
"If you are the child of someone who works at Boxed, it's not the lack of money that is going to prevent you from going to college," CEO Chieh Huang told Forbes writer Miguel Helft. "We're building a long term business and if you are along for the ride, we are going to invest in you."
Headquartered in New York, Boxed is an online wholesale shopping site -- basically the Web-only version of Costco. Right now the company has only about 100 employees. It is growing quickly, hiring 20 workers since January, spokesman David Taft told The Huffington Post.
And these aren't just high-paid tech workers. Two-thirds of Boxed's employees work in warehouses in Atlanta, Las Vegas, and Edison, New Jersey. Many of them make between $13-$17 an hour, noted Taft. Some are salaried and earning around $70,000 a year. The rest of Boxed's workforce is based at the company's New York headquarters, where they occupy mainly white-collar positions in marketing, legal and tech.
While some companies offer to pay tuition for workers, funding workers' kids is pretty rare outside of academia. Starbucks and Chrysler recently announced programs to cover workers' college tuition bills, but those benefits are far more restrictive, and both companies will only foot the bill at hand-picked schools.
Boxed's announcement comes at a time when income inequality in the tech industry is getting a lot of attention. Other companies also have started to address the big disparities between white-collar tech workers and those who support them -- warehouse workers, janitors, cooks, etc. Earlier this month Facebook announced it was upping pay and benefits for its contract workers, following on a similar announcement from Microsoft earlier this year. The CEO of a payments processing company just took a huge pay cut so he could pay all his workers a living wage.
Right now there are 12 kids that would qualify for Boxed's new benefit -- though only one who's old enough to take advantage of it. The son of the company's vice president of transportation is now saved from taking out loans for his stint at a state school in Pennsylvania, his father told Forbes.
Huang had been thinking of offering the benefit for a while, but just pulled the trigger on it about a week and a half ago, according to Taft. The CEO told Forbes that he was inspired to do something for his workers after the company opened a warehouse in Atlanta. At the time, he asked workers to come to a party in the evening, but many couldn't show up because they didn't own cars. According to Forbes:
While the idea of helping them pay for a car crossed his mind, he quickly realized the impact of such a move would be limited. "That wouldn't solve much," he says. "The core is education."
The benefit is not only great PR for a company you might not have heard of -- it's also a relatively low-cost way to retain employees. It's unlikely that most workers would take advantage of the benefit, either because they don't have children or their kids are too young. But it's the kind of offering worth sticking around for. The average cost of just one year's tuition at a private school is around $30,000 and rising.
"Nothing has given me more incentive to stay with the company than knowing that I could have major help in funding my kids' education," said Taft, who has an 8-year-old and a 6-year-old. "I'm just blown away by this benefit."
The offering is confined to tuition -- room and board aren't included. And Huang hasn't worked out all the details yet. Boxed is setting up a nonprofit foundation to distribute the money. The company will also seek outside investors to pitch in on costs. The foundation would presumably live on even if the company went under.
Taft said that there are no limits on the benefit's size -- public or private tuition would be covered.
Related