Boxee, the streaming media company with the funnest name this side of Roku, has unveiled its latest Internet-connected player: It's called the Boxee TV, and it's a $99 box that contains an antenna to watch broadcast high-definition television and a DVR system that gives you unlimited online storage of your recordings. It is, according to Boxee CEO Avner Ronen, the first DVR system that has no storage limits whatsoever.
Unlike other DVRs which store shows on a hard drive within the device, Boxee's "No Limits" DVR instantly uploads your recorded content via Wi-Fi or Ethernet cable into a storage locker on the Internet. You can access your recordings either on your television through the Boxee box, or on any Internet browser on your computer, tablet or smartphone on the Boxee website. With a monthly subscription fee, Boxee provides an infinite amount of online storage space for your recordings; if you choose not to subscribe to the service, you get a reduced amount of space.
What content will you be able to record? Well, the Boxee TV comes with an antenna that can pick up HD feeds from channels like ABC, Fox, NBC, and CBS (for those within the broadcast area); there's also a cable input on the back of the device for subscribers to basic cable service. Ronen swears that your DVR storage for those feeds is truly unlimited and that, if you really wanted to, you could record all day, every day, and you would not hit any kind of storage limit. The Boxee TV can record up to two channels at once, which I think we can agree is a lot of potential recorded TV.
(UPDATE: A Boxee spokesperson confirmed to HuffPost that an input on the back of the box will also accommodate cable input for existing basic cable subscribers; the Boxee TV, then, could also be seen as an accessory for cable users or those who don't get good reception from their HD antenna, as well as a device for cord cutters).
The Boxee TV itself will cost $99 (down from $180 for the old model) and the No Limits DVR service will cost $14.99 per month for access. You can, of course, just buy the Boxee TV and not pay the $15/month subscription; the company has not yet decided how much space or playback time non-subscribers will receive, but they will get some storage as well as playback on the Internet.
The Boxee TV is also pre-loaded with several apps, including Netflix, YouTube, iTunes competitor Vudu and streaming radio from Pandora. More apps will be announced at a later date, according to a Boxee spokesperson, though Boxee will keep the number of apps low in order to avoid clutter. The Boxee remote control has been redesigned and now features dedicated buttons for Vudu and Netflix; the QWERTY keyboard on the back of the old Boxee remote is gone. (Speaking of gone: The web browser on the old Boxee operating system got the heave-ho as well; explaining the decision, Ronen labeled using a browser on a television as "painful.")
Along with the available apps and remote control, the interface for the Boxee homescreen has also been overhauled. The new look emphasizes the live TV and DVR recording aspects of the service: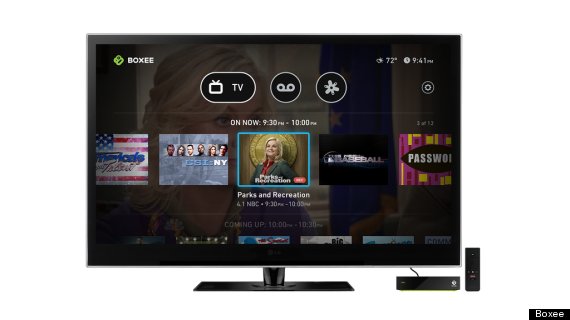 An image of the Boxee operating system, with its emphasis on live television.
The old Boxee Box -- which started Boxee's push into live television with an optional antenna dongle -- will be discontinued, and the operating system will no longer be updated. Boxee is now focused on Boxee TV.
The goal of the new product, per Ronen, is for the Boxee TV to become "Input 1," or the first device you turn on when you power up your television. He thinks that the combination of live television, recorded programs and access to films and TV shows on Netflix and Vudu is enough to convince many Americans to use Boxee as the primary device for their main televisions.
Boxee is taking pre-orders for the device on its website and the Boxee TV will be available on Nov. 1. The DVR service will premiere on that date in the top eight television markets -- New York, Los Angeles, Chicago, Dallas, Houston, Atlanta, Philadelphia, Washington, D.C. -- to begin with, and then roll out to more cities in the following months.

Below, you can check out a few photos of the new Boxee with No Limits DVR. What do you think? Would you pay $14.99 a month for the service? Is this a game-changer, or just another streaming media player?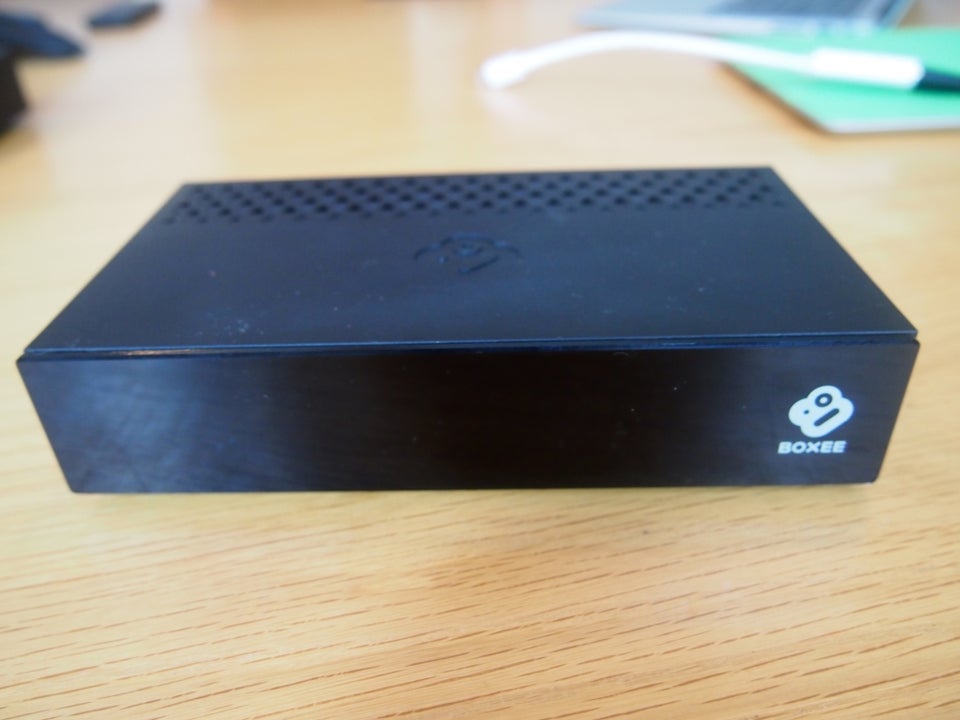 Boxee TV, With No Limits DVR
Related
Popular in the Community