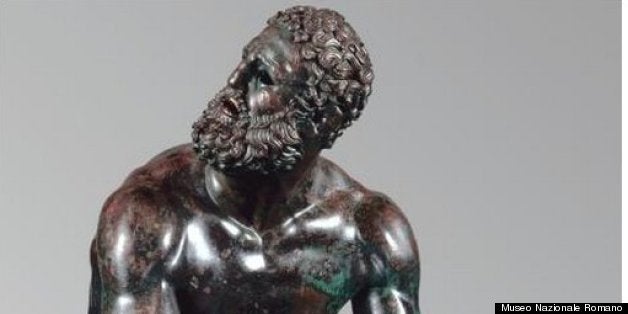 One word, spectacular. The Boxer at Rest, on loan from the National Museum of Rome, will be unveiled in the United States for the first time at the Metropolitan Museum of Art in New York this June 1 and remain on exhibit through July 15, 2013 as part of the Year of Italian Culture in the United States. This exceptional masterpiece in bronze, depicting a nude pugilist resting on a boulder, was unearthed in 1885 after centuries of burial beneath "Il Quirinale", one of the seven hills of Rome. It is an inspirational exhibition.
Boxer at Rest, Greek, Hellenistic period, late 4th-2nd century b.c. -- Bronze inlaid with copper, H. 128 cm. Museo Nazionale Romano - Palazzo Massimo alle Terme, inv. 1055Lent by the Republic of Italy, 2013 -- Image courtesy of Soprintendenza Speciale per i Beni Archeologici di Roma -- Museo Nazionale Romano - Palazzo Massimo alle Terme.
And it is just one of the many that have been presented, some still ongoing and others yet to come, under the Year of Italian Culture in the United States, launched by the Ministry of Foreign Affairs and held under the auspices of the President of the Republic, Giorgio Napolitano. Over 80 U.S. institutions and organizations are actively involved with us in a genuine spirit of partnership and cooperation to bring to the American public different facets of Italy: Science and Technology, Art, Music and Theatre, Cinema and Photography, Promotion of Italian Language and Literature, Italian Brand and Design, Tastes and Flavors, Italian Territories, and Next Generation (programs and events for youth.)
A main objective of our initiative is to bring here, to the most important country in the world, the best that Italy has to say through the riches of its cultural tradition and the elegance of its Made in Italy. When we dress or look at an automobile, when we sit at table or furnish our homes, there is often a dash of Italian taste in our choices. Because Italy has been, and fortunately will continue being, a source of inspiration thanks to its creativity and capacity for innovation. In fact, "Italy inspires U.S." is the slogan we have chosen to best encapsulate the meaning of the Year of Italian Culture in the U.S. What we want to express, unassumingly but with legitimate pride, is that Italy is more than a country: it is a lifestyle.
The official inauguration of our initiative this past December 12 brought Michelangelo's celebrated David-Apollo to the prestigious National Gallery of Art in Washington. Exhibitions in DC and elsewhere include a number of other masterpieces, such as Leonardo's Codex of Flight and works by Caravaggio, Chia, De Chirico, and Morandi. Science and technology have a central role, with exhibits that celebrate Galileo and 50 years of cooperation in space between Italy and the United States, seminars on nanotechnologies and Italian Scientific Parks. The Italian Brand and Design are featured in presentations that range from the architecture of Gio' Ponti to the Barrique project that transforms disassembled barrel staves into works of art. In the field of music, 2013 brings celebrations of the Verdi Bicentennial, and the performances by renowned artists, Riccardo Muti and Maurizio Pollini, to name just two, in premier theatres and concert halls, as well as performances by some of Italy's most prominent orchestras, as the Accademia del Teatro alla Scala. Italian theater is showcased, for example, by De Filippo's The Voices Inside staged by the Piccolo Teatro of Milan in Chicago, and Pinocchio by Massimiliano Finazzer Flory all across the United States.
It's about over 200 events in more than 50 U.S. cities, for the most part made possible by private funding, beginning with corporate Ambassadors ENI and Intesa San Paolo. The Italian American community too is an enthusiastic supporter of this initiative. To keep up to date on the events, I invite everyone to log on to the calendar at http://www.italyinus2013.org/, our Facebook page https://www.facebook.com/italyinus2013, and to follow us on Twitter at hashtag #2013ItalianYear.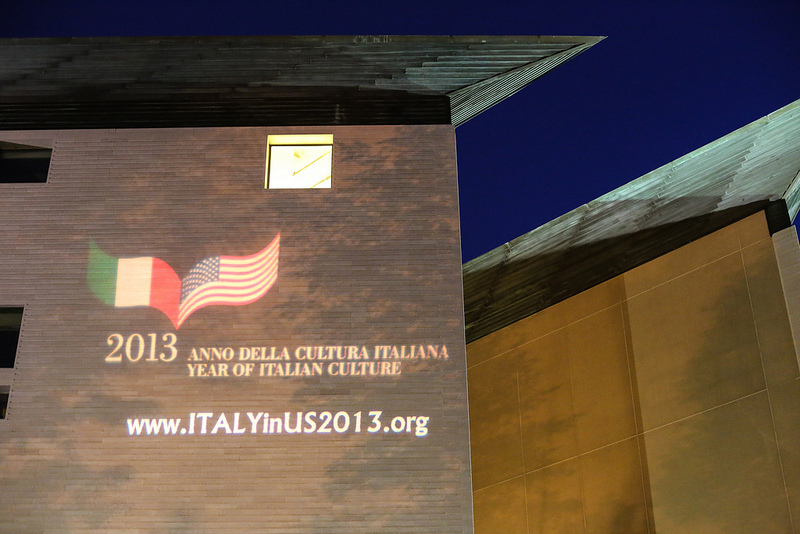 The logo of 2013 Year of the Italian Culture in the US projected on the façade of the Embassy of Italy in Washington DC.
The Year of the Culture has been very well received by the public and by U.S. authorities. In his Columbus Day Proclamation, President Barack Obama cited the Year of Italian Culture in the United States and the "durable bonds between our two countries" and emphasized that Americans would join in the celebrations of "Italy's rich heritage." Former Secretary Clinton's quip, "I thought every year was the Year of Italian Culture," will certainly be long remembered and confirmed her enthusiastic support. Her successor, Secretary Kerry, while in Rome shortly after his nomination this past February, went one step further, stating that "Italian culture is everywhere in our [United States] country," adding that "the years of Italian and American culture" have been ongoing since 1492, beginning with Columbus and Vespucci.
But the success of this initiative should not lead to complacency. To quote Henry Kissinger, "Every today's achievement is yesterday's dream". We must therefore already look forward and think about post-2013. When the curtains close on the exhibitions, conferences, concerts, seminars, performances, workshops, screenings, awards, and celebrations, the most important part of the Year will not be revealed by only the number of participants at any given event. But by the number of partnerships and long-lasting relationships that will have been established or consolidated between American and Italian institutions, universities, research centers, museums, schools, theaters, and the production sectors of both countries. That will be the most important 'legacy' of the Year of Italian Culture in the United States. It will be also a further testament to the extraordinary and enduring bonds linking our two countries.
Related
Popular in the Community