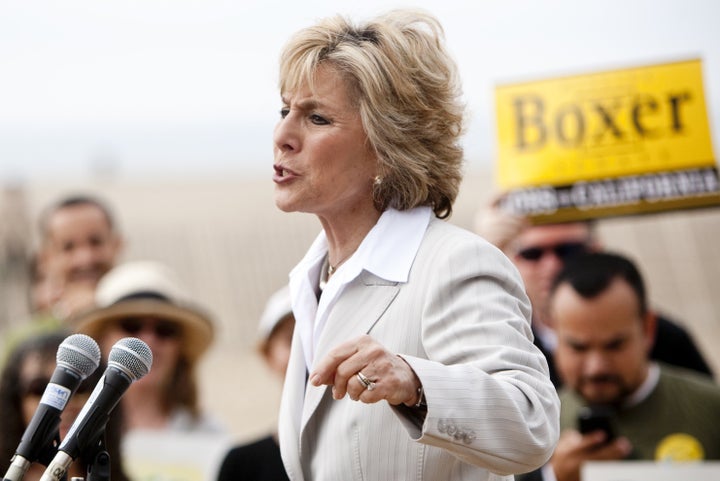 Democratic Sen. Barbara Boxer at a press conference Monday called ads targeted against her "outrageous and nasty," adding that this week the National Republican Senatorial Committee plans to roll out more of the same.
Boxer's statement comes as her race against GOP newcomer Carly Fiorina enters the final stretch and Republicans and Democrats alike are preparing to blanket the state's airwaves in political advertising.
The NRSC is slated to drop a massive $3 million TV ad buy in California this week, while the Boxer campaign has responded with an even bigger $4 million dollar ad buy of their own, according to the National Journal's Hotline on Call.
While recent polling shows Boxer with an 8-point lead, Republicans hope this new spate of advertising can change the direction of the race.
With this week's ad buy, the NRSC will have spent close to $8 million to support Fiorina's campaign, a clear indication Republicans believe the race is in play.
Boxer meanwhile, declined to talk about her own media campaign, instead emphasizing the importance of voter turnout. "We're just going to do what we're doing," she told reporters at a press event held at a San Jose-based solar panel manufacturer Monday. "We just have to get people to the polls -- regardless of what they throw at me we're going to just keep on walking the walk and talking the talk and telling the truth about the choices here."
"There are so many ads on television," added Sen. Dianne Feinstein, who joined Boxer at the event Monday. "It doesn't do a lot of good."
Feinstein took the opportunity to tout Boxer's accomplishment's on Capitol Hill, telling reporters it would be "tragic" if Boxer lost because, as a veteran Senator and Chair of the Committee on Environment and Public Works, she's in a position of relative power. "You don't get there when you're a freshman," said Feinstein.
Feinstein spoke with a smile on her face and an arm around Boxer's shoulder -- but when pressed her for further comment on the NRSC's ad buy, she soured.
"Hyperbole doesn't run a committee and hype doesn't solve a problem and that's what we do," said Feinstein. "I think that some of the things that are being said on the campaign trail indicate really a profound misunderstanding of what the job actually is."
The Fiorina campaign's newest ad, entitled "Crushed," was produced by Fred Davis, the same Republican consultant behind Fiorina's much-discussed "demon sheep" ad.
Calling all HuffPost superfans!
Sign up for membership to become a founding member and help shape HuffPost's next chapter