Ben Pierce is going blind. But before he loses his sight, the 9-year-old boy has some big sightseeing dreams. Among the items on his travel list: the Eiffel Tower in Paris, the Pyramids in Egypt, seeing the Northern Lights and visiting a beach in sunny Los Angeles.
But with limited funds and without much time, Ben's parents say they probably won't be able to help their son tick off all the places on his list. However, with the generous help of many strangers, young Ben will get to fulfill at least some of his big dreams. Just last week, the boy, who lives in Dallas traveled to Alaska with his family where he got to see the Northern Lights -- all thanks to a total stranger.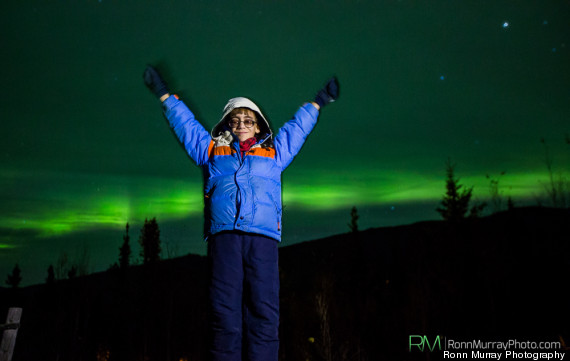 In this picture by photographer Ronn Murray, Ben Pierce is seen posing under the Northern Lights.
Cice, who lives in Seattle, didn't know the Pierces personally, but had read about Ben's list in the news. Wanting to help, he approached his company, who reportedly agreed to fly Ben and his family to Fairbanks, Alaska, for free.
Ben told Alaska's KTUU-TV that the celestial phenomenon was "really beautiful and pretty."
"So many wonderful people have stopped us and said we can give you a hand. It's really amazing," Ben's dad, Kit Pierce, told ABC at the time.
Pierce added that he doesn't know when Ben will lose his sight completely. "We have no timelines and no guarantees. [Ben] could wake up tomorrow and be blind," he told the news outlet.
Ben was born about four months premature, and though he is now otherwise healthy, his eyes did not develop normally. This prompted doctors to operate on them when he was younger; while the procedure allowed Ben to see, it was only a temporary fix. As the Daily News-Miner notes, the surgery left scar tissue which is causing Ben's eyesight to worsen as he grows older, and will eventually cause blindness.
Ben's vision is already "exceptionally poor," the news outlet says; for now, the child can still see some of the world around him.
His family is already preparing Ben for a world without sight, according to reports, teaching him Braille and how to walk with a cane; they're also continuing to encourage him to keep looking up and dreaming big.
"We're trying to get as much in as we can," his dad told ABC.
With so many friends and strangers lending a hand, it seems the little boy will have no shortage of support, no matter where or what he chooses to pursue next.
REAL LIFE. REAL NEWS. REAL VOICES.
Help us tell more of the stories that matter from voices that too often remain unheard.
BEFORE YOU GO
PHOTO GALLERY
Random Acts Of Kindness