A boy named Garret was riding his bike when he came across a seriously injured and abused mastiff in Washington state. The boy immediately abandoned his bike and carried the mastiff over a half a mile to his home.
Garret and his father brought the mastiff to Chehalis Centralia Veterinary Hospital, where they met a staff member "whose "heart broke seeing the condition of this sweet soul."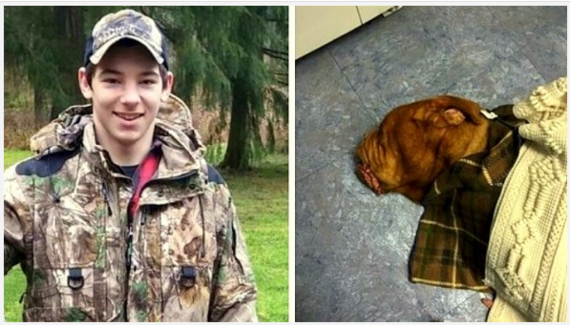 "I immediately started to get angry and looked into Garret's eyes and saw nothing but compassion and hope," the Facebook post said. "Garret was my teacher today."
The doctor and her team did everything they could for the mastiff, but tragically he could not be saved.
Though this is an extremely upsetting story, we can at least be thankful for the fact that this abused mastiff got to experience love and care from humanity in it's final moments.
While people like Garret exist there is hope, but the individual who put this sweet, loving, innocent mastiff in this condition, deserves to know no love in their life, and fate will ultimately bring this back on this evil person.
REAL LIFE. REAL NEWS. REAL VOICES.
Help us tell more of the stories that matter from voices that too often remain unheard.