Little Jimmy Spagnolo couldn't contain his joy after finishing his chemotherapy treatment.
The brave 6-year-old, who was diagnosed with an inoperable brain tumor when he was just 4 months old, jumped up and down and wiggled his body all around after ringing a bell at the Children's Hospital of Pittsburgh in Pennsylvania on Friday.
His ridiculously adorable reaction was recorded, and the video is now going viral. "That was our battle cry for the year for this round of treatment," Jimmy's father, Jim, told CBS Pittsburgh. "It was really special."
Watch the full video here:
Hospital patients traditionally ring the bell after reaching treatment milestones or becoming cancer-free, with staff saying its ringing "can signify the sound of tears, strength, fear, courage, doubt, satisfaction, relief and happiness all coming through as one as people around them cheer this accomplishment."
So far, Jimmy has undergone four rounds of treatment. He still has a tumor, but doctors say it is much smaller than it once was. They are hopeful he can live with it, if it doesn't grow again.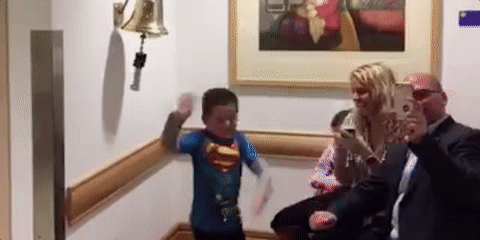 Jimmy's mom, Lacie Spagnolo ― who is documenting her son's treatment via the "I'm Praying For Jimmy Spagnolo" page on Facebook ― told The Huffington Post that people from across the hospital left meetings early to witness Jimmy ringing the bell.
"It was moving to have all those people watch at the hospital with us and how they wanted to share in Jimmy's joy with us," she said, adding that now the video had gone viral "the world gets to do that, and as the world gets to know Jimmy I know it will become a better place just because of him."
"Our moment is everyone's moment," Spagnolo added. "And it's already connecting everyone on an incredible level. Jimmy is like that all the time, he celebrates life like that every day."