An Arizona couple is suing their son's former school district for allegedly throwing him in a tiny, windowless room for bad behavior they say was caused by officials ignoring his severe allergies and feeding him foods packed with sugar.
Leslie and Eric Noyes of Glendale, Ariz., filed a lawsuit in Maricopa County Court last week against Deer Valley Unified School District No. 97 and Desert Sage Elementary School, where their son attended second grade last year.
The complaint, obtained by Courthouse News Service, charges school officials with assault and battery, false imprisonment, gross negligence and intentional infliction of emotional distress on their son.
The couple is seeking compensation for their son's medical treatment and transportation costs to send him to a school outside his district as well as general damages.
According to the lawsuit, the boy -- identified only as T.N. -- was 7 years old at the time of the alleged abuses. The Noyes say school officials provided various foods containing sugar to their son, even though they had been formally told the boy had "severe food allergies" and was "on a very strict, controlled diet and must avoid all foods that cause an allergic reaction." School officials had been notified, they said, that "foods containing sugar caused behavioral issues."
Despite those warnings, the complaint said, school officials insisted that T.N.'s allergies and behavior were unrelated and punished his acting out by putting him in a seclusion room as often as four times a week over a period of more than four months from October 2011 through February. Despite numerous trips to the time-out room, some lasting most of the school day, the Noyes say they were notified only twice -- a violation of district policy.
The complaint said school officials would "punish T.N. by grabbing him and dragging him down the hallway, forcing his head down toward the floor with two teachers on either side of T.N." The parent said their son suffered multiple bruises and that once a staff member fell on top of him and dropped him on his head. He also was made to "face down on the floor forcing him to inhale residue from carpet cleaning chemicals to which he is severely allergic and putting pressure on his back."
During his confinement to the 5-foot by 5-foot padded room, the boy "showed signs of respiratory distress and panic attacks," the lawsuit alleged.
He also was denied permission to go to the bathroom, causing him to twice urinate on himself "for which he was reprimanded." The complaint went on to say that the school's " 'behaviorist' concluded that the boy urinated on himself "to 'get attention,' apparently ignoring how humiliating the act of urinating on oneself is for a little boy." The child was "further humiliated and embarrassed" when school officials ordered him to change his wet clothes in front of them.
All this left the second grader "in a constant state of anxiety and fear" and because of "repeated overly punitive actions and false imprisonment, T.N. missed out on school, suffered nightmares, sleep disturbance, and stomach aches" and has "suffered serious personal and emotional injuries."
The Noyes first brought attention to what some call "scream rooms" in February when they were interviewed by a local TV station. At the time, the couple said they had been told their son, who was in a special education class, was "'out of control." They made no mention on air of their contention that school officials were feeding their son foods that could cause behavior problems.
The CBS 5 News segment featured video secretly recorded by Leslie Noyes. It showed the padded, windowless box in an empty classroom.
"My son has said he's been there anywhere from a few minutes to almost all day," she told the TV reporter. "He has been complaining about being restrained -- he uses that word, restrained. And being put into cool down."
School district spokeswoman Heidi Vega declined to discuss details of the pending litigation with The Huffington Post.
In a statement, the district said, "If a child requires the use of seclusion/physical intervention, parents are notified immediately. Two adults always accompany the child when secluded. This is the last method of behavior management schools use with a student. Our staff is fully trained on non-violent crisis intervention and put student safety first at all times. The safety of all students is important and remains a top priority in Deer Valley."
The use of cool down rooms in the same county whose controversial sheriff Joe Arpaio has forced prison inmates to wear pink underwear isn't unique to Arizona. School officials across the country have used seclusion rooms, most often for special education students or those diagnosed as autistic. The practice is controversial. In 2004, a 13-year-old Georgia student hanged himself after his parents said he was traumatized by being put in a time-out room.
Arizona has written policies on the use of seclusion and restraint but, according to the U.S. Department of Education, it has no laws regulating its use in schools.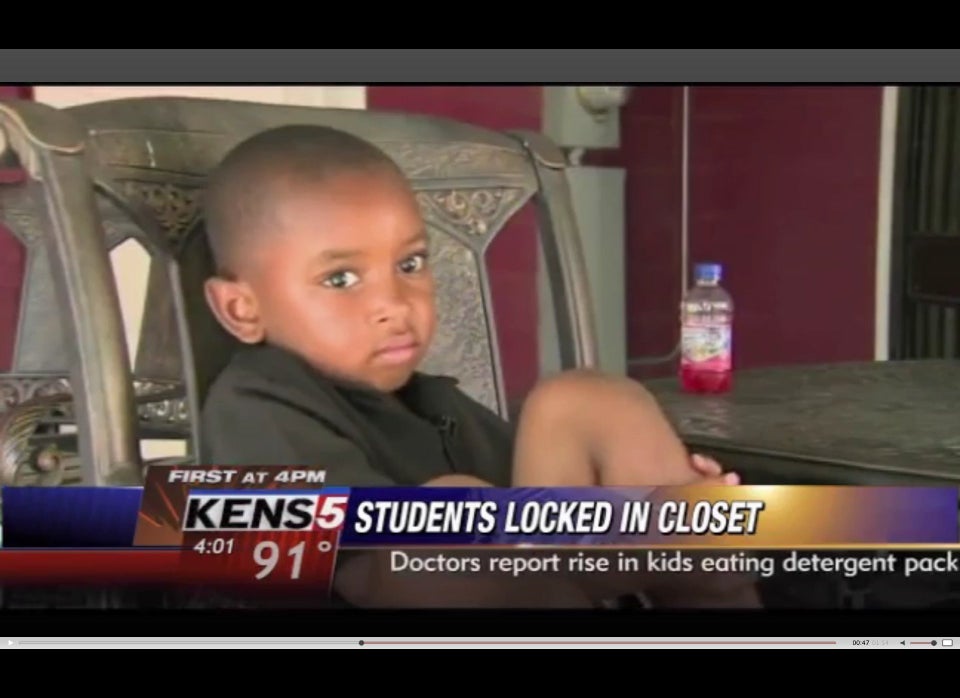 Teacher Controversies
Popular in the Community