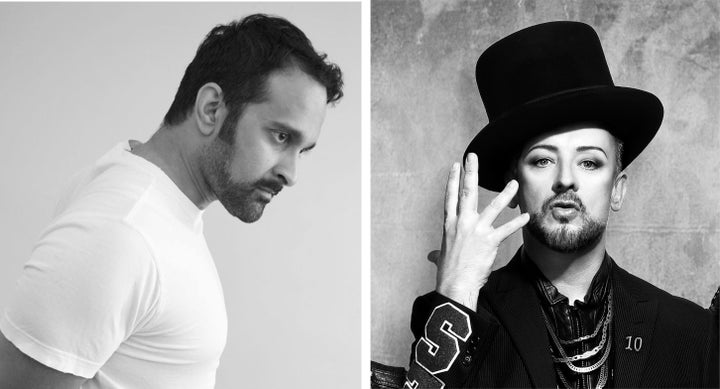 Boy George –– nine years sober –– saved himself from drugs, prison and a life that had spiraled into the shadows.
"I think I've come back to sanity," said Boy George, speaking from his London home between tour dates. "Mentally, I went to a dark place. You just have to reach that point where you get it. Destroying yourself doesn't work."
The 1980s sensation also saved Naveed Merchant –– and others.
"I was in eighth grade, planning to kill myself; I knew I was gay since I was five, and knew it would bring shame to my family," said Merchant who grew up with "very religious conservative parents" in the San Fernando Valley, north of Los Angeles.
For solace, Merchant listened to Adam Ant, Annie Lennox, Duran Duran –– and Boy George. "I remember Boy George saying that people should just get over his sexuality" if it bothered them, said Merchant. "And I thought, maybe there's a different way to live. This man who wears makeup has bigger balls than anyone."
The singer's lyrics penetrated to Merchant's core: Give me time to realize my crime, from "Do You Really Want To Hurt Me?" is one example. "I kept thinking, by being gay, what have I done wrong? He was speaking to me. His voice pulled me out of my emotional coma, made me want to love."
"This man who wears makeup has bigger balls than anyone."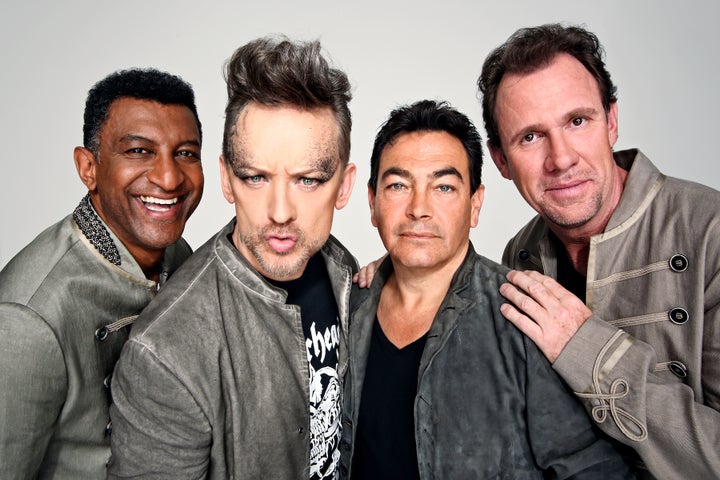 Boy George has been spreading that love on his 60-city worldwide tour that began in June 2016. Extended several times, the journey will wrap in London in mid December.
The singer's sideways charm and waggish demeanor has been on display with Grammy Award-winning Culture Club for the first time in more than 12 years. As far as saving lives –– when Boy George releases music, he said he has no idea where it spreads, or how deeply it penetrates.
"I've heard lots of stories like that from the 1980s, and from quite a few countries," he said.
Culture Club is back with its original winning lineup: Ray Hay (guitar and keyboards), Mikey Craig (bass guitar) and Jon Moss (drums, percussion) –– fronted by Boy George, the ever-plucky showman with an outré look and outfits to match.
Tour sets begin with "Church of the Poison Mind" from the band's second album, Colour by Numbers (UK No.1, U.S. No. 2, 1983), moving on to "It's a Miracle," "Do You Really Want To Hurt Me," and the crowd-pleasing "I'll Tumble 4 Ya," introduced by the shout: "Who wants to tumble?" The night ends predictably –– and with great satisfaction –– with "Karma Chameleon," a transatlantic No.1, which sold over five million copies worldwide.
The singer's voice, once imbued with a quicksilver lining, is now silvery around the edges. There's new gravitas to his sound. Boy George has grown up.
"I'm still very much like the old one, just a bit more sane," said the singer. "I take my time to think about things before I do them. I have good people around me that I trust, and I think that's very important."
Are you happy?
I am. As a younger man that question would have gone over my head –– what do you mean, am I happy? I always felt that happiness and sadness were circumstantial: something good happens, you're happy; and something bad happens, you're not happy. I've discovered that as I've gotten older, you can invest in happiness, you can make a choice. The world throws things at you and things are not always going to perfect. But you can make a decision about how you look at things. You can choose your reaction to things.
If I were going to talk to my younger self, I would probably tell myself to breathe. Before you push send, take a deep breath; maybe put the email in the draft box. As an older man, I'm able to watch myself more and control my behavior. But if I were able to talk to my younger self, he probably wouldn't listen.
How has your singing voice changed over the decades?
I try to be as much like Nina Simone as I can (laughs). But I do listen to her, especially in her later life where she was just really playing with the raw emotion of what she was feeling. I'm not looking for perfection in life in anyway; I would definitely describe myself as an imperfect singer. I try to convey feeling –– that's more important than anything else. I am trying to connect to raw emotion. When I perform I think of Nina Simone, Gladys Knight, Sly Stone and also a bit of Freddie Mercury because he was such a great performer. It's important to call on your inner Freddie Mercury when doing a live show.
"I am trying to connect to raw emotion."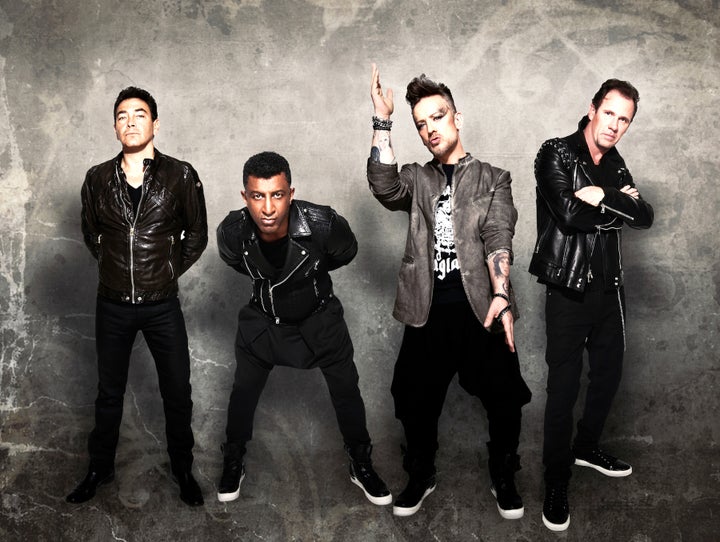 How did the tour come together?
We left our original manager about seven years ago, Tony Gordon, with us from the beginning. He kind of retired. I wanted to find someone to manage me, someone I really liked. So that took awhile. There are not that many great people out there –– particularly for someone like me. Finding someone who's able to kind of see who you are now and not what you were is essential, you know? Now I'm very happy with Paul Kemsley. We call him PK. He's a Brit but he lives in L.A. I wanted a British manager because I wanted someone who could get my idiosyncrasies, my peculiarities. Once I had that in place, I felt secure, and ready to tour.
Your background singers are quite talented: Theresa Bailey, DeeDee Foster, and Traci Brown-Bailey.
Great fun to have around. They're amazing singers. We try to encourage everybody on stage to shine and show off what they're good at. And we develop quite good friendships. That translates to the performance. We want everybody to enjoy what they are dong.
How do you pass the time with them while on tour?
We've been playing cards –– they've got me into Uno. Obsessed! I've become obsessed. A couple of days we literally played eight games right after the other.
What advice would you give gay, bisexual, trans youth today?
I would always say to love yourself first and foremost. That creates great security. Be proud of who you are, hold your head high. Respect yourself. Surround yourself with people who love and support you. And don't isolate. It's really important not to isolate. Don't cut yourself off from others. There are a lot of great people out there. You just have to seek them out.
What keeps you sane?
I think food is hugely important; it can really make you imbalanced. I think it's important to sometimes be hungry. We live in this culture where we're just constantly eating for the sake of it. I try to eat very cleanly and also exercise. I try to see beautiful things: go to museums, see art, read poetry, read books. But it's also important to do nothing. Sometimes just sitting and having a coffee in a coffee shop is the most enjoyable thing you can do.
Do you still do Buddhist chants?
I still do. Every morning and every evening before I go to bed I chant Nam Myoho Renge Kyo (a Nichiren Buddhist chant) and you can do that for as long as you like. It gives you a chance to sit and focus on aspects of your life. It's very important to chant for the happiness of the people you love, sometimes even the happiness of the people you don't love, or the people who may have some kind of grievance against you. So I always say a prayer for anyone who may be in conflict with me.
It's quite nice to think positive things about people who are hostile toward you. It takes away some of the power of that. And it's just really a nice way to start the day and help focus on what you want to achieve.
"I always say a prayer for anyone who may be in conflict with me."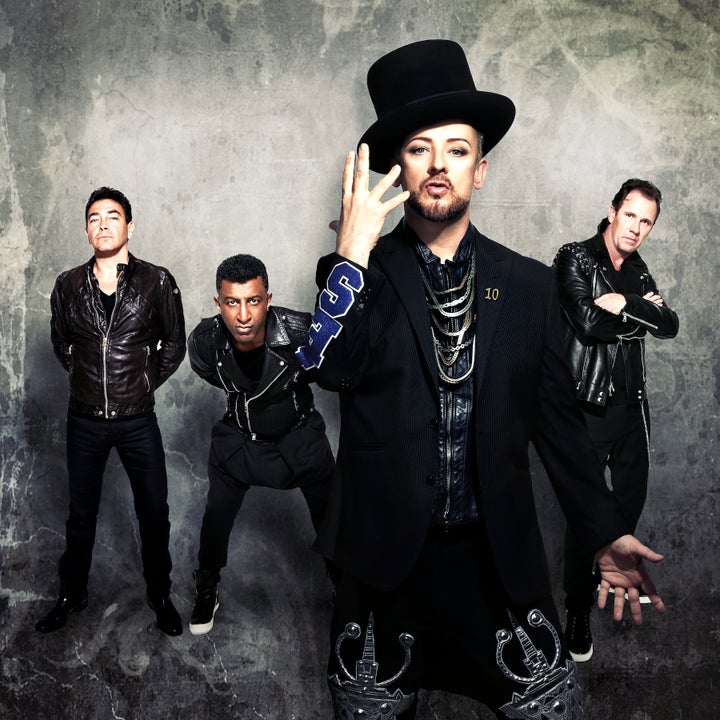 Do you follow American politics?
Obsessed! Obsessed! When I was on tour I'd watch CNN religiously, kind of being blown away by what I was seeing. You know, it's fascinating. I don't know whether we go so low here (in Britain). I pay taxes in America so I'm entitled to have an opinion, and what happens in America affects me. So don't tell me that it's not okay to have a political point of view –– it really annoys me. What goes on in the presidential race seems completely un-American (because) I love the positivity of Americans, especially in L.A. where people are friendly and talk to you, and not just because they recognize you. (Politics) is the one place where anything is permitted.
No one's going to be surprised that I'm not a Republican. No one's going to be –– Boy George is a Democrat? So if I have to label myself, if anything, I'm a Democrat, or a complicated socialist.
Where did you get your survivalist grit?
I had to work on it. I don't think it's a given instinct for me because I've been very destructive in my life, and in some respects, I'm quite lucky to be here. I've had to become more respectful of myself and of other people. I had to just get happy and I had to understand that it was my right to be happy. It happened over a long period, just like being destructive happens over a long period of time. Destroying yourself just doesn't work. It's a self-fulfilling prophecy. It's awful. You know it doesn't bring you any joy. It's like that great poem by Dorothy Parker: Nooses give; Gas smells awful; You might as well live.
Resume, by Dorothy Parker ––– Razors pain you; Rivers are damp; Acids stain you; And drugs cause cramp. Guns aren't lawful; Nooses give; Gas smells awful; You might as well live.
Calling all HuffPost superfans!
Sign up for membership to become a founding member and help shape HuffPost's next chapter