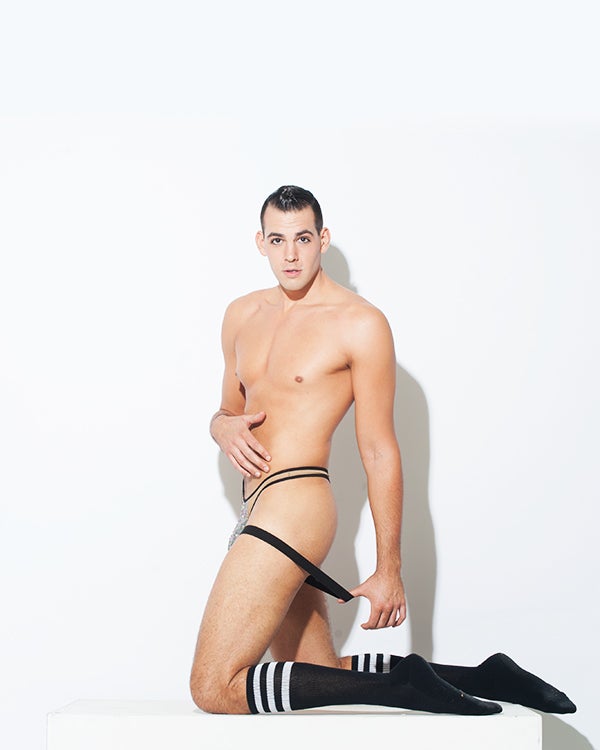 I am recently returned from the annual Burlesque Hall of Fame weekend in Las Vegas where women vie for the title of "Miss Exotic World." Over the years the pageant has expanded since former burlesque stripper Dixie Evans, aka the Marilyn Monroe of Burlesque, began the first competition out on a former goat farm in Helendale, California in 1990. This past BHoF Weekender included such "legends" as April March, Tempest Storm and Toni Elling, along with fierce competition for best group and best boylesque performer.
As a judge at many burlesque festivals I have thoroughly enjoyed the boyteasers and believe they are some of the most and fun performers today. But it did get me wondering what exactly is the origin of the boytease.
Some argue the grandfather of boylesque was Henry E. Dixey, who in the 1880s performed - like his contemporary and the woman who introduced burlesque on American soil, Lydia Thompson - in flesh-colored tights in a burlesque musical entitled "Adonis." Technically Dixey did not strip, but for that matter neither did Lydia Thompson and her "British Blondes," a troupe of leg-barring women who performed for years in America. Burlesque in the early 19th Century, was comedy, satire, cross-dressing, alluring and popular. Though stripping wasn't introduced into burlesque until the '20s it is stripping which would make burlesque a uniquely American art form.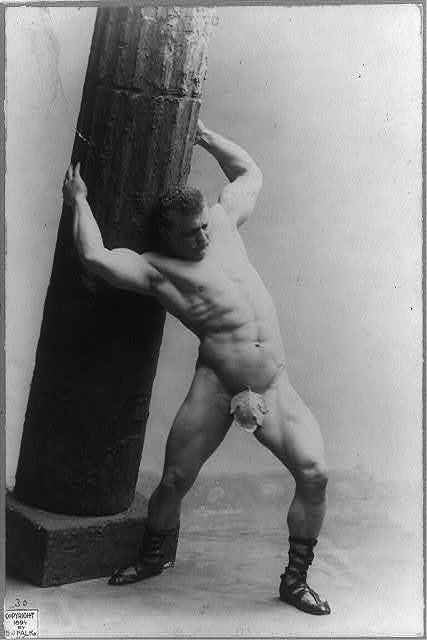 One early nudie cutie was showman Florence Ziegfeld's protégé Eugene Sandow. In the 1890s Sandow displayed his muscles on the stage wearing nothing more than a tiny pair of leopard print panties. According to DJ and burlesque historian, Scott Ewalt, Sandow was "using a flesh reveal" to bring in the crowds. Women were said to swoon at Sandow in his fig leaf. However, Sandow neither stripped nor danced on stage.
Hubert Julian Stowitts was a svelte figure discovered dancing by Anna Pavlova in 1915. Stowitts eventually broke out on his own to star in the Folies Bergères's dancing nearly nude (again not stripping). Then there was Alberto Spadolini, Josephine Baker's partner on and off the music-hall stage (and possible anti-Nazi spy), who was another such hunk-a-hunka, wore such skimpy costumes he was referred to as the "naked dancer." Stowitts, claims Ewalt "laid the ground for the 1950s underground" boystrip scene.
Burlesque during the 1920s and 1930s saw many popular female impersonators stripping on stage. Former stripper Lily Ann Rose told me when I interviewed her for my film "Behind the Burly Q" that the best stripper she ever saw was a man.
The gorgeous, transgender aerialist self-named Barbette (real name Van Der Clyde) was a Texas born lad who began parodying female strip acts. Studying the women he began stripping for Parisians in the 1902s from a feathered headdress down to flesh-colored leotard, bra and g-string. As he ripped off his wig his movements and gestures turned from feminine to masculine shocking his audience. His moniker would be synonymous with his unique form of entertainment, so much so that in the 1990s it would be adopted by a group of lipstick wearing young men at the London club Madame JoJo's, the Barbettes.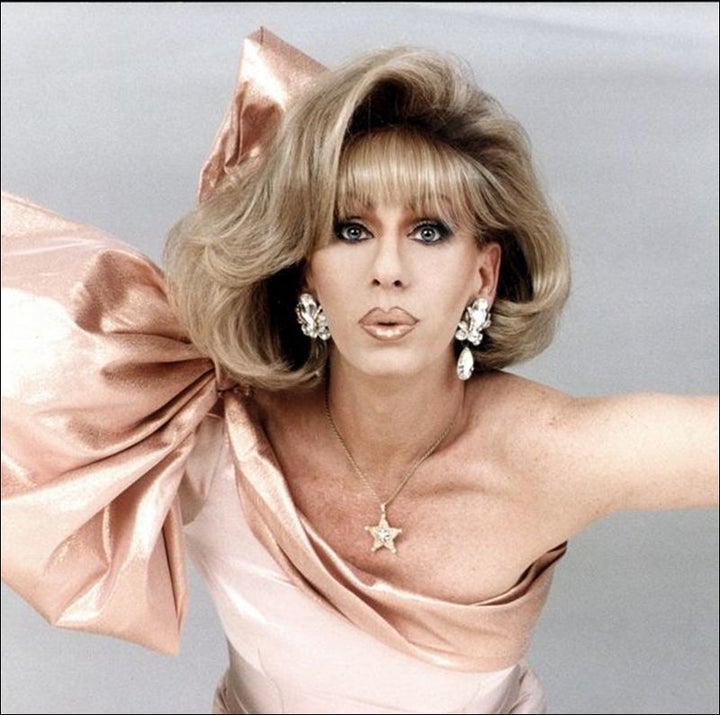 "The first licensed strip tease club in America was the Tom Kat in New York in the late 1960s," says Ewalt. "The word `Boylesk' appeared at the same time first in Hollywood."
Another who claimed to have coined the term "boylesque" was Kenny Kerr. In the 1970s Kerr named his show "This is Boy-lesque" which topped the marquee at the Silver Slipper in Las Vegas. Kerr was a trail-blazing female impersonator whose impersonations of Cher, Streisand and Joan Rivers, kept his show's packed for nearly a dozen years. He brought drag shows out of the back room and into the main stream, becoming a beloved fixture on the Strip. Not only did Kerr actually sing (most drag shows were lip synced), but by all accounts he was hilarious. He performed a striptease, that according to legend beget the question "Where did he put it?" (Claire Voyant's Las Vegas gossip column, June 6, 2008.) According to former male stripper and the proprietor of the temporary-on-hold Grant Philipo's Las Vegas Showgirl Museum, Kerr was packing them in in Atlantic City when Howard Hughes heard of the show and hired Kerr to perform at the Silver Slipper, which he had purchased in 1968. The Silver Slipper was where burlesque impresario Minsky introduced topless girls to Las Vegas and employed his ex-sister-in-law famed burlesque queen, Lili St. Cyr and her rival the bold and brassy, Tempest Storm. Kerr told Philipo that at the time there was a law preventing men from performing on stage in a dress. The not-to-be-trifled with Hughes simply paid someone to change the law.
A contemporary of Kenny Kerr was Patrick, the All-American stripper who performed his Las Vegas act using elements of comedy because unlike most male strippers of the time "he wasn't selling hard sex" according to an article written by Laurie Buckley.
Other male strippers in the '70s went full frontal, like John Sex.
What is authentic and appealing about boylesque (whether it is conscious on the part of the performers) is that it is a spoof of female strippers. Parody being the very definition and origin of burlesque. Some of the best strips I have seen have been performed by men and their take on the take-off.
James Tigger! Ferguson one of the pioneers in the field has been boy-lesquing since the early '90s. This crowned king, named the first ever Mr. Exotic World in 2006 had a background in Shakespeare and stripping. Everything seemingly came together in burlesque when Tigger! began producing his numbers. Fearlessly he has famously stripped as George W. Bush, Jr.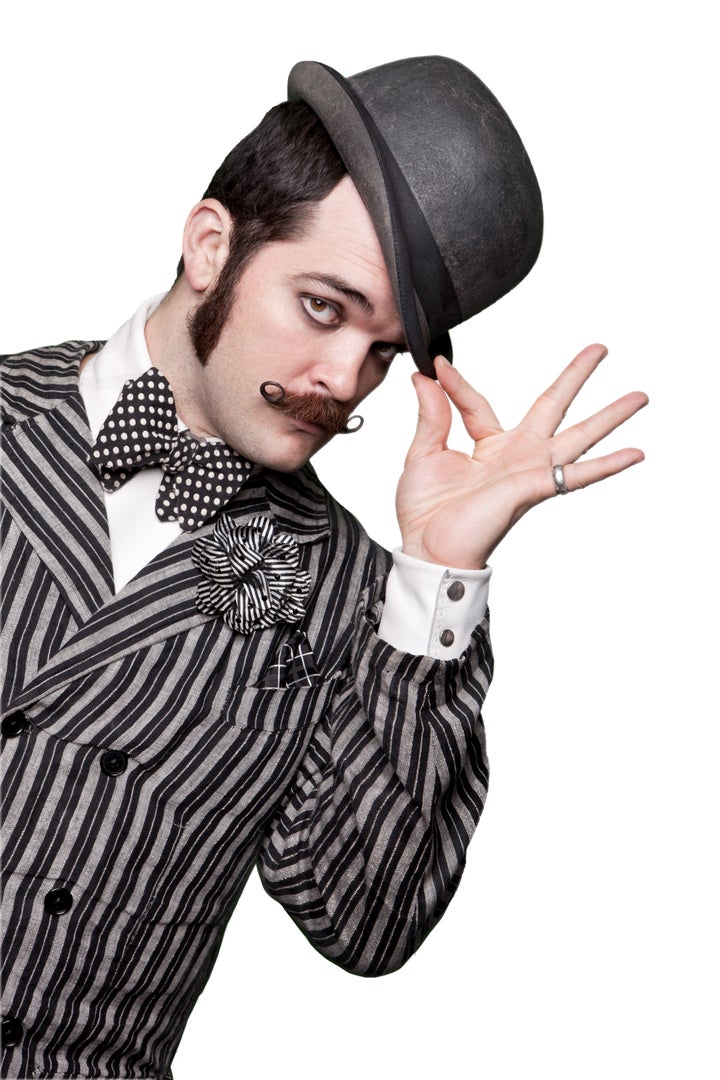 Crowd-pleasing Russell Bruner started his career in his late 20s in the circus. He is self-taught and comes from a Swing dance background. Bruner's vaudeville style strips are reminiscent of silent screen star Buster Keaton (note the deadpan expression) yet as graceful as his idols Gene Kelly and Fred Astaire. He dresses reminiscent of the Jazz Age era, not confining his use of canes and bowler hats to the stage. It has become his persona - or vice versa - as boylesque has allowed him to be.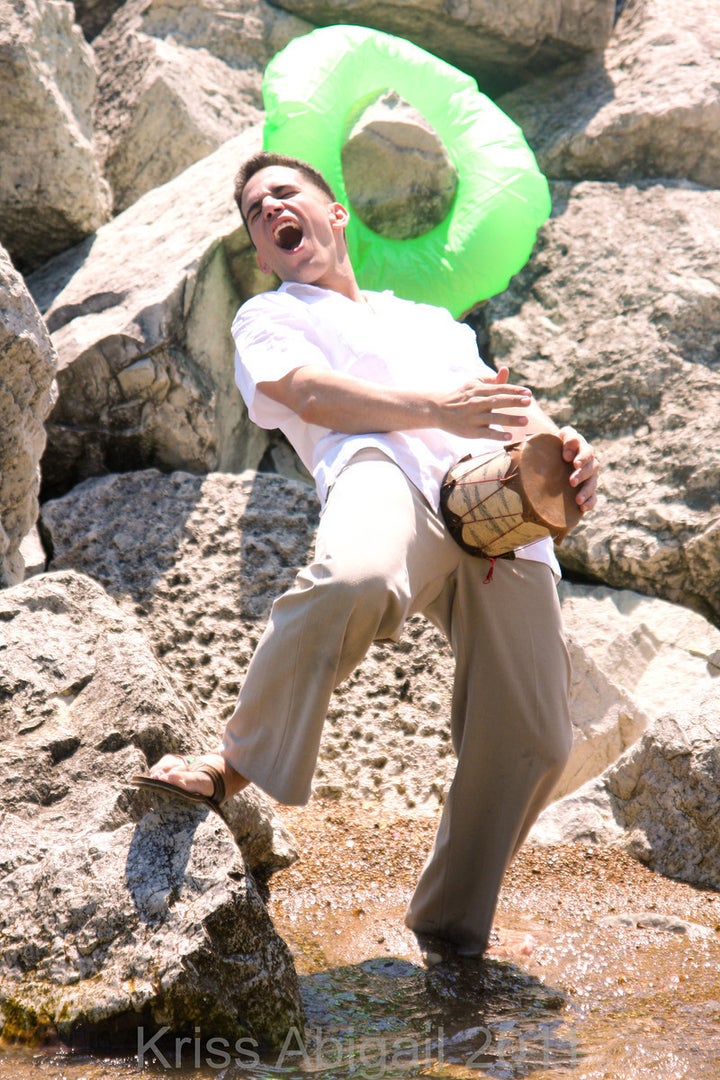 Tito Bonito, named Best Burlesque Performer in Los Angeles by Time Out Magazine began performing boylesque almost 6 years ago. "I was searching for my artistic voice. I tried a few avenues both unsuccessfully and semi-successfully, but nothing seemed to work until I found burlesque."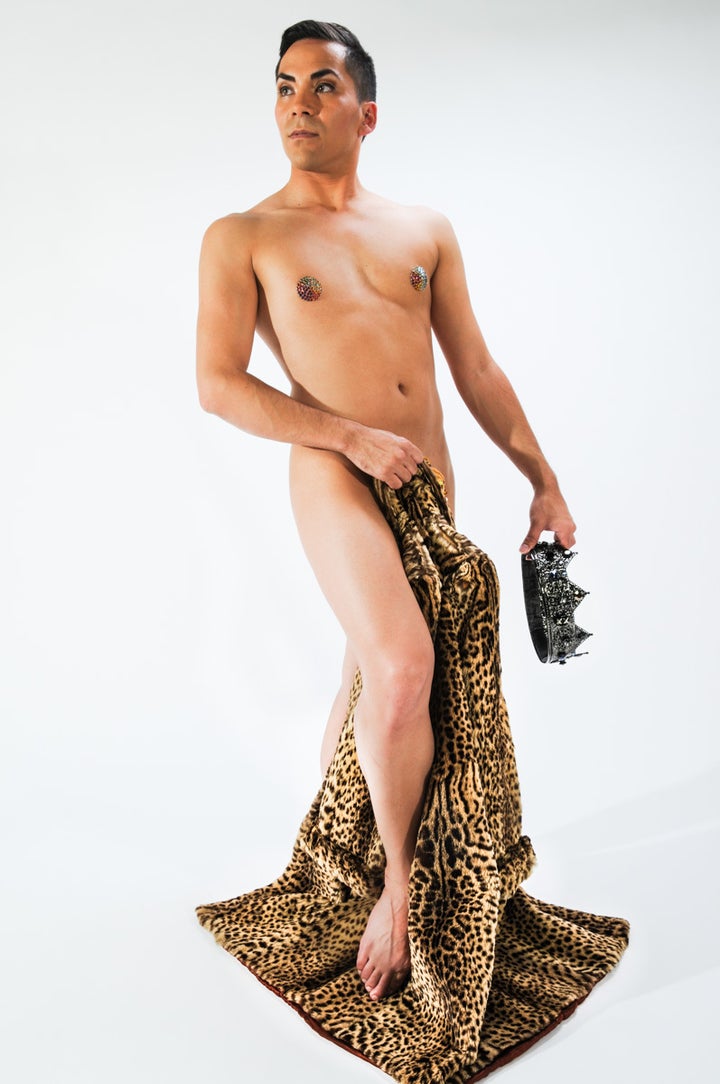 For Matt Finish, with an M.F.A. in dance, he was "dragged" to his first burlesque show. The creative outlet was enticing. "A boylesque performer's primary motivation is to create an entertaining product that also gives the performer artistic satisfaction." Soon he was crowned the Mr. Exotic World in 2015.
For Chris Harder who has "stripped and teased . . . around the world" he began "working as a go-go dancer and one night the promoter made us come up with `boylesque' routines." Harder had moved to NYC "to become a `serious actor.'" But a funny thing happened on the way to the theatre. "I met World Famous *BOB* as well as Dirty Martini and *BOB* especially became a friend and confidante and introduced me to the NYC burlesque scene." (Dirty Martini, a curvaceous, sassy 2004 Exotic World Winner and one of the pioneers of the neo-burlesque movement, jumped into burlesque in the early '90s when it was a mere blip on no one's radar. For her it was a form of rebellion. The lady, like her name, has salty notes and is a classic, like the drink itself.
World Famous *BOB* has been on the burlesque stage for nearly 20 years, inspired by drag queens. Her MC skills are flawless.)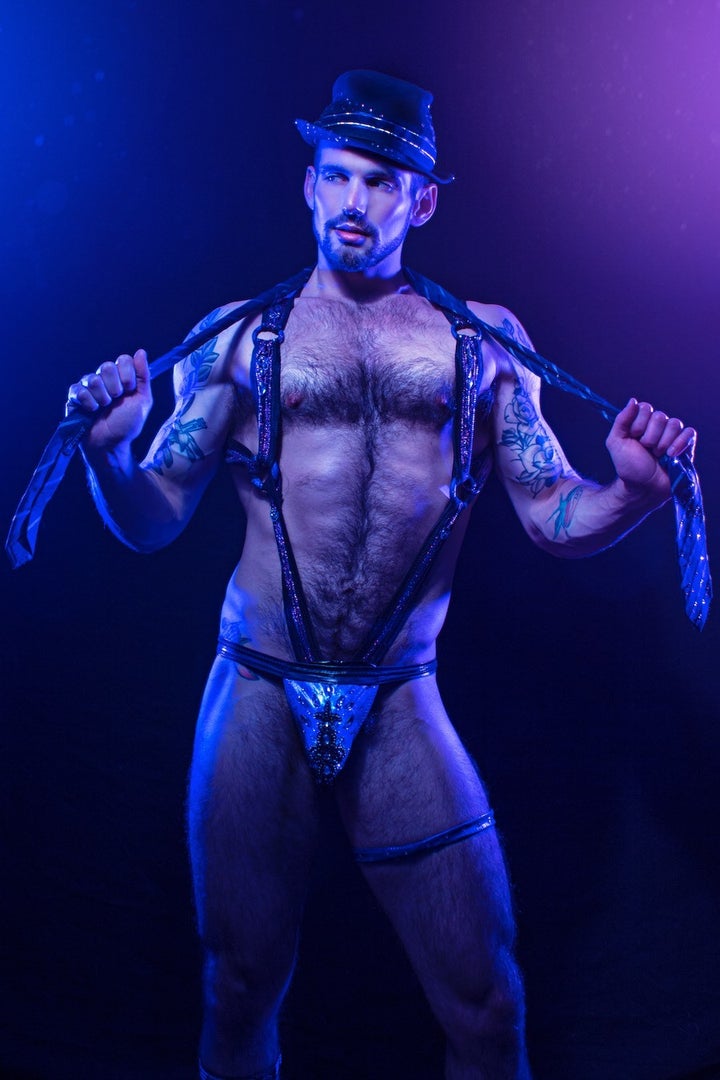 Boylesque, like burlesque, involves elaborate costumes and a story. Whatever the artist chooses to relate. For the performers it is the appeal of being in control, of producing, directing and starring in one's own production that draws artists to it. Boylesque is the freedom to express the person they are and the person – or persona – they want to be known as.
For many, like Lili St. Cyr, who wanted to escape her humble, sometime harsh background, burlesque/boylesque involves a reinvention of self. Not just with monikers but with a back story. On his website, stripper Jesus La Pinga describes himself thus: La Pinga began his life as the fiery love child of a Cajun gun slinging bank robber and a Venezuelan drug dealer. Having narrowly escaped the local law, they fled to Seattle and started a rough and tumble Ma and Pa brothel, which young Jesus would call home.
Is boylesque merely a male strip show?
Says MC, performer and producer Jonny Porkpie "It was intense, personal; there is little separation between artist and audience, the creator was right there on stage in front of you . . . It was smart, it was sexy, it was stupid, it was sensual, it was radical. "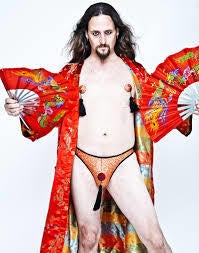 Says Scott Ewalt "in burlesque the costumes, music, and most importantly illusion are more curated and the best acts usually have a storyline."
The difference between a Chippendales-type show and boylesque explained Grant Philico, was the former was a "meat-rack" show. It was about arousing the mostly female audience, with little production value, or imagination beyond the strippers dressing as stereotypical studs; firemen, policemen and cowboys. Strip club strippers, male and female, were and are dependent on making tips. In boylesque and burlesque it is about the show. Production value is huge.
Boytease can involve pasties, makeup, theatrics and feathers.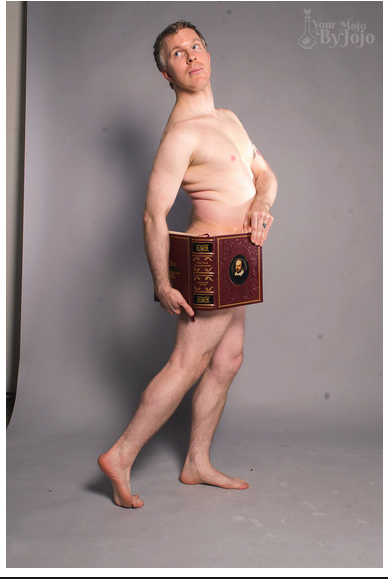 Says boylesquer Sketch MacQuinor, "Strippers work ten hour shifts to earn hundreds of dollars a night to pay for their nursing degrees. Burlesquers do two or three shows a month to pay for most of the outfits they spent two weeks making for the show."
Russell Bruner recalled a time on a flight to Vienna with fellow boylesquers not only was he occupied sewing but fellow performers Jett Adore and Mr. Gorgeous spent the entire flight stitching costumes.
Mr. Gorgeous, a 6 foot, 5 inch Clark Kent lookalike, not only sews his own costumes, he's been known to strip from the top of a 5 foot ice cream cone prop that he made. "The most challenging thing about performing is dragging all the suitcases and bags of crap all over the world. It's fun to make it and wear it, but getting it from one place to another is a bitch."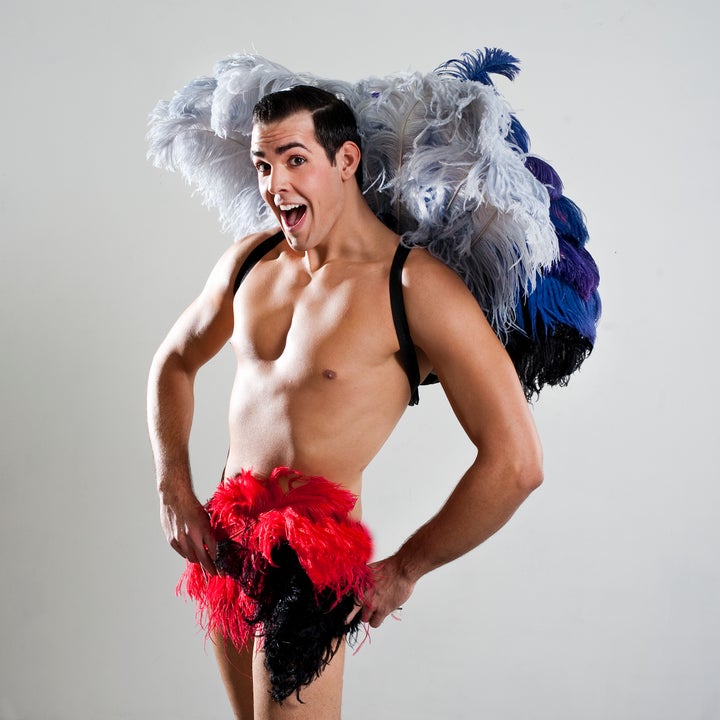 As is the misconception that burlesque is merely running on stage and throwing off your clothes, the same holds true for boylesque. The truth is it is a finely crafted, well-rehearsed, well-executed, rousing entertainment.
Another breath-takingly gorgeous stripper, Chris Harder notes "One of the major differences to me between my burlesque numbers and a go-go set is simply time. Most contemporary burlesque acts run between 3-5 minutes long and present a compacted show. Usually (and in my opinion, ideally) there's a clear arc to a burlesque number, even if it's a `classic' strip tease. In boylesque, I don't think we have many `classic' numbers, simply because there's not really a classic male boylesque form. We don't have the gown-gloves-corset-stockings-bra `formula' to guide our numbers or provide a point of reference for our audiences." Which entitles the men to perform often with more freedom than the ladies.
"When a male hits the stage in a burlesque show," Mr. Gorgeous explained, "we tend to be a novelty (this seems to be quickly changing) but it does allow male performers to present what they like without having the comparison of the male performer before or after setting a standard."
There seems to be a looseness, a risk-taking to the male performers that is sometimes lacking with the women. "Sometimes I think we're a little freer to be funny or goofy than the girls," boylesquer Dizzy Swank told me. "It seems the girls feel more pressure to be classic and do fan dances, where we can just do pretty much anything we want. Granted, that's more of self-imposed restriction that the girls put on themselves . . . we don't have the ghost of Lilli St. Cyr looking over our shoulder and judging us."
From the women performers' point of view, the love the men encroaching on their shows. "These performers . . . embody the tease in a such an ironic and fun way that while you are of course admiring their sexiness, you are also totally at ease and laughing while you hoot and holler," says Miss Exotic World 2008, the lush Angie Pontani who has a thriving career performing around the world. Pontani has seen boylesque grow, so much so that it is "its own sustaining branch of burlesque." No longer an add on. There are now full-fledged boylesque festivals.
"Most people want to focus on the difference of men and women, and coming from a place where I have embodied both genders on stage, and continue to mess with gender as a fluid form I love making all of us come more to humanity." Jesus La Pinga.
"Burlesque is a safe space that celebrates body-positivity and sex-positivity," says Sketch MacQuinor.
Traditionally burlesque never did cater to a standard of body type. Think of Carrie Finnell, the "grandmother" of burlesque who weighed more than the average two strippers put together, and performed well into her 60s. Finnell could easily pop her breasts in and out of her costume to sold-out crowds. Today's boylesquers don't have to be the chiseled "butch" types found in 70s male strip clubs. "Male performers would have never been effeminate unless they were a female impersonator!" Grant Philipo, who danced in the '70s and '80s told me. "We were supposed to create sexual, erotic fantasies in a masculine way, even in the gay clubs, unless you were a female impersonator!" Men of his day were told to lose weight if need be. "In boylesque there's a wonderful variety of types of men," said Mustang Monroe. "From over the top flamboyant, to the masculine type and everything in between."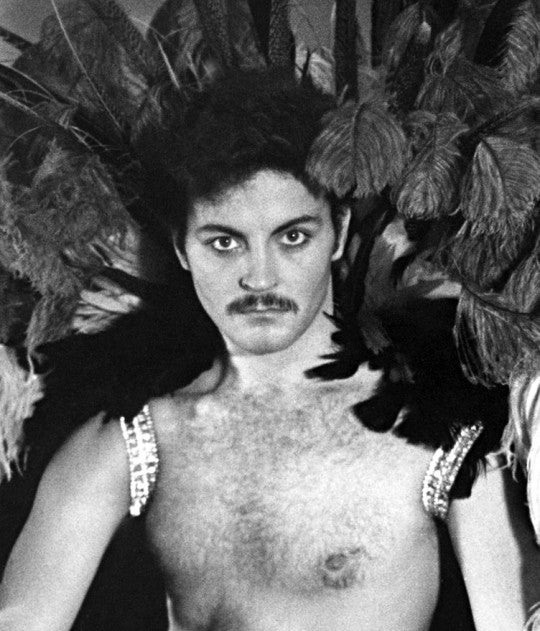 "Body positivity," Matt Knife agreed. He started stripping after taking Chris Harder's Boylesque 101 class. And he was "hooked" on the theatricality, the community that embraced him and the all around "fun."
Burlesque and boylesque and every other lesque in between will always harken back to its origins which is humor. Parody. Exaggeration. Satire. And while I'm sure the boys aren't making fun of the female strippers, it is not "Magic Mike." Burlesque is not meant to arouse. It is meant to incite; rebellion, freedom of expression, empowerment. It's beyond body type, beyond race, and beyond gender. Its titillation and tease and fun. It is entertainment for the masses.
"I always include humor into my acts," explains Mr. Gorgeous. "Humor has always been a way for me to break the ice or help people relax. I believe as a performer it's my job to entertain. It is important to me to show respect and reach out with humor and love to each audience member . . . while watching me rub sun block on my body while dressed like a hermit crab."
Chris Harder, " I do try to go as nude as possible in my numbers though (even the comedic ones) because that to me is a risqué display of the male form and teases as much of the body as possible."
Mustang Monroe, "The only difference is male performers are allowed to show their nipples but a lot of male performers will wear pasties as well to show solidarity with our female performers."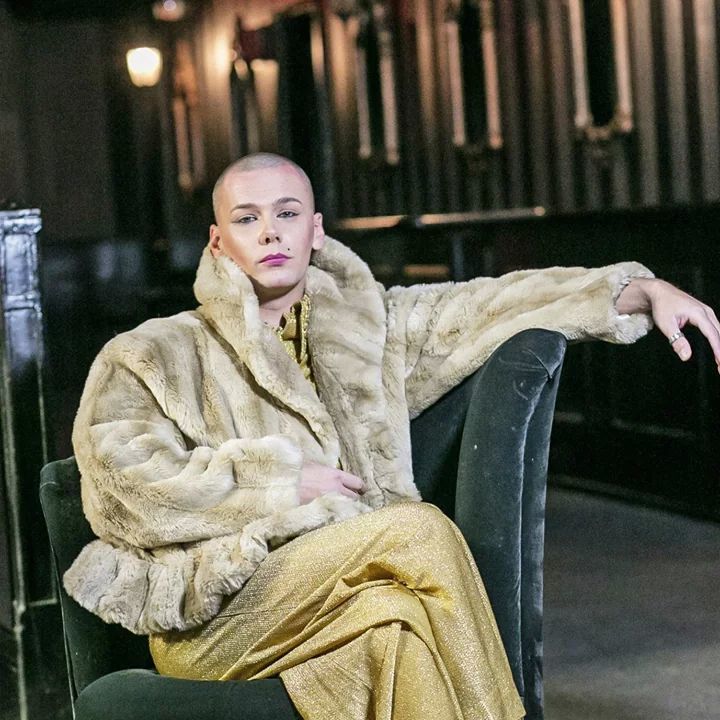 Some performers disdain the term "boylesque." Yet many of the women I interviewed didn't like the term "stripper" either. Personally, I like it. Boylesque has a light-hearted ring to it. Its camp, its, dare I say it, acceptable, which ultimately needs to be the aim of burlesque to sustain the art form. It needs to continue to be brought out from the background, the underground and shown to be a marvel, a viable art.
Still boylesque is attempting to peel its way out of a "niche within a niche" as Harder explained to writer Brandon Wetherbeed.
"Stripping is an under-appreciated and rarely respected art form," says Sketch MacQuinor. "Burlesque is a grudgingly respected art form. Strippers (it seems) perform to fulfill the fantasy of the audience."
Boyteasers, like their female counterparts, are a community of glitterized, glamorized feather-wearing, theatrical displaying artists striving to inject a bit of glamour not only into their lives, but the lives of all of us.
Chris Harder chimes in, "I think the audience wants to be taken on a journey."
I suggest you run, not walk to the nearest show.
Leslie Zemeckis is a performer, historian and an award-winning documentarian whose film "Behind the Burly Q" chronicles the history of burlesque. Her film "Bound by Flesh" is a Netflix hit about Daisy and Violet Hilton of "Sideshow" fame. Author of "Behind the Burly Q", the book based on her film, her latest biography is the bestseller "Goddess of Love Incarnate", about burlesque stripper Lili St. Cyr. She is working on her next documentary about famed tiger trainer Mabel Stark and her next book on two burlesque legends. Zemeckis has one of the largest personal collections of burlesque memorabilia. @Lesliezemeckis, www.lesliezemeckis.com
Follow Leslie Zemeckis on Instagram, Facebook and Twitter. lie Zemeckis on Instagram, Facebook and Twitter.
Popular in the Community