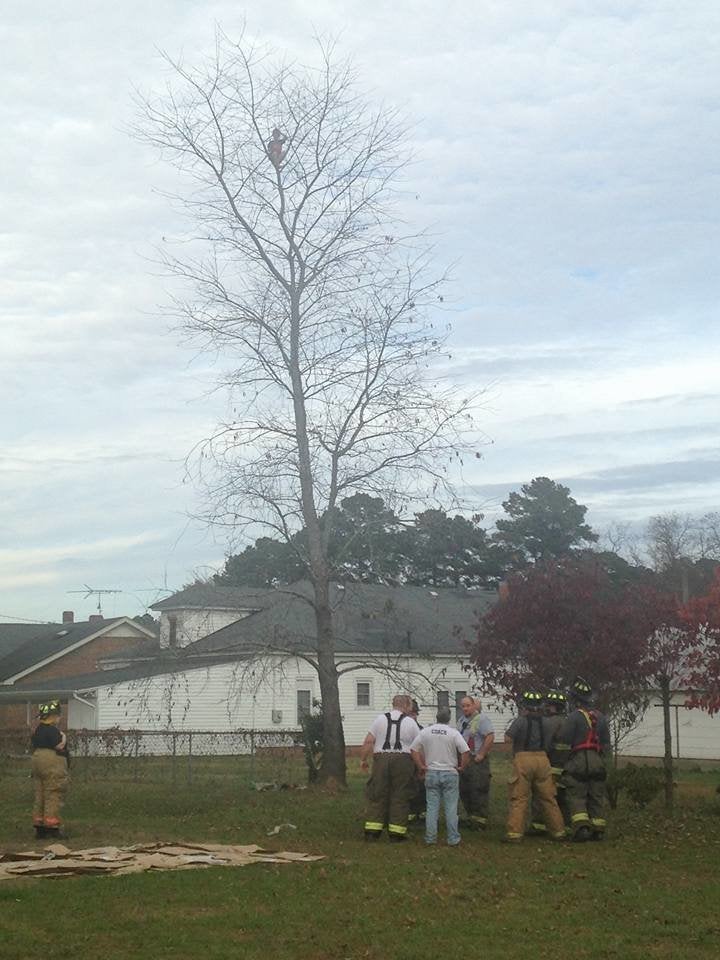 An adventurous 6-year-old boy likely strained his mother's last nerve after climbing a 50-foot tree in his North Carolina backyard on Saturday and finding himself stuck.
As a harrowing photo shows, the little boy appears to have scaled to the tree's highest point possible before finding himself unable to get down.
"His mother tried to get him to come down about 15 minutes before she called (us) but he was scared and would not come down," Faison Fire Chief Rodney Lambert told the Huffington Post on Monday.
"I'm assuming he was in the tree for an hour and a half, maybe a little longer," he said of the overall rescue.
Once first responders arrived at the scene, Lambert said they spent at least an hour trying to get him down, with them initially finding that their ground ladders were too short and the surrounding earth too soft to bring in a fire truck. 
"What ended up happening is, we contacted a local electrical company that had a boom truck, like you use to work on power lines," he said.
As the little tyke patiently held tight — and his mother undoubtedly held her breath — first responders were able to pluck him from the towering branches. 
"He was just scared, not hurt or anything," Lambert said. 
Asked how he got up there, Lambert said, "the little boy's a little boy."
"He was just playing. That's not the first time that he's climbed that tree. It's just the first time he's gotten stuck."
"Proud of our crew who responded to this call this afternoon. Not your everyday call. Great thinking outside of the box to bring everyone down safe," he wrote. "Thanks to Mt. Olive F.D. and everyone else who assisted. Makes my job as Chief easy to have a group who can handle anything."
PHOTO GALLERY
Heroic Rescues
Calling all HuffPost superfans!
Sign up for membership to become a founding member and help shape HuffPost's next chapter