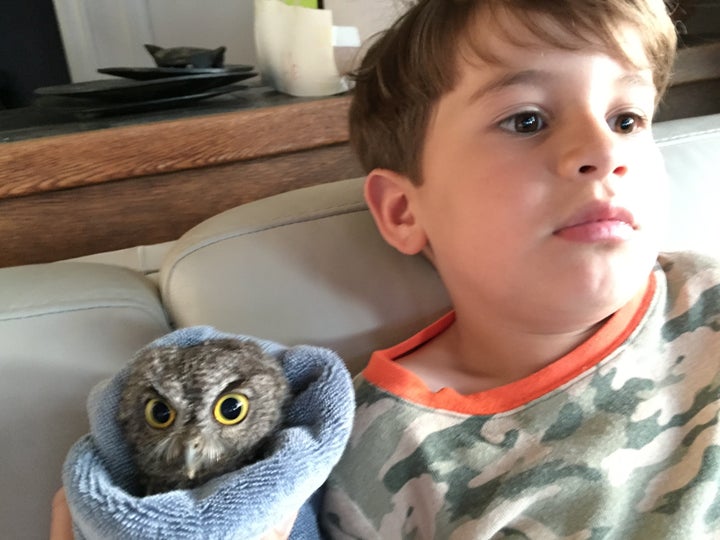 Marlo Sarmiento was a few minutes into watching an animated TV show about owls with his 5-year-old son Ollie the other night when he got distracted by a blur in his peripheral vision, "which then thumped into a large window."
"I took a look and was surprised to see a tiny owl, stunned and just sitting there on the windowsill," Sarmiento told The Huffington Post. He immediately named the bird Elfis, inspired by the name of the cartoon owl on the TV.
Sarmiento, who lives in a woodsy part of Northern California that abuts a nature preserve, pieced together that the owl had flown in through an open front door and then banged into the closed window trying to get out again.
Birds have paid the family visits before, Sarmiento says, but usually more common blue jays and robins, and usually they fly right out of the house of their own accord.
Sarmiento speculates that Elfis decided to stick around for a bit, possibly "attracted by the owl screeches coming from the TV."
"My sister quipped that it was a good thing we weren't watching an episode about elephants," he says.
Sarmiento fetched a towel to carry Elfis in and help him back outside, worried the bird was shaken up and unable to find his way out. He paused briefly during the rescue to take a couple of photos so folks would believe him when he told them about his nocturnal visitor.
"Probably 4-5 minutes total visiting time," Sarmiento says. "Didn't even finish the show or stay for a drink/snacks!"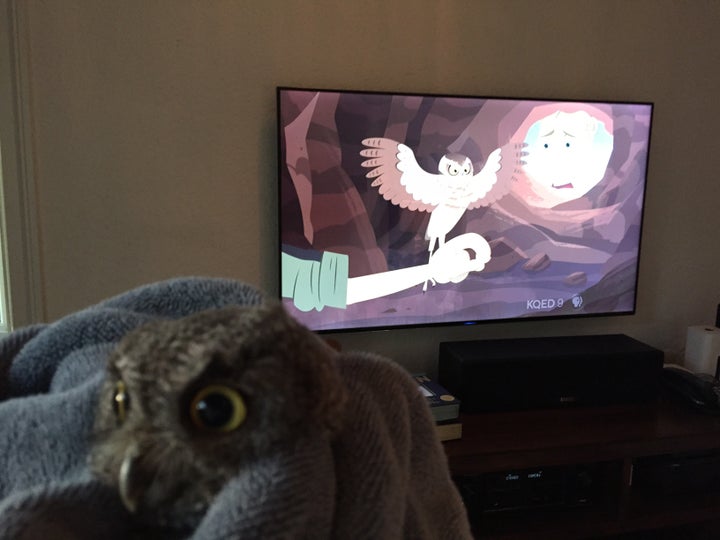 This was a lucky encounter in more ways than one.
Hurd adds that if someone comes across an owl or other bird of prey that might be hurt, they should put the creature in a towel-lined box or dog carrier, and then get it to a wildlife rehabilitator for a checkup and any necessary treatment.
"Sometimes a bird is only stunned shortly and can be released soon after, but many die after an accident like this," he says.
Rehabber Paula Goldberg, with City Wildlife in Washington, D.C., says that the Sarmientos are fortunate not to have gotten hurt.
"Although the little guy is as cute as a Steiff stuffed animal, it has talons, and when they latch, they don't let go," Goldberg says. "What an incredible moment and it is so nice to see someone else's kids zoned out while watching TV seated next to an owl. What a hoot!"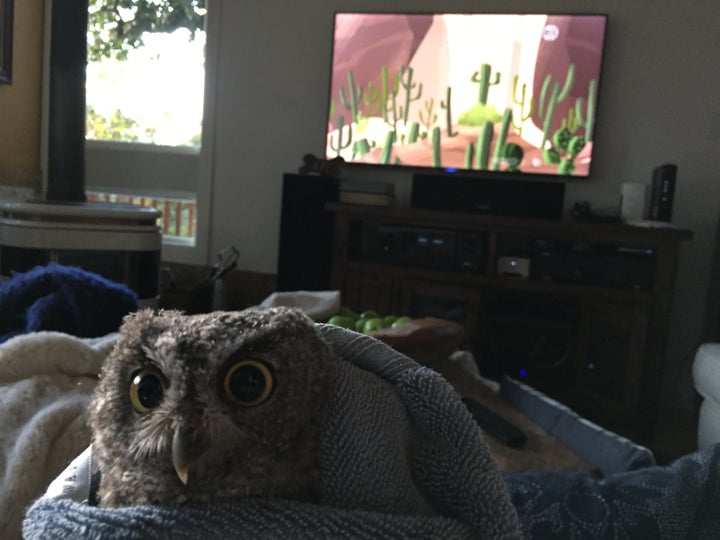 Sarmiento says his son has been demanding that the owl cartoon be played over and over again in the days since Elfis first dropped by.
As yet, Elfis has not flown back into their lives. Given all the risks, it's probably for the the best that their feathered friend seems to have turned out to be more of a feathered acquaintance. But, still, if the family's learned anything by now, it's that you never know whoooo-whoooo might drop by.
"I am leaving the sliding back doors open just in case," says Sarmiento.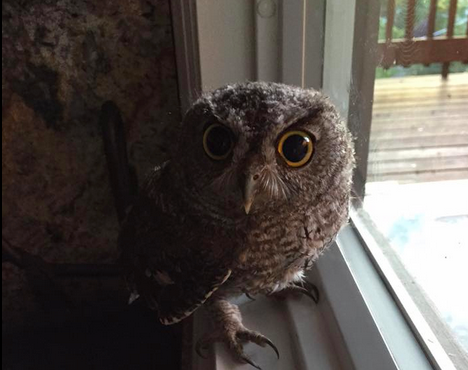 Get in touch at arin.greenwood@huffingtonpost.com if you have an animal story to share!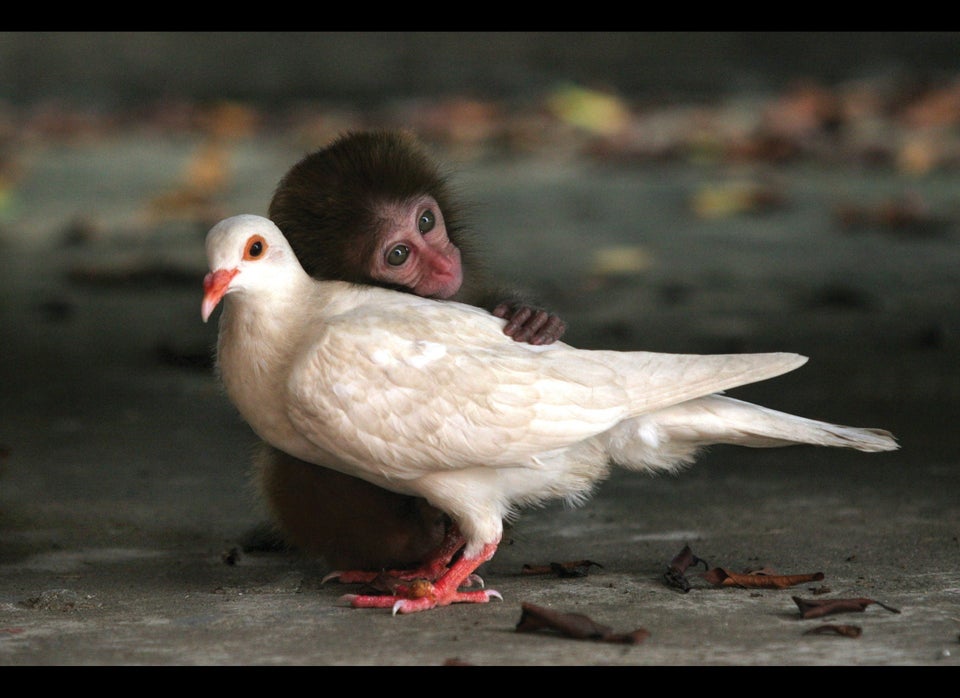 Unlikely Animal Friendships
Related
Popular in the Community