A mother watched with horror as deputies in Florida arrested her 10-year-old son with autism at school last week for an incident she said took place last year.
Luanne Haygood filmed her son's April 12 arrest on her cell phone, capturing him crying out in confusion as Okeechobee County Sheriff deputies handcuffed him and led him to a sheriff's vehicle.
"I don't know what's going on, mama!" the little boy shouted as his mom tried to get answers from the deputies.
"He has autism. He doesn't know what's going on," Haygood is heard telling the deputies.
According to her, deputies arrested the child after a school resource officer identified him as having an outstanding warrant for assault ― something that Haygood is heard saying in the video that they weren't aware of.
Her son allegedly kicked a teacher last fall and had recently returned to school on Wednesday for mandatory testing after being homebound. Haygood says this behavior is related to him having autism.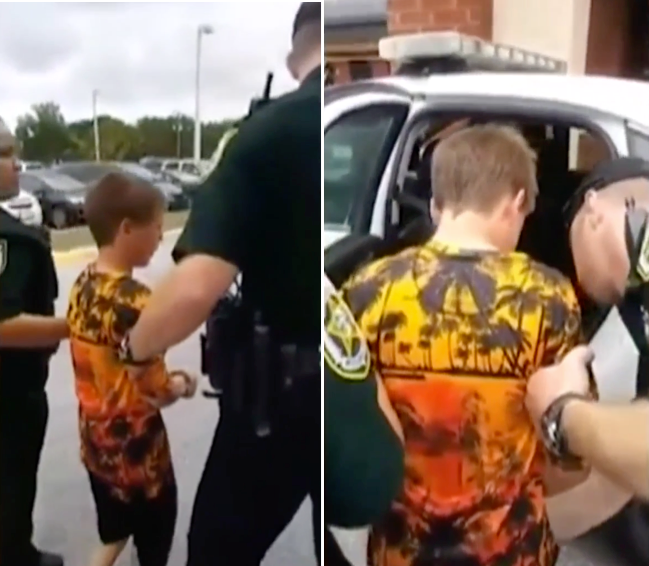 Haygood said that having her son arrested on school grounds crossed the line.
"To go and have him arrested on school grounds, in front of other students, in front of personnel, during school hours, they could have come to my house at any time and told me what was going on," she told Miami-based CBS 4.
She further criticized the school as not having enough specialized procedures in place for children on the autism spectrum.
The fuming mom has continued to express her upset over the situation on Facebook, highlighting the bureaucratic obstacles that she faced trying to obtain police records on her son.
The sheriff's department and state attorney's office, reached by local WPTV, said they weren't aware that the boy has autism.
The Okeechobee County School District, in a statement released to local media, said they have programs in place to assist students like Haygood's son. They also said that they would "not invite someone to one of our campuses for the sole purpose to arrest."
"The district routinely assists students by providing services from our board certified behavioral analyst, licensed mental health counselors, school social workers, and psychologists. As a team, these individuals develop interventions, conduct assessments, and offer support both at school and in the home in order to assist students and families," they stated.
Requests for comment from the boy's mom, school district and sheriff's department were not immediately returned.
Popular in the Community