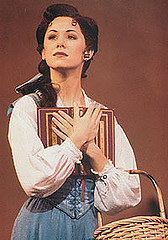 Actress Susan Egan who appeared as Belle in the original Broadway production of Beauty and the Beast has written her support of boycotting Sacramento's California Music Theatre/Sacramento Music Circus over issues surrounding the passage of PropH8. The theater's artistic director Scott Eckern, who is Mormon, contributed of $1000 in support of California's divisive Proposition 8 which eliminated marriage rights for gay couples.
I am deeply troubled by the news about Scott, as I have worked for and known him since 1993. I find his behavior hypocritical at best and, more likely, distressingly prejudiced. Many of you friends who, like myself, have worked for Scott might be floored to know this news. I think at this point I shall do my best to "out" him and any others like him. Folks who show (and make money) playing one game, but with an inner intolerance that denies everything our industry represents...

I hope with this email to find others to "hold the space" with me .... full equality in marriage rights. If you should feel compelled to pass the information about Scott Eckern on to others .... by all means do.
Read more of Egan's comments, along with Hairspray writer Marc Shaiman's email to Egain on the controversy, here.
Popular in the Community