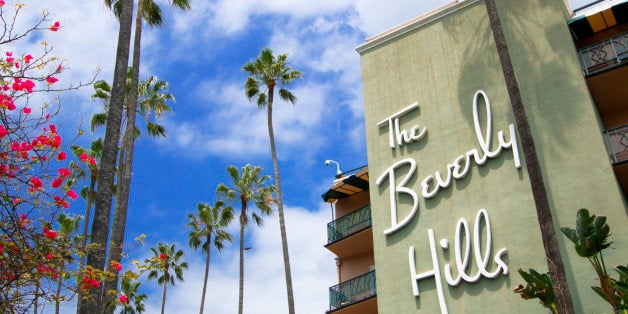 The boycott of the Beverly Hills Hotel, and the other hotels run by its umbrella organization, the Dorchester Collection, has been the subject of a lot of media attention over the last couple of years. From Vanity Fair, to the New York Times, to news outlets all over the world, it has been widely reported, debated and discussed. But very little has been said about the true story behind it. How did it begin? Who started it? How did the hotel respond internally? Has it really ended? The inside story has yet to be revealed. But today I want to set the record straight, and I'm in a unique position to do so -- because I was there from the very beginning.
It was an incredibly surreal, bizarre turn of events for me. I honestly can't emphasize enough in words what a huge part of my life the Beverly Hills Hotel has been. I literally grew up there; my family began patronizing the hotel when my grandparents moved to Los Angeles in 1948. My grandmother insisted that she couldn't live more than 5 minutes away from it. As a kid, when my parents and I lived in France, we would stay at the hotel every time we came into town. I have so many special memories there that I don't even know where to begin -- countless mornings chatting to Ruth at the Coffee Shop while reading the L.A. Times at breakfast. Holding my aunt Portland's memorial party at The Polo Lounge when she passed away in 2004. Having spaghetti carbonara and a Shirley Temple in my room watching Dustin Lance Black deliver his acceptance speech on TV at the Oscars in 2009. My tennis lessons with Alex Olmedo, the in-house tennis teacher who won Wimbledon in 1960 (those sliced orange wedges in the ice box by the tennis courts were the best!). The legendary Sven Petersen who ran the pool and served as a grandfather-like figure to me. I knew almost every single staff member there by name, from Emilio who used to run room service to Mitchell the concierge behind the front desk. These people were my family, which made it all the more traumatic and painful when I had to stop going.
When I moved back to L.A. in 2010, I continued to go as often as I could. Granted it was a little expensive for me, an 18-year-old college student at the time, but like I said, it was home, and nothing could stop me from going there. I made friends with some of the newer staff members who had come in, including Steven Boggs, the director of guest relations, who was incredibly gracious to me and my family. I never however met Mr. Mady, the new manager who was brought in by the Dorchester leadership, and nor did my father despite several attempts to say hello. Mady seemed a little dismissive, a little distant and detached from the clients and history of the hotel (which, in my opinion, was the beginning of the problem). Even before the issues with the Sultan started, there were many of us who thought that the hotel management had lost its way and that they weren't making decisions in the best interests of the hotel. They brought in an interior designer who had no understanding or appreciation of the hotel's unique history and aesthetic to re-decorate the lobby, which turned out to be a total disaster. As I heard one longtime patron say, "it looks like a very upscale Marriott."
On April 15th, 2014, I woke up one morning to read a news article about how the Sultan of Brunei was planning to implement sharia law in his country. The Sultan had owned the Beverly Hills Hotel since the early 1990's as part of the BIA (Brunei Investment Agency), which is overseen by Brunei's Ministry of Finance. The Sultan had originally purchased it to turn it into his own private home, but when the City of Beverly Hills informed him that he couldn't do that, he decided to keep it as a hotel. That was the beginning of the Sultan's interest in acquiring hotels and what would later come to be the Dorchester Collection, the worldwide group of hotels that he owns today. When I heard the news, I truly couldn't believe it. Sure, there are other countries that have sharia law on the books, such as Saudi Arabia, which has had it in place for thousands of years (and I'm not particularly fond of them either). But for the Sultan to to implement sharia law in a country that had never had it, in the year 2014, seemed absolutely astounding and hard to fathom. I sent my Dad the article and told him that we had to get in touch with our friends on the staff at the hotel, and fast. At this point the news had still not spread much, but I assumed that the staff at the hotel would be aware of what was sure to be a burgeoning crisis.
The news was met with ambivalence by those we talked to at the hotel. "Haven't heard anything from management," one said. "It'll blow over," said another. Nobody seemed to think it would become an issue, which seemed very strange and peculiar to my Dad and me. I thought about how to handle the situation; I encouraged my friends on staff to talk to the management and see what they said. For 2 weeks we heard nothing back from them; just silence. As the news started spreading on the internet, I was contacted by friends of mine, who knew what a dedicated patron of the hotel I was, asking me what I thought about it. I didn't know what to say; all I knew was that I wouldn't be going back until I had further information. Soon I found out that a protest was being planned for outside the hotel on May 5th; Jay Leno would be participating to raise some visibility and hopefully get the Sultan to take notice. I hoped that this might be enough to convince the Sultan to change his mind; unlikely, perhaps, but the last thing I wanted to do was boycott the place that held such a special place in my heart.
I attended the protest with Leno, and waited to hear what the hotel's response would be. The next day, however, all hell broke loose. In response to the protest, Dorchester CEO Christopher Cowdray did an interview with CBS News in which he stated he was "not prepared to comment" on whether or not he supported sharia law, i.e. the stoning of LGBT people and flogging of women in Brunei. He said he felt "totally unfairly picked on" -- instead of sympathizing with people's concerns, he attacked those who were in favor of the idea of a boycott, those of us who were just trying to stand up in the name of human rights. I honestly couldn't believe what I was watching; the complete insensitivity and smug attitude with which Cowdray conducted himself during the interview was incredibly offensive. Up to that point, I was conflicted about how to handle the whole situation, but this confirmed what I had felt in my heart from the very beginning: that this was wrong, this was unacceptable and something had to be done about it.
On May 9th, an acquaintance of mine, Billy Pollina, sent a group message on Facebook to me and legendary LGBT activist Cleve Jones. Cleve, also a friend, had been actively posting in favor of the boycott on social media, as had I. We talked about organizing a protest together, and brought in Dave Garcia, the Director of Policy and Community Building at the LGBT Center in Hollywood, as a partner in putting it together. We had several meetings at Pollina's office, and I personally went down to the Beverly Hills Police Department to obtain the permit we needed. On June 27th, we held a protest which was covered by Variety and various other major media outlets. This would be one of the 3 protests that would be held outside the hotel in 2014, the last one of which was organized by the Unite Here hotel workers union, which I also attended.
After 6 months of persistent campaigning, the boycott seemed to be working. All the major talent agencies announced that none of their agents were allowed to have business meetings there; the famous "Night Before" Oscar party hosted by Steven Spielberg, Jeffrey Katzenberg as well as other Hollywood heavyweights was moved to a different location. We got word that the hotel was practically empty, that virtually nobody was patronizing the Polo Lounge, except for a few out of towners who were oblivious to what was going on. We also got word that a group of wealthy businesspeople were planning on coming together to make an offer to buy the hotel, one of whom included former Microsoft CEO Steve Ballmer.
At that point, things began to quiet down. I think we all sort of felt, in the back of our heads, that we had done our job, that now all we had to do was sit back, relax and wait to see what the Sultan would do. Plus, life admittedly got in the way: I decided in August 2014 that I would be running for West Hollywood City Council, which, as I'm sure you can imagine, became a time-consuming endeavor. Complacency, of course, is the worst thing that can happen to a boycott, and thats exactly what set in. The lack of attention and press gave the hotel an opportunity to fill the vacuum and see if they could start turning things back into their favor. They had their crisis management publicist plant stories in the press about whether or not the boycott was effective and whether perhaps it was already over.
Soon enough, the boycott was put to the test. In early 2015, it was announced that Los Angeles Confidential Magazine would be holding an event at the hotel honoring the singer John Legend, who had initially come out in favor of the B.H.H. boycott. Clearly they were trying to see what the feedback would be; would there be the same kind of outrage and indignation that there had been at the inception of the boycott? Well they sure got their answer -- on February 3rd, The Hollywood Reporter reported that "Los Angeles Confidential's plans to host the first major entertainment industry party inside the Beverly Hills Hotel amid a widespread Hollywood boycott have backfired as its cover star John Legend has backed out of a planned appearance." They went ahead with the event anyway, without their honoree, but it was a massive PR disaster for the magazine and for the hotel. That held the boycott in place for yet another year, but it is only in the last few months of 2016 that things have really begun to heat up.
A good friend of mine and fellow gay activist, Fred Karger, called me in early March 2016 with an urgent concern. He said he'd received an email from the Metropolitan Museum of Art in New York (of which he was a member) saying that their director, Thomas P. Campbell, would be hosting a meet and greet for the Met's west coast donors at the Beverly Hills Hotel on April 6th. There had once again been a couple of new articles around, one by Maureen Dowd in the New York Times and one by Gary Baum in The Hollywood Reporter, bringing up the question of whether or not the boycott was still in effect and whether it was ok to finally go back to the hotel. Fred suggested that this would be the perfect opportunity to bring some fresh energy to the boycott and re-galvanize people behind our cause. I agreed, and so I went to work.
On March 24th, Out Magazine, the most prominent LGBT magazine in the world, published an open letter from me to Thomas P. Campbell on the front page of their website. In it I vehemently urged Mr. Campbell to reconsider holding his event at the hotel and to move it to a different location. After all, I said in the letter, "there are many other comparable hotels throughout Los Angeles... none of which are owned by an anti-gay, anti-women dictator... I am sure that some of these properties would be able to accommodate your reception." Within an hour of the article's publication, I received a call from one of the top staff members at the Met informing me that they would be changing the venue and that they had been completely unaware of the issues surrounding the Sultan and the boycott. On April 6th they instead held their event at the Beverly Wilshire hotel, a major victory for proponents of the boycott that surely cost the Beverly Hills Hotel a large amount of money.
Curiously though, despite the major feat that had been achieved, the milestone got no media coverage. Regardless of the fact that the Met's decision to move the event proved, without a doubt, that the boycott was very much still in place and that nothing had changed from it's inception two years prior, nobody seemed to be interested in reporting it. I brought this up to a few people who have some intimate knowledge of the entertainment industry press; they suggested that perhaps the Beverly Hills Hotel was paying off the press to report favorable stories about how the boycott was coming to an end and keep negative stories out of the spotlight. It did seem very strange how two major media outlets like the New York Times and Vanity Fair had written about the supposed end of the boycott but didn't seem interested in reporting the other side of the story when their prior reporting was proven to be incorrect. It seemed like they had a narrative they were running with, regardless of the facts, and I wondered why.
On April 15th, the hotel's pitiful PR campaign continued with an article in the Hollywood Reporter entitled "What Beverly Hills Hotel Boycott? A-List Stars Set for Weekend Fundraiser at Venue." In it the writer talked about the supposed "long list of bold-faced names" that were "expected to turn out to honor veteran producer Avi Lerner" at the upcoming event. In the end, the party came and went with a whimper. Most of the major celebrities that were reported as apparently planning to attend the event didn't even show up, save for Gerard Butler who ended up being the biggest name they managed to get that night. The hotel did a good job at spinning it, but it was at best a very mediocre turnout -- hardly the the end of the boycott as it was desperately blown up to be.
Despite what the hotel's PR minions may say, Jeffrey Katzenberg, the powerful and influential co-founder of Dreamworks who its probably the best barometer in terms of gauging whether or not the boycott is still on, says it is still very much in place. Warren Beatty, who, like my family, patronized the hotel for many decades, says he longs to return but will not until the Sultan either sells the hotel or until the laws in Brunei are changed. Like Warren, I too long to go back to the hotel. It still has a very special place in my heart, but to go back to the hotel now, in this current predicament would be against everything that I believe in -- so until something changes, I guess I'll keep on longing.
The biggest misperception in all this, and the one I resent the most, is the idea that the ones advocating for this boycott are somehow the ones who are betraying the employees and are responsible for this whole mess. That's not the case at all -- the Sultan is the one who is responsible, and they should be angry at him, not us. He's the one who is putting his employees in this unfair, untenable position, though, as the hotel noted, the employees are being compensated for lost tips wages. If they want to be angry at someone for causing this whole mess, then the Sultan is the one whom they should aim their fire at, because all we're trying to do is stand up for the innocent LGBT people and women of Brunei who don't have a voice, who are forced to live a daily existence of fear, hostility and oppression.
As former Beverly Hills Mayor Lilli Bosse put it when the Beverly Hills City Council passed a unanimous resolution calling on the Sultan to divest himself of the hotel: "Often we do live in a world of apathy. We have lived in a world where people have remained silent. Our community has asked us to stand up and speak for justice, and speak for the humanity of who we are." That is what we are called to do, and we must do it for as long as it is necessary. It may very well be the case that the Sultan doesn't care about the boycott and that it doesn't have a monetary impact on him. But that's not the point. We're doing it because it is the right thing to do, and if that means we may never go back to the hotel so long as we live, then so be it. At least I can go to bed and sleep soundly at night knowing that I am on the right side of history and standing up for the values that matter most -- dignity and equality for every human being on this earth.
Calling all HuffPost superfans!
Sign up for membership to become a founding member and help shape HuffPost's next chapter