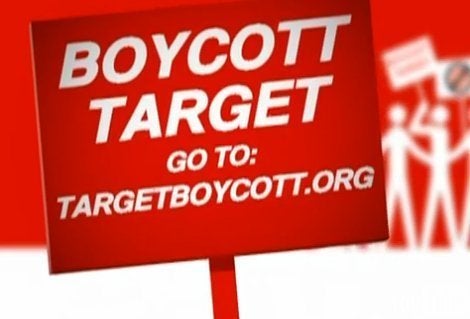 Progressive action committee MoveOn.org has released a TV ad urging Americans to boycott Target, in its latest swipe against the company for spending money on the Minnesota Governor's race.
"Target and other big corporations are trying to buy our elections," the ad states.
"Target's refusal to acknowledge its customers' outrage at their attempt to buy elections is scandalous," said Justin Ruben, Executive Director of MoveOn, in a statement. "Americans have spoken: we don't want corporations meddling in our democracy. Corporate money in elections is nothing more than political bribery and we're not going to stop targeting Target until they stop trying to buy our elections."
Last week MoveOn fulfilled a threat to launch a full-scale campaign against Target. So far it has circulated a petition-- which has gained over 260,000 signatures-- and started a heated Facebook group urging followers not to shop at Target until the retailer stops donating to political campaigns.
The latest TV ad will run on national cable and Minnesota local channels for a week, or you can WATCH it below:
Related
Popular in the Community