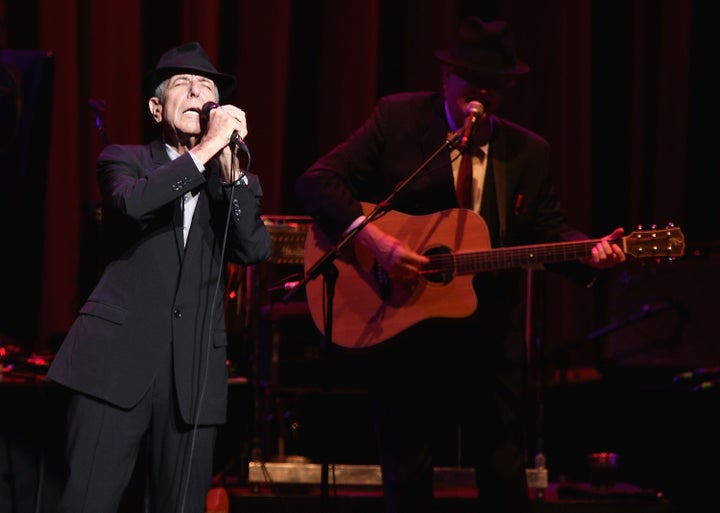 Leonard Cohen played to a sold-out crowd on September 24 in Ramat Gan, Israel. About 6 months ago when the tickets started going on sale, the country was abuzz: are you going to see Leonard Cohen? It was a question asked by grandmothers to young teens. A Canadian friend of mine, Mark, stationed in Qatar, was even mulling coming to Israel for the show -- despite the fact that he'd have to do it clandestinely through Jordan since Israel and Qatar do not have diplomatic relations. Tickets sold out in 12 hours, so if you didn't act fast there was no point.
As much as I love Leonard Cohen (and the fact that I could easily have two of his songs on the soundtrack of my life: "Dance Me To The End of Love," and "Halleluiah") I couldn't imagine forking out the equivalent of about $300 CAN for a ticket. So I stayed in Jaffa and after a day of work went to visit my friend Rivi in Tel Aviv. We headed over to Tel Aviv's famous vegan restaurant Buddha Burger and for once since it was opened a year or so ago, it was virtually empty - as were the nightclubs on Lillenblum Street. It was as though the entire city had gone to see Leonard Cohen.
It's like that in Israel when big acts come. People pour out of the cities to the 50,000 seat Ramat Gan stadium. Although we are only a short flight to Europe - about 3 to Germany, 1.5 to Turkey or an hour to Greece - it's a big commitment for artists to come to Israel. I reason that most of them, unless they are die-hard fans of Israel or Jewish people, don't bother: I can't think of one big act that has come to Israel without pro-Palestinian organizations boycotting against them. With all the bad press, who wants to be bothered?
Smaller acts like Regina Spector or MGMT don't care, but once an artist hits it big: watch out. You'll be boycotted, and no one, quite frankly, including the artists, understands how boycotting arts and cultural events in Israel will bring Middle East peace.
It happened with Madonna, who didn't care. She's Madonna after all. It happened with Depeche Mode, who says boycotts don't bring peace. Same with Paul McCartney and recently Leonard Cohen. Unlike Madonna and the other big acts who come to Israel for the eager and captive audience (tickets sell like hotcakes - this year 50,000 for Cohen), Leonard Cohen decided to make any wrongs in this world right and has donated some $2 million USD in box office sales to a number of peace-making organizations in the region, including the Peres Center for Peace.
According to Haaretz, a local newspaper:
Seconds after Cohen took to stage in his legendary tailored suit and hat the 75-year-old singer-songwriter softly uttered a Hebrew prayer in front of some 50 thousand people curious to see how the frail looking man planned to overcome the distance between the stage and the people tens of meters in the back.
So me, tired of hearing news about boycotts -- the tiring antics around the Toronto Film Festival and the attempted boycott of Israeli movies (and more recently Spain and Israel's environment project) - was so proud of Cohen when he turned those proposing a boycott and flipped the idea on its head: The $2 million he's earned in ticket sales is now going towards dialog and peace work. It was money that should stay in the region, anyway that's what he said to the media.
"Everyone in the audience felt like Cohen was personally singing to them and the enthusiastic and even ecstatic crowd wouldn't let the singer leave until his third encore," noted the Haaretz reporter.
Well, I can't say I missed Cohen completely. After returning from Tel Aviv with a seaweed/tofu salad in my belly, washed down with orange juice and a tofu milk latte and soya cheese panacotta, I opened the big blue gate to my house to face the 250 person wedding in the front yard. (I live in a house that is also a venue for arts events and celebrations, managed by my friend BH).
More than half of the guests at the wedding looked about 30 and under. Obviously they'd sacrificed more than a big fat wedding check, the custom in Israel, to go to their friend's wedding. Worse: they'd missed their chance to see Cohen. The bride's uncle decided that the guests would not suffer. He'd arranged an online recording of the show and screened the video to a teary bride while onlookers mouthed the lyrics by heart.
Projected on the wall of the house, we all looked to the new married couple and swayed to Cohen's "Dance Me To The End of Love."
Calling all HuffPost superfans!
Sign up for membership to become a founding member and help shape HuffPost's next chapter