Unlike many memoirs, Kaufman's Hill, John Hampsey's remembrance of his boyhood in a middle-class Catholic Pittsburg neighborhood, is not a born out of an intense personal experience or extreme personal adventure. Instead, Hampsey's hypnotic, precisely paced, prosaic memoir tells the story of a particular place during a particular period of time through the eyes of his boyhood self.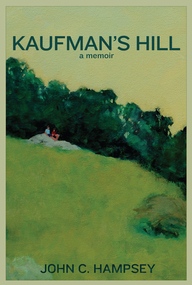 "What drove me," Hampsey told me as we discussed his work, "was not to write about my boyhood, but it was to try to capture the early and mid-1960s when childhood was exhilaratingly free and dangerous."
Kaufman's Hill is a tale full of mythical aspects of creeks and rivers and a scrap of the hill that is at the center of everything. It's narrator is an observer of things that go on around him and outside of him, and captures a part of the early years of 1960s, a period that bridged the muted 1950s and the turbulent 1960s. For the narrator, it was a time when the outside world had not yet entered his life. It was a time when bullies roamed free of consequence or even judgment and everyone's mother got mooned.
The key to the telling is the narrator and Hampsey chose to stick with the vantage point of his boyhood self, "even though," he said, "it's frustrating because at times you want to make a commentary on woods disappearing or freeways coming, or you want to make a moral judgment, or get sentimental. Once you stick with that point of view, you can never do that, you can never be sentimental or make judgments. But after a while I really liked that -- it had a clean feel to it."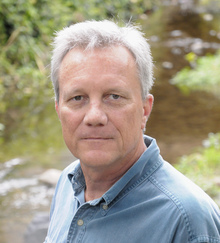 The collection of post-WWII generation of parents that populate the neighborhood live secluded, miserable, alcoholic lives and do not communicate well with their children -- or each other -- if they communicate at all. Think the complete opposite of the current crop of helicopter parents. The narrator and the other neighborhood children were left to entertain and fend for themselves. They were not asked about nor did they volunteer any detail about their lives.
Much of the memoir happens at twilight, which for Hampsey is connected to memory. The narrator longs for a connection with his father, but he's consistently disappointed. While there's a sense that the father desires the same, he's incapable of making that connection and remains remote. It's clear that the narrator would like to understand his father, but it seems likely that they will never be able to truly see each other.
And then, in a scene between narrator and father, in a lake in the woods, Hampsey skillfully guides the reader into the twilight one more time. Through a subtle, yet powerful exchange the boy finds sympathy and empathy for the father. This signals both a shift toward the end of the memoir and the end of the narrator's boyhood. In the ensuing pages, the outside world intrudes and the narrator's view of those things around him begins to shift.
"Kaufman's Hill is among the mosttouching, sensitive, and
spellbinding memoirs I'veencountered in many years. Beautifully and exactly written, this book will surely reach into the hearts of its readers. I wasdeeply moved." ―Tim O'Brien, Author, The Things They Carried

Hampsey says that for some time he had planned on writing this story as a biographical novel but the more he wrote the more he felt a growing commitment to have everything stay true to the way he remembered that period of his life. "And it is all absolutely accurate -- especially in the moments of twilight."
Hampsey starts writing by making handwritten notes full of minimalistic bulleted scrappy notes. He then sits down and just lets it go, "almost like my eyes are closed." Then he's happy, he's relieved, because once he's got those ideas on the screen he can revise and revise and revise. He says that he won't move on until "something sparkles on each page."
Calling all HuffPost superfans!
Sign up for membership to become a founding member and help shape HuffPost's next chapter