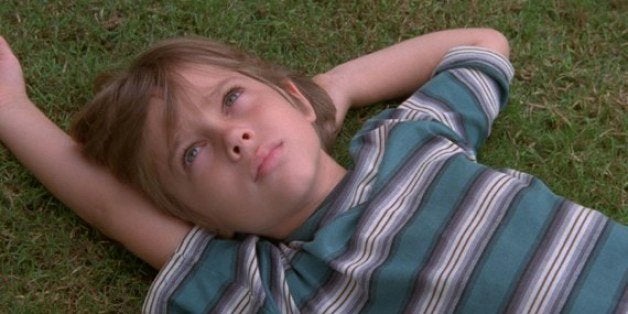 Panda watch! I have no idea why I just wrote those words other than the fact that (A) I am running on fumes here at Sundance as far as sleep's concerned and (B) it made me laugh. It was a big day at Sundance as I saw three of my seven most anticipated movies. And two of them –- "Boyhood" and "The Skeleton Twins" -- not only met my expectations, but also far exceeded them. Anyway, let's just get right into "Boyhood" because, boy, this one is something special.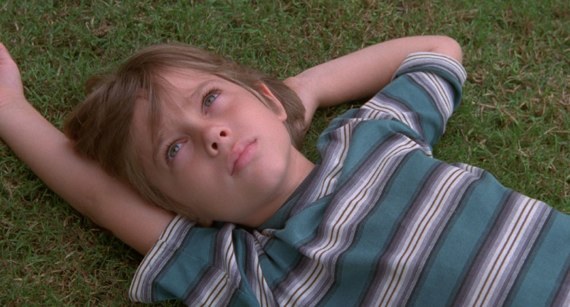 "Boyhood" is one of the most remarkable movies that I have ever seen. This isn't hyperbole. Richard Linklater started filming "Boyhood" in 2002, finally finishing in 2013. Over 12 years, we literally watch Mason (Ellar Coltrane) grow up before our eyes (Coltrane is currently 19) -- not to mention Ethan Hawke and Patricia Arquette (who play Mason's parents) who become, let's say, more mature over the course of the film themselves.
After the screening I posed the question to a few people, "If 'Boyhood' had been entirely filmed in 2013, with different actors used for the children as they age, would you feel as positive about the film?" Everyone I asked agreed that the answer was "no." This isn't a slam on the film's plot, it's just that the plot about a brother and sister and their divorced parents needs the familiarity of the actors. We need to see these people age and mature for us to care about these characters.
Okay, yes, the film starts to drag a little bit near the end. No doubt about it, this is a long movie. And I really have no desire to ever see this movie again. I can't imagine on some rainy Saturday thinking to myself, I'm in the mood to watch the 164-minute-long "Boyhood" again. But, who cares? They've been filming this movie for 12 years! There never really been anything like it. So, sure, "Boyhood" is a one-time experience. But it's also an once-in-a-lifetime movie and, at this point, the best film of Sundance.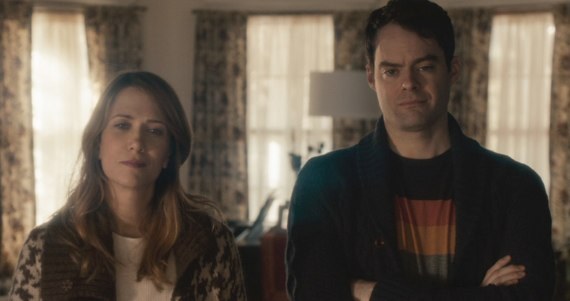 I'm always wary when actors known primarily for comedy attempt to do drama -- and not just drama, but serious drama. "The Skeleton Twins" is being marketed as "the drama starring Bill Hader and Kristen Wiig," which is slightly misleading because "The Skeleton Twins" is much funnier than they're letting on, but, yes, it is technically a drama. Anyway, my point is that there was no reason to worry, because both Hader and Wiig are quite wonderful and, from their years on "SNL" together, have obvious chemistry.
Hader and Wiig play brother and sister who both, separately, randomly, attempt and/or contemplate suicide on the same day. Maggie (Wiig) is in a marriage with a man (Luke Wilson) she does not love and her gay brother Milo (Hader) finds himself in a very, very unhealthy relationship with a former teacher. Neither suicide attempt works, but it brings the two back together after 10 years of not speaking.
We knew after "Bridesmaids" that Kristen Wiig's success wouldn't end at "SNL." With "The Skeleton Twins," we now know that Bill Hader has much more in store for him than just the wisecracking sidekick roles. Both actors here are excellent. (And if you like Starship, boy, are you in for a treat.)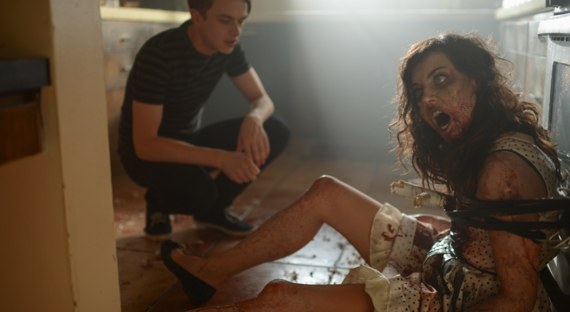 First of all, even though it's a zombie movie, "Life After Beth" isn't scary. It is funny –- at least for most of the film. Beth (Aubrey Plaza) dies from a snake bite, but mysteriously comes back to life shortly after her funeral. Her boyfriend (Dane DeHaan) uses this opportunity to get one more chance at having a relationship.
Every recent zombie movie seems to have a catch that at least attempts to make it unique when compared to other zombie movies. The catch in "Life After Beth" is that when Beth first reappears, she's completely normal (and has no idea that she was ever dead). It's only after time that her body and her mind start to decay, turning her into a zombie. It's an interesting twist -– and, like I mentioned, the film has a sharp sense of humor -– but by the end of the movie, it's just like every other zombie movie: Zombies chase; people run.
(Also, I just want to point out that this is the second movie that I've seen at Sundance that features Paul Reiser playing the main character's father. We are one more away from a Paul Reiser Sundance trend.)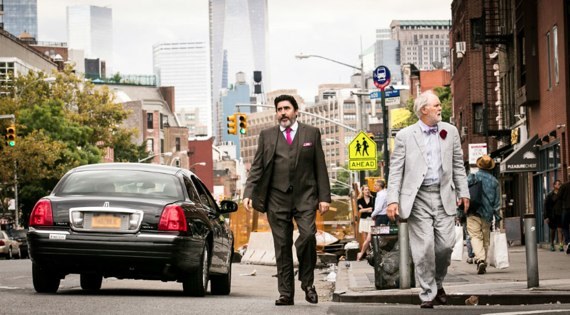 The best word for this film is "lovely."
John Lithgow and Alfred Molina play a recently married New York City gay couple who find themselves in financial strife when George (Molina) is fired from his job teaching music at a Catholic high school after the administration finds out about his marriage. The two men have to then live separately until they can discover a way to once again afford an apartment together.
This is a sweet film that winds up being heartbreaking -– watching these two men who had been together for 39 years find themselves torn apart from each other because they got married.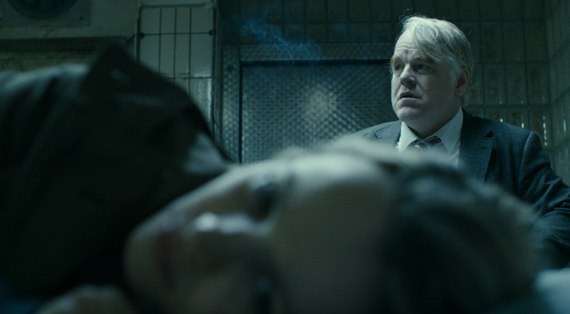 From director Anton Corbijn -- the man who brought you "The American" (a movie that most people don't like very much) – comes another slow burn, "A Most Wanted Man." Set in Hamburg, Germany -- a hotbed of sorts for terrorist activities -- we follow German spy Gunther Bachman (Philip Seymour Hoffman), as he attempts to locate a suspected terrorist, while trying to prevent his own government and the American government from overeacting. Look, the story here is interesting, but execution is dull. I actually enjoyed the slow-paced "The American," because the tone was slow. It felt like the movie was supposed to take its time. Here, there's so much going on and so many interesting characters, I was on the edge of my seat for the first half of the movie waiting for something to happen – because it feels like something should happen. Then I just eventually gave up. Yet, I still found the movie strangely compelling. Look, no one ever said that the spy game was exciting.
Mike Ryan is senior writer for Huffington Post Entertainment. You can contact him directly on Twitter.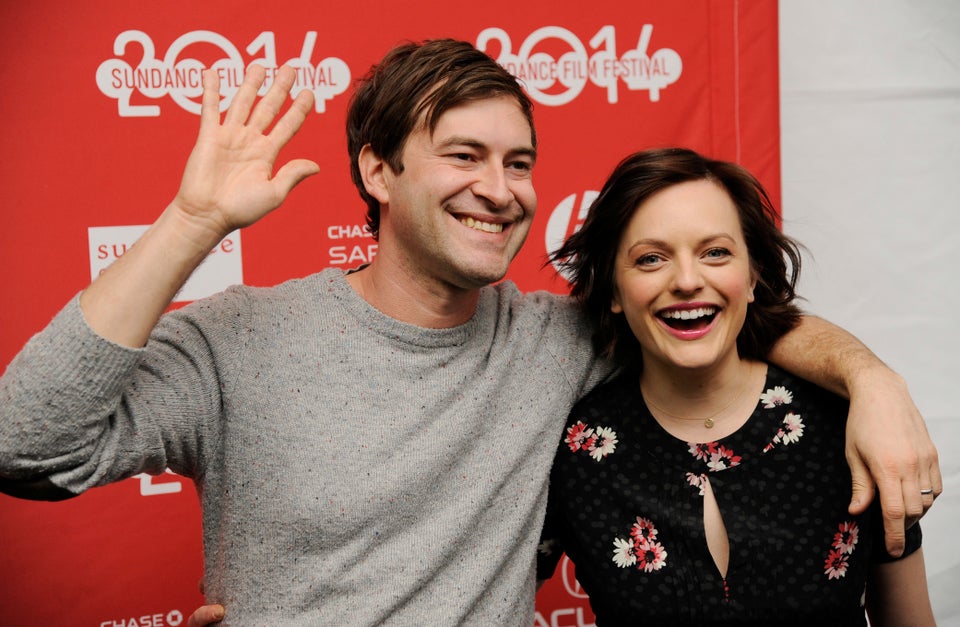 Sundance Film Festival 2014
Popular in the Community