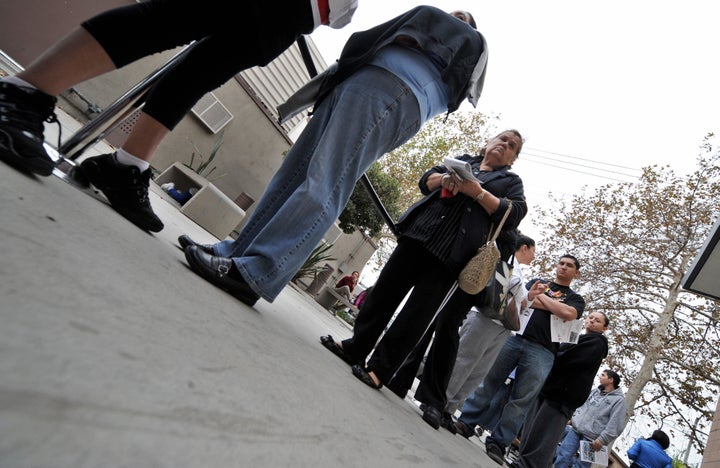 This article is part of a weekly series published in partnership with the Boyle Heights Beat. It appears on Wednesdays.

Families left without homes, parents left without jobs and businesses left without resources to stay open are just some of the consequences of Boyle Heights' weakening economy.
In recent years, many Boyle Heights residents have faced severe struggles because of the bad economy. They've suffered not just the external pain from losing a house or a job, but also the internal pain of feeling helpless and depressed and not knowing what to do next.
But even though many have gone through hardships, they are not giving up. Even in tough times, Boyle Heights is known as a community that joins together.

Many people in the Boyle Heights already lived at or below the poverty level before the economy got worse, according to the East Los Angeles Community Corporation (ELACC). More people live in each household here than in Los Angeles overall, they say. Those who can't afford to rent or buy homes, live with relatives and have no real place to call "home."
Father Juan Gustavo feeds the hungry every day from Resurrection Church on Opal Street. "There are 120 families coming on a daily basis, an increase of 15 percent since the economic downturn," he says.
Patricia Gonzalez stands in line to be fed there. "I'm thankful for the daily food I get," she says. "I have to come more frequently now since my husband's construction hours got cut down."
A TOUGH BUSINESS CLIMATE HURTS EVERYONE
A weak business climate hurts all of Boyle Heights. The lack of business means lack of employment. When there's unemployment, there's no money, and when there is no money, people can't support themselves, or, more importantly, their families.
Having a job also is crucial to pay rent or mortgages. "The combination of bad home loans and unemployment are driving up the number of foreclosures in the Boyle Heights area," says Daniel Rodriguez, director of community wealth at ELACC.
It's also hard for many Boyle Heights residents to pay off debts with loans because the informal economy, where they work as gardeners or street vendors, don't give regular paychecks. Banks now require proof of income to give loans and many homeowners who need them can't get them, says Rodriguez.
Rodriguez holds a weekly foreclosure clinic at ELACC to help people try to keep their homes. Since 2008, the number of people attending the clinics has increased. Still, Boyle Heights has not seen as many foreclosures as some other parts of Los Angeles County. In Boyle Heights' 90033 ZIP code, one in every 511 housing units received a foreclosure notice in April, compared with one in every 221 housing units in the 90032 ZIP code of neighboring El Sereno, according to RealtyTrac, which keeps track of foreclosures nationally.
The high 70 percent of renters in Boyle Heights and the number of long-term homeowners has helped prevent the foreclosure crisis from turning out worse here, says Councilmember Jos&eacute Hu&iacutezar, who represents the district.
Other factors also influence the local economy. Many community leaders in Boyle Heights hoped that the opening of the Metro Gold Line would bring new business into the community. Alicia Maldonado, president of the Boyle Heights Chamber of Commerce, says the Gold Line has had the opposite effect in some cases.
"Boyle Heights lost several businesses with the Metro Gold Line, because construction was blocking the path or entrance of the businesses," she said. "Several of those businesses never came back."
While some new restaurants have opened recently in Boyle Heights, they have a difficult time as customers pinch pennies. At Primera Taza, a coffee shop on First Street, business is "maintaining itself," but owner Juan Romero has noticed a change in customers' buying habits.
"People now come twice a week, instead of five times a week," he says. "Instead of ordering a large Frappuccino, they are now ordering a small coffee."
Other small business owners who want to expand find it difficult to get loans, says Ralph Carmona, a small business consultant for East Side Assistance Center.
"Some business owners don't even have money in the bank," he said. "This is very overwhelming to most small businesses owners, who try to expand, but don't have the resources."
Maldonado, the Boyle Heights Chamber of Commerce president, believes that "the economy is going to be tough in the next four years."
For the time being, many community members are trying to make the most of their current situations. For some, this means standing in food lines; for others, doing whatever job they can find, wherever they can find it.
Rodriguez, of ELACC, says, "The people of Boyle Heights are very resourceful..., willing to do whatever it takes, even collecting cans, cardboard, metal and anything else to at least make ends meet."
"There is cohesiveness in this community," says Hu&iacutezar, the local councilmember. During tough economic times, he says, it wouldn't be surprising to see crime soar, but the opposite has been true.
"It's the beauty of Boyle Heights," he says. "We're pretty resilient here."

Rosa Solache junior at Roosevelt High School. She enjoys writing about political and community issues. Her hobbies include playing poker, reading, and riding her bicycle. She would like to attend college and law school and become a judge. She enjoys playing basketball.

This article was produced for BoyleHeightsBeat, which features the stories and blogs of community members in the Latino immigrant neighborhood of Boyle Heights, in Los Angeles, as well as the articles produced by the youth reporting staff of the Boyle Heights Beat, a bilingual quarterly newspaper and a project of the USC Annenberg School of Journalism and La Opinion.
Calling all HuffPost superfans!
Sign up for membership to become a founding member and help shape HuffPost's next chapter
BEFORE YOU GO