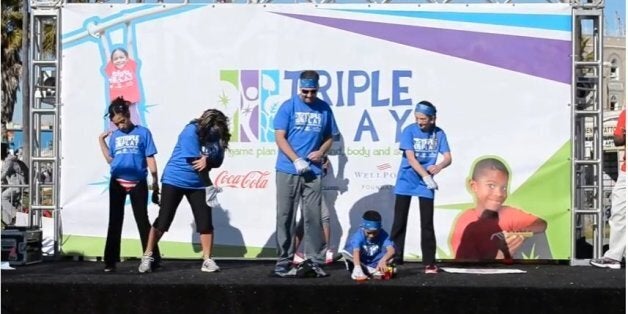 Something astonishing happened last week. After months of bad publicity, the University of Colorado decided to return a million dollar "gift" it had received from Coca-Cola in 2014 to establish an advocacy organization called the Global Energy Balance Network.
In case you missed the initial controversy, a New York Times article published in August exposed the shady ethics and conflicts of interest behind the donation. The university conveniently provided Coca-Cola with research suggesting that lack of exercise is a bigger contributor to our obesity crisis than excess soda consumption.
The university's decision to return the money made headlines, but what no one's talking about is what happened next: Coca-Cola turned around and re-gifted the money to the Boys and Girls Clubs of America, a venerable institution dedicated to improving the lives of nearly four million young people (ages six and up) each year.
The BGCA is a wonderful non-profit that offers kids a safe place to go after school, where they can play sports or get help with their homework from counselors. The clubs are located in cities, towns, public housing and on Native lands throughout the country. They also serve military families in BGCA-affiliated Youth Centers on U.S. Military installations worldwide. This organization has surely transformed the lives of countless young people over the course of its history.
But the BGCA also has a longstanding partnership with Coca-Cola, as you can see from this 1948 photo showing a Coca-Cola truck with an ad trumpeting the company's support for the BGCA. This was a great way to establish brand loyalty at an early age, in an era when no one could have imagined what a scourge soda would become.
Now, we know how unhealthy it is and how it's driving the epidemic of diet-related diseases in our culture. So, it's kind of creepy to see such a wholesome organization relying on a sugar daddy whose profits come from peddling an addictive beverage to kids.
Wouldn't it be great if the CEO of BGCA, Jim Clark, continued the trend and had the guts and integrity to hand this secondhand gift back to Coca-Cola?
It hardly seems likely though since Clark just this year re-upped the Coke/BGCA partnership for another five years. In return for its donations, Coke gets to continue to influence kids, build new brand customers and mislead them into thinking they only need to get outside and play more.
Any scientist or health advocate who isn't subsidized by the soda industry will tell you that what we eat and drink is far more important than how much exercise we get. Fed Up, the documentary that Katie Couric, Stephanie Soechtig, and I made, highlights this very subject, showing the heartbreaking struggle of four overweight kids who failed to achieve or maintain any significant weight loss despite regularly engaging in all kinds of vigorous activities.
Unfortunately, as these children learned that when you're drowning in excess calories, you can't paddle your way to a healthy weight. The one tried-and-true way to shed surplus pounds is to cut back on eating processed foods and drinking sugary beverages. And, according to a recent New York Times op-ed, this realization is finally fueling a radical shift in our diet.
So Coca-Cola has yet another public relations emergency on its hands (they are coming weekly!). Like the tobacco companies, its core product turns out to be hazardous to our health. And, like the tobacco companies, Coca-Cola is defying the science that's established this unpleasant fact, because to acknowledge it would undermine its whole reason for being -- to sell more soda. To achieve that goal, according to Coke's own numbers, it has spent $21.8 million for third-party scientific research on health-related issues and another $96.8 million in health and well-being partnerships over the past five years.
In the past, funding bad science seemed like a good investment; it gave a corporation under fire some ammunition to fire back at its critics. It worked for the tobacco industry for decades, until that historic day in 1994 when the CEOs of America's seven largest cigarette companies had the chutzpah to testify at a congressional hearing that they did not believe nicotine was addictive. That's the straw that broke Joe Camel's back.
Another time-honored way to disarm potential critics when your product has been fingered as Public Enemy Number One in a public health crisis is to bribe them with hush money. The nearly $100 million dollars that Coca-Cola has funneled to various public health organizations since 2010 seemed to have the desired effect of keeping those groups mum on the question of whether excess soda consumption is a problem.
Or at least it did, until the extent of Coca-Cola's donations to these organizations and the hypocrisy and conflict of interest that these "gifts" represent became public knowledge. After the New York Times exposé, both the American Academy of Pediatrics and the Academy of Nutrition and Dietetics severed their ties to Coca-Cola, although they stopped short of returning the millions they'd already received.
The University of Colorado's decision to return Coca-Cola's $1 million dollar grant was big news precisely because it's so unheard of for an organization of any kind to do such a thing. It's a heartening development for everyone who's worked so long and so hard to change the awful American diet, because it's proved that at least some institutions are capable of being shamed into doing the right thing.
The Boston branch of BGCA, deciding to take matters into their own hands, has launched a powerful initiative which includes banning all drinks except water and white milk. They also tell their counselors that if they bring sugary drinks from home, they are not allowed to drink them in front of the members. Message sent, message received. The writing is on the wall for Coca-Cola and its carbonated colleagues. Today's announcement by the CDC that obesity rates are continuing to climb is one more nail in the soda coffin. Time will eventually take care of the soda industry, but organizations whose mission includes safeguarding the health of our children don't have time on their side. Jim Clark, your choice is clear -- return the money and send a powerful message of your own to your kids across the country that their health is more important than any donation. That is the leadership the Boys & Girls Club of America deserves.
Related