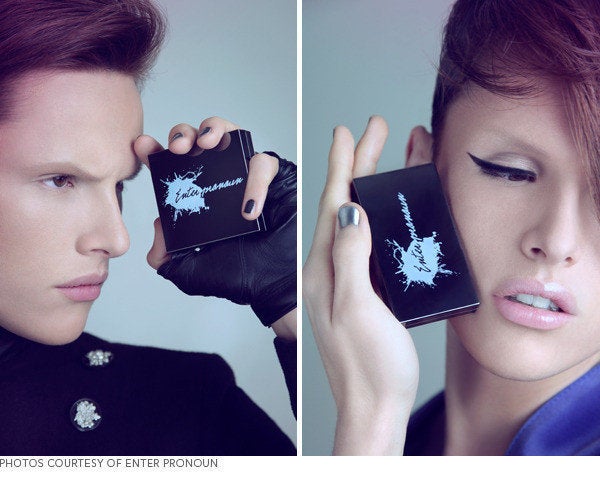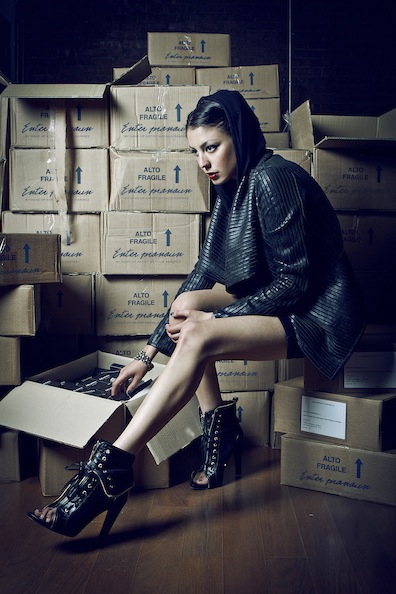 Natalia Ramirez is a power lesbian.
Is it super-cheesy to say that? Yes, it is. However, if you saw her with her leggy frame, her gothic charm and her dry wit, you'd see that she immediately captures the attention at any cocktail party. Immediately after a sharp joke, she usually trips and falls down, laughing up at everyone from the floor. Her magnetism is equaled by her clumsiness, a tipsy balance that makes her unforgettable and endearing.
As the founder and creative director of the first gender-neutral makeup line, Natalia has a vision of women and men shopping at the same beauty counter. Her company, Enter Pronoun, embraces androgyny and brings high-quality, high-fashion makeup to a new market. She creates her makeup to work as well for covering a 5-o'clock shadow as it does for a PMS-induced breakout.
Trained in Paris by top makeup artists, Natalia learned about hard work and excellent technique. The skills she learned abroad have been useful in establishing her as a strong talent in the fashion industry in New York.
Jincey Lumpkin: Why is it important to have a unisex makeup line?
Natalia Ramirez: I think that the message is as important as the product. Everyone should have a product that works for them. To be perfectly honest, the makeup lines out there being used by all genders work better for one over the other. Mine doesn't. I believe in my product quality first and foremost, but of course the ideals behind it please me as well.
Lumpkin: Can you see a football player using the makeup?
Ramirez: Of course! I don't know the first thing about football, but I know football players break out, get deprived of sleep and get messed up on the field. My product is amazing for covering bruises and tattoos, so I would be thrilled to see a football player dab some on.
Lumpkin: How has being a femme lesbian affected you in this business?
Ramirez: I think being a femme has been incredibly challenging in life, but very inspirational to my creative and business choices. I grew up feeling frustrated by how "in between" I was treated by both the lesbian and heterosexual communities. But being constantly asked to what extent I am gay, no matter how ridiculous the question was, opened my mind to other kinds of "middle worlds" that people live in. Thus began my fascination with androgyny. This inspiration made me translate that creativity into an incredible product.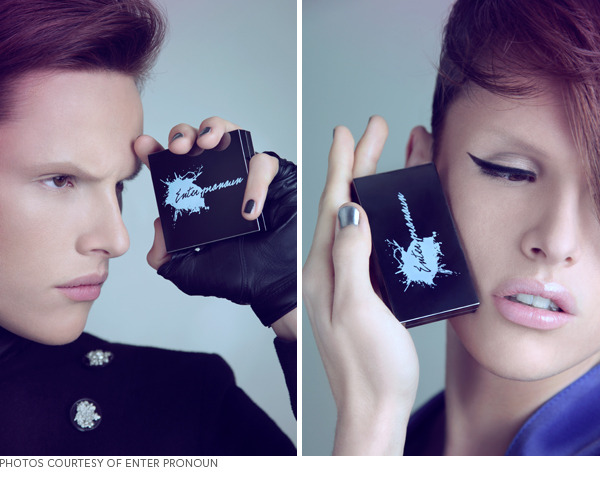 Lumpkin: Your love of androgyny seems to show up in both the product design and the advertising for your brand. But what was it that made you decide to start the company?
Ramirez: I started Enter Pronoun to fill a gap I saw in the beauty market. The biggest source of pride in my line is my concealer, which is one of the big reasons I started Enter Pronoun. I wanted to create a concealer that worked just as well for every gender, that doesn't exist on the market. Sharing my passion and experience in this industry means a great deal to me.
Lumpkin: How are you getting the word out about Enter Pronoun?
Ramirez: I want to see the line sold internationally, which is something we are working on. My fiancée, Ondriona Monty, runs sales and marketing, so she's really helped at getting us into some amazing stores, like Fred Segal on Melrose. I am constantly inspired by color, and so I'm expanding the collection. We have sponsored a couple of fashion presentations and plan on doing more in the upcoming seasons. Right now we are doing a trunk Henri Bendel on Fifth Avenue in NYC from Feb. 25 to March 3.
Lumpkin: Wow! That's going to be something! Those Upper East Side ladies are going to see a departure from the usual blush and perfume swizzle this week! If you could have a dream duo -- one man and one woman -- be the face of your company, who would it be?
Ramirez: Marilyn Monroe and Marlon Brando. But if we're talking about the present day, I would love to have Jack White and Alison Mosshart wearing EP. They are not only talented musicians but have such a great style.
Check out a slideshow of makeup-loving guys:
PHOTO GALLERY
Men Who Wear Makeup
Enter Pronoun is available at ODD in New York and Fred Segal in LA. The collection consists of three gender-friendly products: a bronzer, a concealer palate and an eyeliner pen.
Next time I'll be talking about the medical industry's sordid past with female sexuality. As always, if you have questions to ask or stories to share, you can tweet me @juicyjincey or reach out to me at Facebook.com/JinceyLumpkin.
REAL LIFE. REAL NEWS. REAL VOICES.
Help us tell more of the stories that matter from voices that too often remain unheard.