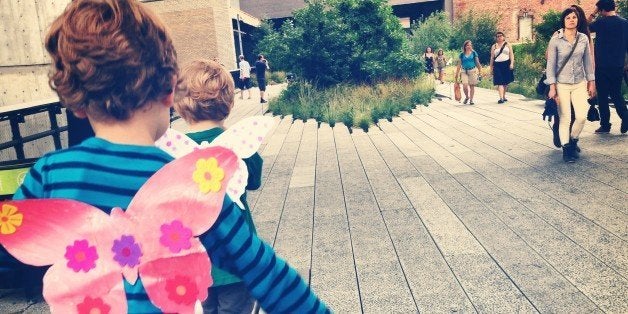 "What about these ones?" my 6-year-old son held up a box of running shoes. They were bright blue with hot pink accents. There may have been hearts on them. Clearly, a pair of shoes made for a girl. Except, he didn't know that and I didn't have the heart to tell him. Or maybe I didn't have the guts? Maybe I just didn't know how.
After all, a color is just a color, right? He already has hot pink swimming trunks. He uses a pink plate or bowl and cup at nearly every meal. He likes pink. And that's fine. Pink is just a color. I try to be neutral about such things, but I was grateful to have a reason to say no: "Those are cool. But they're running shoes and you already have a pair of those. We're looking for warm shoes for winter."
He put them back on the shelf and we found a pair of brown boots with red laces instead.
That was back in November, and I still think about it frequently. Not the event itself, but the question and answer that it brings to mind: Why can't you have the shoes with the pink hearts?
Boys can't wear pink because it's girly. Boys don't play princesses. Boys don't cry. But I can't say -- or even think -- these things without feeling like a hypocrite. Especially now that I have a girl. A girl who can do anything. Wear pink or blue. Be a doctor or a nurse. Play ball or be a ballerina.
I can see, and celebrate, the fact that for girls, the world is opening up, wide with possibilities as they are encouraged to stand up to stereotypes and lean in. But I worry about them leaning in so far that the boys get crowded out. Girls may be able to do anything without getting any flack for appearing too masculine, but once something is coded as "girly" or "female," the boys disappear. Names that used to be boy names, like Ashley, become girl names.
Boys' worlds, it seems, get smaller as girls' get bigger. But how can I explain that to my boys? My boys who have no problem prancing around in princess dresses at their friend's house? Who would rather be "bunnies" for Halloween than muscled superheroes? Who name their cars and airplanes things like Lilly, Amy and Ella? How can I break it to them that, you know, they might get beat up, made fun of, teased to tears if they wear shoes with hot pink hearts of them?
I've been trying to figure it out for months. Do I tell them what could happen? Do I just draw a line at "cultural norms" and simply say, "Boys on this side, girls on that?" Do I let them feel it out for themselves?
And then, a week or so ago, this happened: my 6-year-old was home sick from school. In an attempt to do something "fun" with our day, I pulled a bottle of nail polish from the bathroom cabinet. Within five minutes, both his 20-month-old sister and 4-year-old brother had magenta toenails and his brother was asking if he wanted the toe treatment as well.
I knew, of course, that he would. And I knew that this was going to be a "teaching moment," though I didn't know who or what was going to be taught. Or how. But when my son walked in looking for the nail polish party, I opened my mouth: "Now, I don't have any problem painting your toenails, but before I do, I want you to know that some people think that it is girly to have your nails painted, and if one of those people saw your nails when you are at swimming lessons, they might make fun of you or say mean things. So now I need to know: if someone said something to you about your toenails, what would you say to them?"
He hardly needed to think at all: "Well, I don't want that to happen."
And beginning of an awakening. For me and my boys. And it kind of stinks. The world is closing in on us -- on them, mostly. No pink nails. No shoes with hearts. Pretty soon, there will be no more princess dress-ups, no hot pink swim shorts. Part of me wishes I'd just painted his nails, gotten the shoes, let him live it up while he can -- until he comes home in tears wondering why I didn't tell him, warn him, protect him from what he didn't know.
I shudder at the thought.
And then I hope that as they "grow out" of their child-like and innocent games and interests and loves and into more traditionally "boyish" pursuits, they don't also grow out of their sensitivity and sweetness -- that being cut off from "cute" and "pink" and "pretty" doesn't leave an angry scar.