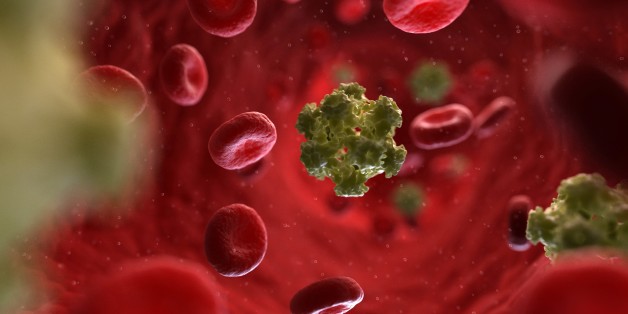 While currently recommended for both boys and girls, the HPV vaccine was initially marketed -- and is still thought of -- as a way to protect young women and girls from cervical, vaginal and vulvar cancer. Boys, it's been commonly thought, should be vaccinated primarily to benefit herd immunity and any future female partners.
But a new analysis from researchers at the Princess Margaret Cancer Center in Toronto, Canada, points out that boys who get the vaccine receive important protection as well, not only against genital warts, but against HPV strains that cause oropharyngeal (mouth and throat) cancer.
"We believe this study is important because HPV-related oropharyngeal cancer has increased significantly in incidence, especially in developed countries," said Dr. Donna Graham, one of the study's co-authors, in a press release. "It is projected that by 2020, HPV-related oropharyngeal cancer will become the most common HPV-related cancer in the US, surpassing cervical cancer."
In addition to saving young men from preventable cancer, the study suggests the vaccine could save North American countries significant amounts of money. Currently, treatment for oral cancer one year after diagnosis costs $25,697 in Canadian dollars ($21,071 USD), the researchers say, while in the U.S., the same level of care would cost $79,151 for men with private insurance and $59,404 for those on Medicaid.
To see how those numbers would change if more boys got the HPV vaccine, Graham and team applied a preliminary cost-effectiveness analysis on a theoretical cohort of 192,940 12-year-old boys, estimating what would happen if some boys got HPV-related cancer and required lifetime treatment while others got the vaccine. The statistical model suggested that HPV vaccinations could potentially save between CA$8 million and CA$28 million (approximately $6.5 million to $22.9 million USD) in costs -- far more than the approximately CA$400 it would have cost to vaccinate each child fully against HPV.
"According to the findings of this preliminary analysis, HPV vaccination for boys aged 12 years may be a cost-effective strategy in relation to the prevention of [oropharyngeal cancer] alone, strengthening the cost effectiveness of a male vaccination program," concluded the authors at the end of their study. "The argument for funding male HPV vaccination in North America is becoming more compelling given the additional benefits of reductions in genital warts and anal cancer and the potential benefits for the female population because of increased herd immunity."
Co-researcher Jeffrey Hoch told the Huffington Post that while the study's findings aren't conclusive, they do highlight areas where future research is needed on HPV vaccinations for boys, such as examining herd immunity from vaccines and estimating productivity loss that comes with developing HPV-related cancer.
HPV, or human papillomavirus, is the most common sexually transmitted infection in the U.S. — so common that almost all adults will get at least one of the over 150 strains during their lifetimes. Most of the infections clear up on their own, but a handful of strains can cause genital warts, cervical cancer, anal cancer, penile cancer, vaginal cancer and the aforementioned oropharyngeal cancer. It's estimated that about 33,200 people get HPV-related cancers every year, according to the Centers for Disease Control and Prevention.
To combat the most virulent, disease-causing strains, there are three different types of HPV vaccines in use. Cervarix is only for women, but Gardasil and Gardasil 9 are approved for both boys and girls. All three are administered with a series of three shots over six months, and work best in teens who have not yet become sexually active.
Since the U.S. debut of the HPV vaccine in 2006, only one-third of teen girls have been fully vaccinated. Despite this low compliance rate, diagnoses of the strains that the vaccine protects against have gone down 56 percent among female teens, according to a 2013 Centers for Disease Control and Prevention study.
Every year that the U.S. doesn't reach 80 percent vaccination rates in teen girls to establish herd immunity, the country risks cervical cancer diagnoses in an additional 4,400 girls, said CDC director Dr. Tom Frieden in a statement about the study.
There are a number of reasons why parents may not get their children vaccinated against HPV. As of 2014, only one state and Washington D.C. require children to get the HPV vaccine before entering school, and only six states provide funding for the shots. There may also be misunderstanding about the vaccine, fear of its risks (which include symptoms like pain, dizziness and fever), or discomfort about whether the shots could subtly signal some form of sexual permissiveness to their children.
Finally, the logistical barrier of having to return twice for the full series of shots could also be preventing parents from getting their children fully vaccinated. While 57.3 percent of girls got at least one HPV shot in 2013, only 37.6 percent completed the series. For boys, 34.6 percent got at least one dose, but only 13.9 percent completed them. However, a 2013 study suggests that two doses of the shot for girls may be effective against some -- but not all -- of the HPV strains that the three-dose vaccine normally protects against.
These numbers pale in comparison to the vaccination rate for tetanus, diphtheria and pertussis, known as the Tdap shot. Given around the same time as an HPV vaccine, the Tdap vaccination is only one shot, and the vaccinate rate in 2013 was 86 percent. The shot is also required for school entry in most states.
Graham's cost analysis was published online Apr. 13 in CANCER, a journal of the American Cancer Society.
Calling all HuffPost superfans!
Sign up for membership to become a founding member and help shape HuffPost's next chapter
BEFORE YOU GO
PHOTO GALLERY
Misconceptions About HPV