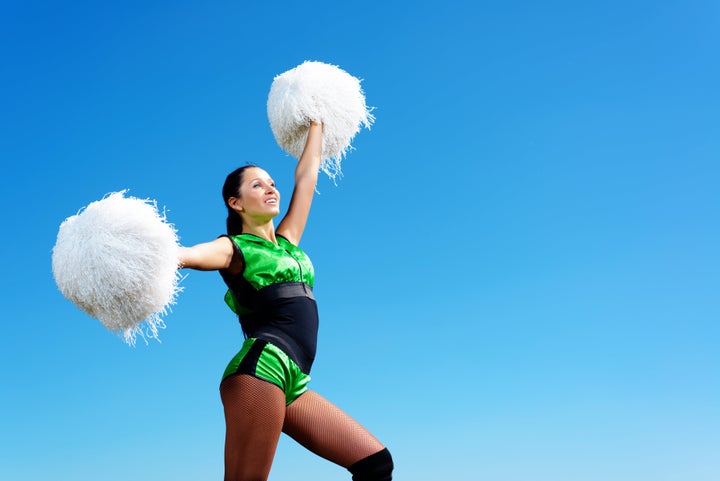 For many mothers and fathers, parenting could easily be labeled the longest, most intense course in adult education they ever signed up for. Children are full of surprises and, these days, there's no guarantee that a young boy will idolize a football star. He might prefer to get dressed up on Halloween as a Disney princess, instead. Three short films focus on adolescent boys whose development has taken an unexpected turn.
Viewers watching Wonderland: Boy Cheerleaders (a new short that is part of a BBC2 television series) aren't the only ones who will be thinking of 2000's surprise hit, Billy Elliot. The boys in South Leeds who have been recruited into the DAZL Diamonds are part of a larger citywide effort entitled Dance Action Zone Leeds whose goals are:
Primary: To improve health and well-being of disadvantaged and vulnerable children and young people aged 3-25 years through dance activities across Leeds.
Secondary: To improve the health and well-being of the wider community of Leeds through dance activity.
Their blond-haired DAZL Diamonds coach, Ian (who can be seen down front in the following video clip), is convinced that boys can do just as good a job at cheerleading as girls can. What he quickly learns is that young boys can be every bit as petulant, disruptive, unmotivated, and uncooperative as young girls.
For some of these boys, cheerleading is just another school activity they have to survive in order to keep peace at home. When the team goes to a regional competition, their lack of discipline means that camping out in a hotel room without their mother to check up on them is an opportunity to stay up all night. The next morning, some of them are in no shape to perform.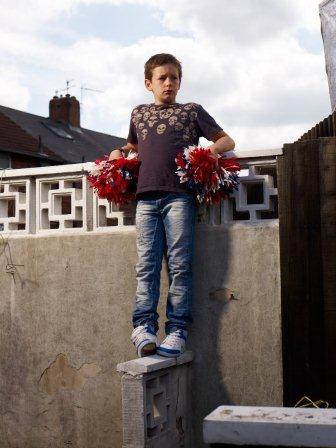 For the single mothers of some of these boys (few of whom have fathers living at home), cheerleading offers a type of discipline that could pay off with their studies and the rest of their lives. While most of the boys may be reluctant to show their enthusiasm, it's easy to spot the one member of the team who is deadly serious about becoming a cheerleader.
There is a wonderful moment in Wonderland: Boy Cheerleaders when a young boy screws up his face with intense concentration as he prepares to begin his cheerleading routine. It's no surprise that, because of his discipline and potential, Harvey is later taken to an audition at a ballet school.
Much of this documentary may be unintelligible to American audiences because of the thick accents of the boys, their coaches, and their mothers. But it's especially worth watching for the sequence in which the girls' cheerleading coach tries to teach the boys how to use facial expressions in their routine. Here's the trailer:
Written and directed by Lisa Cohen, B-Boy tells the odd tale of a modern contender. As Cohen explains in her director's statement:
"The idea for B-Boy came to me when I reconnected with an old friend at our college reunion. Her son, Eli, was approaching his bar mitzvah day and sounded like the kind of 13-year-old boy I'd expect him to be -- outgoing, kind, smart -- just like his mother. None of what she said sounded out of the ordinary until she started talking about break-dancing. Eli wasn't just some kid showing off now and then at other kids' bar mitzvah receptions. He was a member of United Outkast, a breakdancing crew comprised of inner city kids who were all at least 10 years older than he was, who competed in battles all over the country."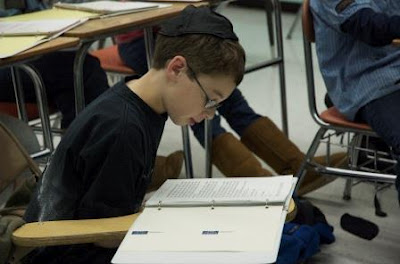 "The more Eli's mother told me about his involvement with United Outkast -- how they spotted him dancing and asked him to join their crew, accepted him as part of their 'family' and about how Eli's breakdancing introduced him to a culture he never would have been a part of, the more curious I became about how Eli was able to manage his two worlds. Was he able to bring them together or did he keep them separate? What life lessons did each culture offer him as he entered his early teens? Did one culture pose a conflict to the other? What I found, after four trips to the East Coast to shoot interviews, the bar mitzvah, and two breakdancing battles, was that Eli was able to cross boundaries and bring seemingly disparate worlds together with a grace and maturity that was far beyond his years."
All too often, as boys pass certain milestones (being bar-mitzvahed, entering high school, graduating and heading off to college), their "second family" consists entirely of their peers. While gay men and lesbians often have to create extended families to supplement what their parents can (or may not be willing to) do for them, B-Boy clearly demonstrates the value of having a straight young man be adopted into an artistic family (his breakdancing crew) in which not everyone is his own age.
I'm particularly sensitive to this issue because, when I started attending opera in 1966, I was introduced to a crazy world of people whose lives were driven by their passion for a 400-year-old art form. From 16-year-old music students like Jay to 88-year-old Mrs. McKnight (who was scalping tickets to help pay for her rent), their love of opera was a common denominator that defied any barriers of age, race, religion, or sexual orientation.
Watching Eli's dance friends share in his bar mitzvah celebration offers a life lesson in why it's important to find friends beyond the traditional circles of classmates and blood relations. Here's the trailer:
One of the more curious shorts screened at the 2012 Frameline 36 Film Festival captured that wonderful spark of discovery when a closeted gay boy learns that he's not the only one in the world who might be queer. When William's parents invite some new friends over for dinner, Friday night suddenly becomes much more interesting than his family's usual Shabbat Dinner.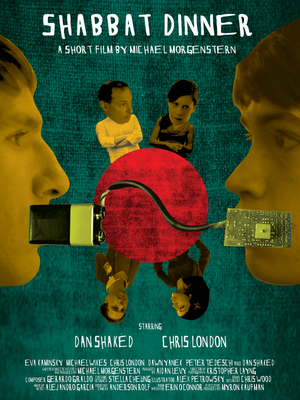 Poster art for Shabbat Dinner
Both sets of parents are actively involved in professional circles as well as fundraising activities for their temple. With their sons at the awkward age where attention is no longer focused on preparing them for their bar mitzvah, once dinner is over the boys excuse themselves and retreat to William's room, leaving their parents to discuss "adult stuff." But William (Chris London) has a secret and, to his surprise, so does the handsome young Virgo Bernstein-Cohen (Dan Shaked).
What director Michael Morgenstern has so nicely captured in his deceptively layered short film is the awkward tentativeness with which William and Virgo offer up coded tidbits of critical information that hint at their sexual orientation. By the time these two get around to exploring what it's like to kiss another man, it's obvious that future Fridays will bring continued shabbat blessings. And what sweeter dessert could one enjoy than two nice Jewish boys making out while their parents discuss fundraising opportunities?