What gives some musicals longevity and makes others fade from popular culture? No doubt, the demands for a viable book, an impressive score, and a high entertainment quotient are important. But if shows like The King and I, Fiddler on the Roof, and Hello, Dolly! can keep selling tickets, why are there few, if any revivals of musicals like Ben Franklin in Paris, Illya Darling, and How Now, Dow Jones? Their lack of any sign of life beyond their original Broadway production becomes almost perversely intriguing.
Sometimes shows like No Strings, Fiorello! and George M! had sizable runs that left audiences highly entertained. Where are they today? Lost in the archives of Broadway for any number of reasons.
With music and lyrics by Harold Rome, 1954's Fanny opened with a cast headed by Ezio Pinza, Walter Slezak, Florence Henderson, William Tabbert, and ran for 888 performances.
With music and lyrics by David Heneker, 1965's Half A Sixpence was utterly charming, but without its star, Tommy Steele, box office sales pretty much dried up. The show closed after a run of 511 performances and, in 1967, made it to the silver screen.
With music and lyrics by Jerry Herman, 1961's Milk and Honey was set in an Israel very unlike the one we know today. Starring Metropolitan Opera stars Robert Weede, Mimi Benzell, and the beloved star of Yiddish theatre, Molly Picon (who was later replaced by Hermione Gingold), the show had a respectable run of 543 performances.
Every now and then rare revivals of certain musicals that seem to have been lost in the archives show up in the strangest places. Two of them recently found their way to stages in San Francisco with decidedly mixed results. One thing that quickly became apparent was that these shows (one 71 years old, the other 46) had become dated in ways their creative team might never have expected. This is especially true with their depictions of how American men treat women.
Over at the Eureka Theatre, 42nd Street Moon presented a 20th anniversary revival of their 1994 production of Something For The Boys. The revival was neatly directed by Daniel Witzke with choreography by Staci Arriaga, Dave Dobrusky on piano, and Nick Di Scala on woodwinds.
The fifth Cole Porter musical created as a vehicle for Ethel Merman, Something For The Boys produced no hit songs. Its future was limited by a plot that revolved around the American involvement in World War II and the need to sell war bonds.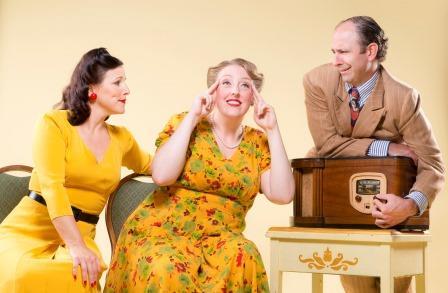 Dyan McBride, Heather Orth, and Brian Herndon in
Something For The Boys (Photo by: David Allen)
Something For The Boys was inspired by a news story that Dorothy Fields had read about a factory worker who, after being exposed to carborundum, began to receive radio transmissions through her teeth. Other than that, it followed the standard recipe in which Merman was cast as a big-hearted dame (or a brassy, belting broad) who was full of sass but yearned for true love. As was befitting for the era, her character had a weak spot for big band leaders.
Working with Dorothy Fields as a lyricist, Porter created two very funny specialty songs ("There Must Be Someone For You" and "By The Mississinewah"). In addition to two romantic songs for Merman ("Hey, Good Lookin'" and "He's A Right Guy"), Porter wrote a title song that fit Merman's voice like a glove. In 1979, she included a track of "Something For The Boys" on the infamous Ethel Merman Disco Album (a camp classic).
Some wonder why a seemingly popular show like Something For The Boys never stayed active in the Broadway catalog.
The show closed after a year's run on Broadway.
Just 12 weeks after Something For The Boys premiered on Broadway at the Alvin Theater, Oklahoma! opened at the St. James Theatre and redefined the Broadway musical.
In 1944, a film version of Something For The Boys retained only one song written by Cole Porter (the title number). According to the agreement between the show's producer (Mike Todd) and the film's distributor (20th-Century Fox), the movie could not be released until the summer of 1944 in order to "enable the stage original to play the key cities and tour without competition from the celluloid version."
Once World War II ended, much of the show's appeal evaporated into thin air.
At times, the book for Something For The Boys (created by Herbert and Dorothy Fields) seems like it could have been written by or for the Marx Brothers. The script contains lots of bad jokes, cases of mistaken identity, and focuses on three cousins who have been lured to Texas after being identified as the heirs to their late uncle's estate.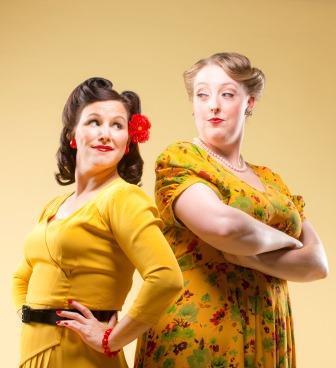 Dyan McBride and Heather Orth in Something For The Boys
(Photo by: David Allen)
With factory worker Blossom Hart (Heather Orth), wannabe entertainer Chiquita Hart (Dyan McBride) and carnival barker/con man Harry Hart (Brian Herndon) trying to make the most out of a tight situation in Texas, Something For The Boys turned out to be much funnier than I had anticipated. Frequently flashing his pearly whites, Tyler McKenna was the handsome, smooth-voiced Rocky Fulton (the bandleader who falls for Blossom) while Eliza Leoni did a great job of alienating everyone as his media hungry control freak of a girlfriend, Melanie. Aejay Mitchell (Tobias Twitch) and Nikita Burshteyn (Roger Calhoun) scored strongly in supporting roles. A gifted song-and-dance man and genuine stage animal, Burshteyn (who starred in the Woodminster Summer Musicals production of Catch Me If You Can) is starting to bear an uncanny resemblance to a young Donald O'Connor.
If you're curious to see what happens to a Cole Porter musical that gets expedited treatment on the way from the stage to the silver screen, here's the trailer for the film version of Something For The Boys:
For its winter show, the folks at San Francisco Playhouse chose the 1968 Neil Simon-Hal David-Burt Bacharach musical entitled Promises, Promises. Based on the 1960 Billy Wilder film, The Apartment (which starred Jack Lemmon and Shirley MacLaine), the plot revolves around a clueless corporate accountant who ends up letting various corporate executives use his apartment for secret sex with their mistresses.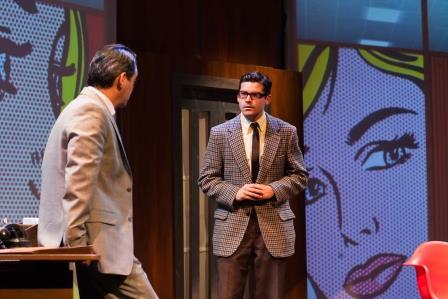 Chuck Baxter (Jeffrey Brian Adams) meets his boss (Johnny Moreno)
in a scene from Promises, Promises (Photo by: Jennifer Palopoli)
The shy and nerdy Chuck Baxter (Jeffrey Brian Adams) may have a barren social life, but that doesn't mean he's asexual. In his clumsy way, he yearns for the sweet love of Fran Kubelik (Monique Hafen), who works in his company's corporate dining room but has been carrying on an affair for several years with one of its top executives, J.D. Sheldrake (Johnny Moreno).
Like some of the other men who want to make use of Baxter's apartment, Sheldrake is married and far from faithful to his wife. In his program note, Artistic Director Bill English writes:
"The popular TV show Mad Men reminds us how backward our culture was in the 1960s and how many of the social problems we had then persist today. Thinking back to my childhood perspectives reminds me of the timeless themes that Promises, Promises inherited from the great film from which it was born: the irrational arrows of love, the moral poverty of the corporate mentality, and our cultural drive to use sex to fill the bottomless well of spiritual emptiness. The objectification of women (particularly in the business world) and the 'success at all costs' mentality that often pervades corporate culture are roadblocks in our path to a compassionate community."
After his experimentation with digital mapping techniques in the world premiere of Bauer, what stood out for me about the San Francisco Playhouse's production of Promises, Promises was the chance to see Bill English (an extremely gifted set designer) starting to flex his artistic vision as he worked to integrate computer graphics and archival film into his design process. Putting these creative tools into the hands of someone who knows what to do with them will be a fascinating process to monitor in future seasons.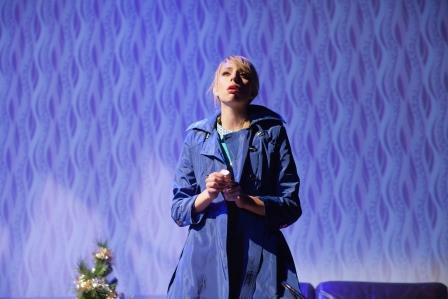 Monique Hafen as Fran Kubelik in Promises, Promises
(Photo by: Jennifer Palopoli)
Originally choreographed by Michael Bennett, the first Broadway production of Promises, Promises ran for 1,281 performances at the Shubert Theatre. Thanks to Dionne Warwick's popular recording, the show produced one hit song ("What Do You Get When You Fall In Love?") and one novelty number, a Christmas office party song called "Turkey Lurkey Time." In the following clip from a Dancers Over 40 event, Seth Rudetsky provides some interesting insights into what was really involved with "Turkey Lurkey Time."
Although many others fell head over heels in love with the original production, I found it surprisingly uninteresting and not particularly musical. The recent Broadway revival of Promises, Promises which opened in 2010 (starring Sean Hayes and Kristin Chenoweth with choreography by Rob Ashford) only lasted for 291 performances. Several factors may contribute to the show's diminished appeal:
First and foremost is Bacharach's score which, although it brings his distinctive sound (with its chorus of anonymous female voices stationed in the orchestra pit), has never struck me as having a very theatrical sound.
Second is the way most of the females where Baxter works are stereotyped as clueless women who can't wait to get laid by someone from their office (Bob Fosse, Frank Loesser, and Abe Burrows did a much better job of this phenomenon by spoofing it in How to Succeed in Business Without Really Trying with "A Secretary Is Not A Toy").
Third is the fact that changes in technology (Craigslist, Airbnb, smartphones, telecommuting, social media) and today's hook-up culture have had a huge impact on casual sex as well as sexual politics in corporate culture.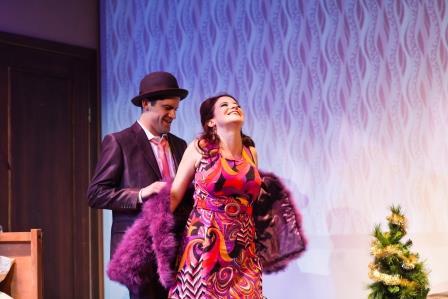 Chuck Baxter (Jeffrey Brian Adams) and Marge MacDougall
(Corinne Proctor) in Promises, Promises (Photo by: Jennifer Palopoli)
What remains a constant is the emotional agony experienced by women who date married men and the fact that some of them are still driven to attempt to kill themselves in despair over their predicament. That being said, one can anticipate some of Neil Simon's finely-honed zingers before they are even spoken. As I watched the show, I remembered that Simon had worked on the book for 1966's Sweet Charity (about a female loser) before embarking on Promises, Promises (about a male loser).
Working with a reduced cast and orchestra, the San Francisco Playhouse production was notable for its intimacy and the increased use of Micah Stieglitz's projection designs. Bill English's set delivered a workable compromise between video and solid walls which gave the overall production more of a cinematic feel than usual.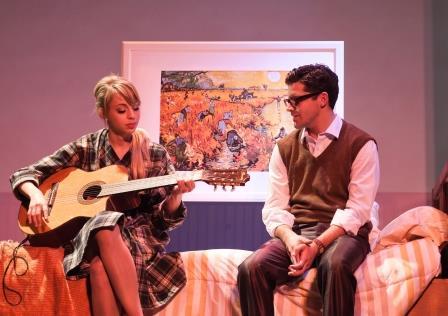 Frank Kubelik (Monique Hafen) and Chuck Baxter (Jeffrey Brian Adams)
in a scene from Promises, Promises (Photo by: Jennifer Palopoli)
Jeffrey Brian Adams and Monique Hafen were excellent as the two romantic leads, with Johnny Moreno scoring points as their predatory and emotionally unavailable boss. Some of Simon's best writing is given to Marge (Corinne Proctor), the barfly who comes on to Baxter when he's at Clancy's Bar, and veteran Ray Reinhardt as Baxter's next-door neighbor, Dr. Dreyfuss. Joe Estlack had a brief moment as Fran Kubelik's thug-like brother, Karl.