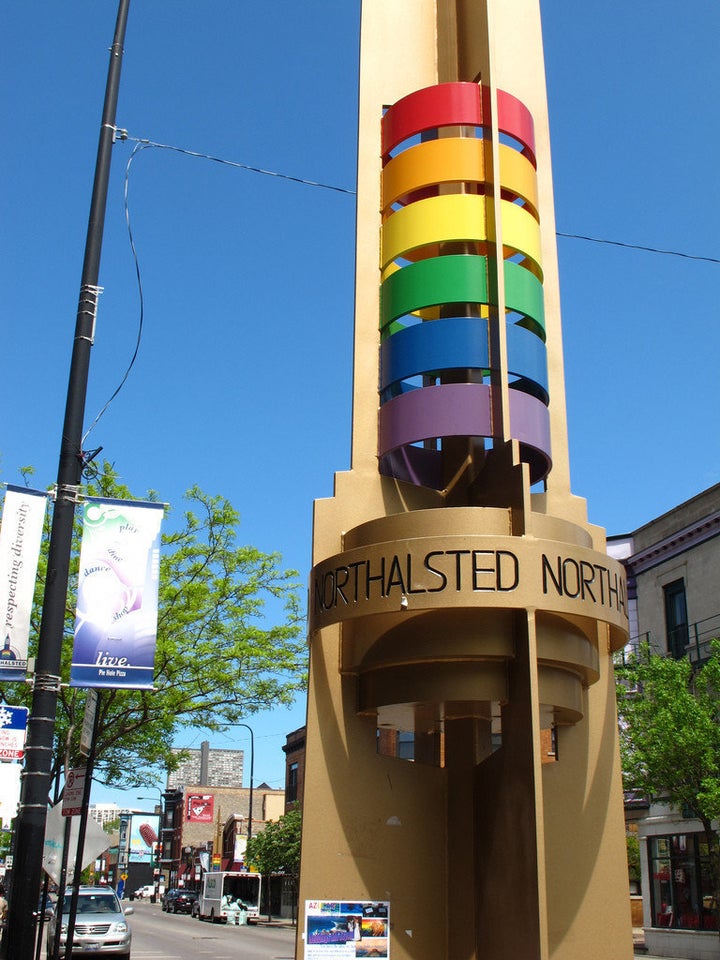 With more than 100,000 visitors expected to converge onto Chicago's East Lakeview, or Boystown, neighborhood this weekend for the 30th annual Northalsted Market Days street festival, community tensions remain high after a recent spate of highly publicized incidents of street violence, including a stabbing captured on YouTube, culminated in a series of heated community shouting matches, most dramatically at a Community Alternative Policing Strategy meeting earlier this summer.
At that CAPS meeting, hundreds packed into a stuffy auditorium at the Inter-American Magnet School -- the meeting's second location after it became clear that a smaller, previously announced meeting place would prove unsuitable for the massive crowds anticipated. There, residents took to the microphone and described their neighborhood as "a danger zone." Some residents targeted service providers like Center on Halsted and the Night Ministry for attracting loiterers to the area. One resident screamed "get a job" at a homeless man who described the neighborhood as a place where he accessed much-needed resources that he needed to survive.
Flash forward to the next month's CAPS meeting -- held last week -- and while the attendees there were still "on edge" when it came to the continued perception of increased crime in the area, this time only 80 individuals turned out to discuss crime in the neighborhood, according to the Windy City Times. While racially-charged comments still derailed the dialogue, those arguments have, by now, been run into the ground.
Galvanized at the grassroots
Though CAPS attendance has declined, many Boystown residents and area advocates, hardly ambivalent, appear to have dispersed and embarked on a number of new endeavors that seek to address crime and street violence in the area. Friday, the Center on Halsted announced a Lakeview Safety and Inclusion Coalition aiming "to provide concrete solutions to help make Lakeview … safer and more welcoming for all people," according to a statement.
Additionally, some of the area's residents organized several weeks earlier under a similarly titled Boystown Community Collaboration. In addition to forming a subcommittee exploring options to keep LGBT youth in the neighborhood safe, a second subcommittee lobbied the Guardian Angels to help them create a Special Boystown Unit.
Finally, another group of residents formed the Boystown Dogwalkers Community Awareness Program, the aim of which is to encourage individuals to multitask -- taking their dogs out for evening strolls and reporting and suspicious or criminal activity they encounter.
When these endeavors are coupled with a heightened presence of police officers in the area, some advocates fear that increased racial profiling will be the result. But the organizers behind the new projects have largely affirmed their goals are two-pronged: to tackle street violence as well as to ensure the neighborhood remains safe for all who live, work or visit there. While many comments posted on the prolific "Take Back Boystown" Facebook page continue to point fingers at one group or another, the organizers hitting the streets and working to address the issues at hand appear to have inclusivity as a top priority.
Quick solutions?
Alicia Ozier, one of the organizers with the Boystown Community Collaboration said the recent meetings she has helped to organize around the issue have offered "the first time we were able to facilitate a healthy dialogue around what was needed in the neighborhood." She told the Huffington Post she has been both impressed and excited by the community's various constituencies' increased efforts to, simply, hear one another. Those contributing at the collaboration's meetings, so far, have included elected officials, police, residents, youth and their advocates alike.
"Because everyone was screaming and very passionate [at the July CAPS meeting], no one could hear each other," Ozier said. "Right now, the tension is settling a bit and it's doing so just enough so that we can hear each other and productively react to the problems at hand."
"None of it is a quick solution though," she added.
Aaron Hoffman, one of the founders of the Boystown Dogwalkers group, also noted that his group "want[s] our neighborhood to be welcoming to all types of people but we also want it free of violent crime." While the group is open to anyone who wants to join in on a walk, with dog in tow or otherwise, he said he encouraged those participating to read their mission statement to be clear "what we are and are not about."
"Our mission is not to confront people or intervene during violent criminal events, but rather to observe what is going on in the neighborhood," Hoffman told the Huffington Post. "If we see criminal activity occurring or see anyone who appears to need help, we will call police immediately and make sure help arrives if it is safe to do so."
Though Hoffman admitted that some in the area have made "negative claims" about his group's intentions, he said they continue to make a point to "keep it positive."
An opportunity for healing
Max Bever, community outreach director for 44th Ward Alderman Tom Tunney, described the formation of groups like Ozier's and Hoffman's as a good thing in that they "get people involved in the community and increase awareness of public safety, plus they get people involved with local businesses, government and keep an open dialogue with beat officers."
While Tunney's office has faced some criticism with what some have perceived as a slow response to crime in the area, Bever told the Huffington Post it remains a high priority for the alderman, even as he reported that recent crime statistics have, mostly, been on the decline, in line with a recent Windy City Times analysis. They are still working to implement a special entertainment district police unit and are looking into installing emergency call boxes in the neighborhood's busiest areas, as well as a potential ban on parking to improve police sight lines along sections of Halsted and Clark streets.
Bever said they are feeling ready for the Market Days weekend and still remain open to anyone's ideas to help improve neighborhood safety.
"Market Days is one of the biggest events we have, both in our community and in the Midwest, and I hope people will have a safe and fun time," Bever said. "It might serve as an opportunity for people to converse and experience a bit of healing, not to mention enjoying themselves as well."
Jay Lyon, Northalsted Business Alliance executive director, too, said he was hoping for "good weather, and a fun and safe time had by all." His alliance, the principal organizers behind Market Days, had already stepped up security presence, largely comprised of off-duty police officers familiar with the neighborhood, after the neighborhood's first summer stabbing incident in June.
While Lyon is somewhat nonchalant about the tension, given all that has happened in the gayborhood in the past two months, some advocates still point to this year's street festival -- set to be headlined by Darren Criss ("Glee") and Gloria Gaynor -- and all the community organizing happening around it as pivotal to the community's healing process after its violence-gone-viral summer.
As, by far, the largest event to take place since it experienced the series of high-profile summer crimes, Market Days marks Boystown's first major test of how it will move beyond a decidedly divisive and hurt-filled time.
"The YouTube video was a tipping point in an explosive matter," Ozier added, "but we're trying to do something that will serve a tipping point in another direction."
REAL LIFE. REAL NEWS. REAL VOICES.
Help us tell more of the stories that matter from voices that too often remain unheard.