 "In the next 10 to 15 years, all music is going to be free," Nathan Morris, member of stalwart R&B group Boyz II Men, told HuffPost over the phone. It's a stunning statement from a musician whose group's popularity peaked around the time of Metallica, Dr. Dre and Napster, and whose musical fortunes largely followed the demise of the industry-disrupting music-swapping free-for-all.
"One, it's too hard to police it," Morris says of music piracy, without a hint of regret, grudge or sense that online file-sharing had derailed his group's career. "Two, now that the public has been set up with free music, having to want to pay for it is not going to happen. Whenever you can set up a platform where you can get music for free, now that there is a platform. You're always gonna fight against [paying]."
But Morris says that Napster and the technology that enabled sharing music over the Internet are not to blame for the collapse of the record industry -- or the poor sales of his group's fourth album. Rather, it is the labels themselves who dug themselves into a hole by not accepting that the web was a new platform for music consumption that could not be ignored or litigated away.
"A lot of people hold a grudge against companies like Napster for what they did, and against file sharing -- how a song is a file, and so you can [share files] and it is not illegal. We don't hold a grudge against Napster because many of those companies presented those technologies and had really early meetings with record companies and tried to make them a part of what they were doing, and they all said no... A lot of the stubborn record labels were so used to the tape and the master, and they didn't want to fall in line with what those digital companies had to offer."
Morris thinks that the tape and the master are dead, and that record companies might not be too far behind.
Making money from music sales, Morris says, is going the way of the dinosaurs and the White Stripes. To combat this loss of traditional revenue, Nathan Morris and Boyz II Men have a new source of income: the iPhone.
BOYZ II MEN SAYS THERE'Z AN APP IV THAT
"Music publishing is going to be used as a promotional tool," Morris predicted. "Any new music is going to be used as marketing tools. Live performances and endorsement deals and merchandising are where the money is going to come from for new artists."
Boyz II Men isn't a new act, of course -- their Billboard-topping hit "I'll Make Love to You" overtook Sheryl Crow's "All I Wanna Do" for the top spot on the Rick Dees Saturday morning countdown in the mid-'90s -- but they seem serious about maximizing the potential of the Internet to remain relevant in the eyes of their fans.
They are now promoting an interesting model for both fan-musician interaction and a bit of moneymaking. For $2, Boyz II Men enthusiasts can download the group's official app from the iTunes store and Android Market.
"I think we're moving into an app-driven world," says Morris, who holds a degree in Web Design & Computer Programming, on the reasoning behind the new app. "Five days a week most people aren't able to get on their computer." Morris hopes that the app will help his group's fans engage with the group on a more regular basis (and on the band's own platform).
The app gives users access to clips of the band's entire discography, a fan wall, live streams of concerts and sound checks, band news, exclusive band pictures and discounts for Boyz II Men concert tickets. Surprised at how much Boyz II Men have packed into their app? Me too. I was expecting one of those one-off money grabs where a band puts their name on something and hopes their fans gobble it up. This is not that. It is a really impressive, content-rich app with a deep well of media and features. Sure, the design is fairly clunky, but it's endearingly clunky: Morris designed the app himself ("It took three months," he told HuffPost, with a sigh), and there is a certain retro/1990s/Geocities-ish vibe to all the stretched pictures.
The in-app music player: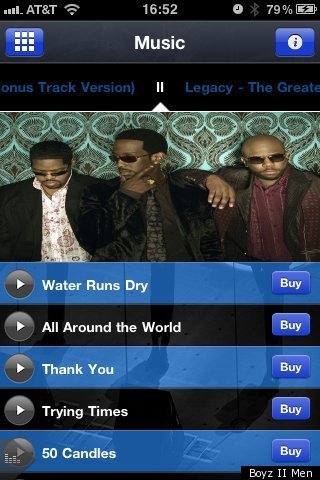 A few of the exclusive app features: concert packages and an iPad giveaway: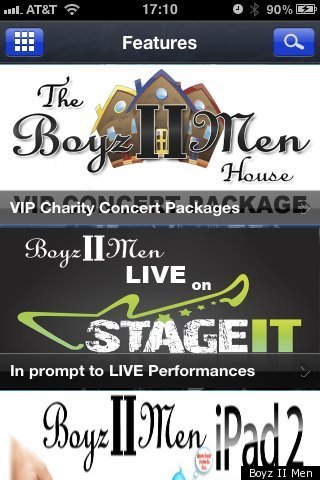 So, could apps, and mobile listening in general, hold the future of music revenue?
It's hard to say that the individual artist app is the best platform for albums and songs. It takes a certain amount of devotion on the band's part and the fan's part, too. While Morris says that the boys interact with their fans through the iPhone app -- posting on the internal, app-only Wall, sending out exclusive discounts and meet-ups through push notifications within the app, etc. -- the group (and, really, any band or musician who goes this route) will surely have to be incredibly active within their own app in order to keep their fans keep coming back for more. And on the flip side of this, only certain musicians that inspired a certain kind of devotion are really eligible for this kind of thing. Boyz II Men might have won over enough fans during 20 years of performing to pull off their own app, but new bands might find it harder to pool together the resources to build an app and then get people to buy that app after a single EP.
Boyz II Men's newest album, "Twenty," will be released on October 25, exclusively at Wal-Mart and online. The album will feature 12 new songs plus eight re-recorded versions of classics like "Bended Knee," "I'll Make Love To You" and "End of the Road." The group will be performing at the Temple Performing Arts Center in Philadelphia on September 17, with portions of the ticket sales going to the Boyz II Men House charity.
Popular in the Community