Boyz II Men are still going strong ― an impressive 26 years after releasing their debut album, "Cooleyhighharmony." And they show no signs of slowing down. They recently extended their Las Vegas residency through 2018 and just came out with a new album of doo-wop classics called "Under the Streetlight."
The Grammy-winning group that rose to fame in the '90s with the hits "End of the Road" and "Motownphilly" credit some of their longtime success to having a broad appeal. At their Vegas shows, Nathan Morris, Shawn Stockman and Wanya Morris attract a diverse audience ― ranging from ages 5 to 75. The trio doesn't necessarily fit into one category or appeal to a specific demographic, something that Stockman says has been both "a gift and a curse" over the years. This particularly came into play when they first got their start, with Jheryl Busby at the helm of their label, Motown Records.
"When we first started and we came out with our first album, even our [record label] president at the time didn't really understand why we were selling so many records," Stockman told HuffPost at Build Series. "We were like, 'Listen, everybody comes to these shows.' And he was like, 'I don't believe you.' He would have to actually come to the concert to see the actual people."
"You have black, white and every other color in between ... We've never been a black group, and we've never been just a pop group," he said. "We appeal to everybody ... So it was kind of frustrating for the record labels, but on the side of us, it was fun, because everybody would come and we were happy with that."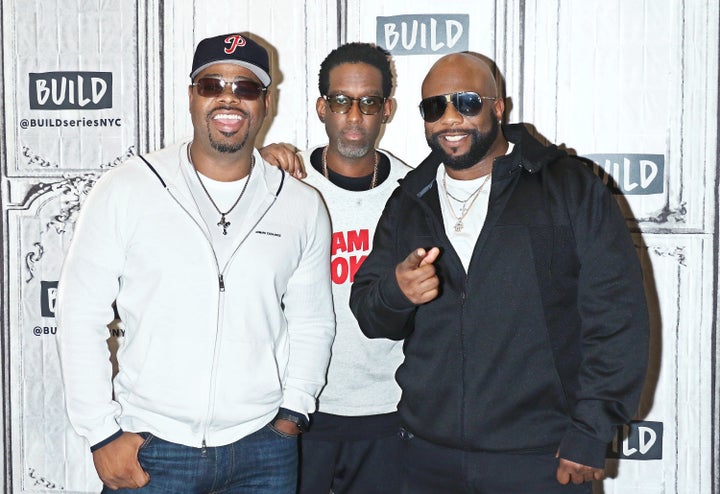 The fans are still filling the seats for Boyz II Men, but today, fewer new singing groups are making it as big. Boyz II Men have some theories about why that might be the case.
"The daunting thing about the business is that you have to dredge through so much stuff to get to the music ... to get to good music in general," Stockman said, citing a few acts that stand out to him: H.E.R. and Daniel Caesar.
Wanya Morris says he's aware of a couple of vocal groups making small waves online, but not on a national scale.
"It's a selfish world. Everybody's trying to get there. And when it comes to a group it takes so long to get to a group that it tears them apart," he said, recalling an act he really liked called Imprint. "It took so long for them to find a place in this industry that the group disbanded, which is not a good thing because they were dope. They could have done things."
Nathan Morris echoed those sentiments, noting, "That's always the problem with most groups. They don't believe in the group first. They'll sing together. They'll sound great together. They'll take all the accolades, but when things don't go well the group is not what's important. It's, 'how do I get out of this?′ Or, 'how do I figure it out?' And they wind up going other places."
For Boyz II Men, there doesn't seem to be an end of the road coming any time soon. Although their new album pays homage to their influences with throwback classics such as "Up On the Roof" and "Why Do Fools Fall In Love," they're keeping things current, too. The new set features a slate of guest artists, including Brian McKnight, Take 6 and Amber Riley. And Boyz II Men say they're open to more collaborations down the line, and of course, recording new music.
"Today it's really tough for groups and artists to stay together and just stay focused on agenda," said Nathan. "In this day and age when things change so rapidly it's really hard for people to stay focused on one thing. We hope that longevity is a lesson that can be taught to a lot of different artists."
For more from Boyz II Men, watch the entire Build interview below.
Popular in the Community