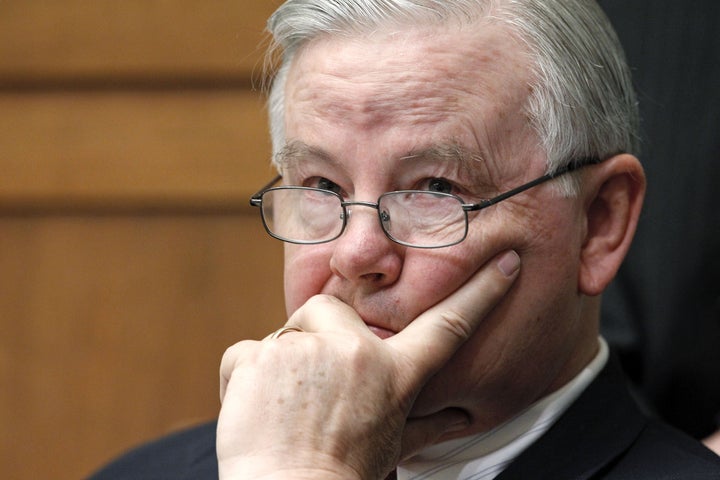 WASHINGTON -- Joe Barton's much-ridiculed campaign to win the chairmanship of the Energy and Commerce Committee entered the realm of respectability on Wednesday, when the Texas Republican released a letter signed by a strong list of committee supporters that included a rival for the position, Rep. John Shimkus (R-Ill.).
Shimkus and Rep. Fred Upton (R-Mich.) had been jockeying for the energy-panel gavel. Barton is the highest-ranking Republican, but his famous apology to BP during the oil spill, combined with his longstanding differences with incoming Speaker John Boehner of Ohio, made his candidacy extremely unlikely. Barton has served the maximum number of terms allowed in the top spot and would need a waiver from the steering committee, which is dominated by Boehner and leadership. The Barton letter is addressed to members of the steering committee.
Barton, however, hasn't given up. He has been aggressively lobbying incoming freshmen, worked the press hard on election night and is attempting to engineer an end-run around Boehner. His bid has largely been dismissed as quixotic in Republican circles, but the backing of Shimkus gives it an air of legitimacy, raising the (still remote) possibility that Republicans will elevate Barton to the top position overseeing the oil industry.
Barton's letter, referring to climate change as a "theory," cites his rearguard action against the Democratic cap-and-trade bill as a prime reason to award him the chairmanship.
"The four-day markup challenged the Democrats and their theories of global warming and the American economy," reads the letter. "Deals were offered and rejected as the possibility of 300 amendments and the actual debate on 47 of them exposed the failings of the president's anti-global warming plan to sunlight. We believe that, thanks again to Joe's determination, the Democratic cap-and-trade freight train went off the rails, and a major threat to America's economy was stopped dead."

November 17, 2010

Dear Republican Colleague:

The American people recently sent a message to Washington, opening the door on a new, brighter day on Capitol Hill. We believe it is, as Ronald Reagan once said, morning in America again. Now we turn to the serious business of organizing the new House of Representatives to do the work that the people have asked us to do.

That's why we, the undersigned members of the Committee on Energy & Commerce, want to recommend our friend and colleague, Joe Barton, for Chairman of our committee in the 112th Congress.

You know Joe. He has provided unyielding conservative leadership during our protracted partisan battles over cap-and-trade and health care reform.

Under Joe's leadership, and despite being outnumbered and outgunned, we subjected the Democrats' health bill to 17 days of brutal markup, including a 10-day retreat by the Democrats to regroup despite their overwhelming superiority of numbers. We devised 350 amendments and actually offered and debated 54 of them. They won, but it was stubborn, intelligent Joe Barton who made certain that they'd won a Pyrrhic victory.

The hard work of opposing this bad bill paid off when the American people, having gained real knowledge of the Democrats' health bill, made their voices heard.

Much the same happened on what was supposed to be the Obama Administration's other signature legislation: cap-and-trade. The four-day markup challenged the Democrats and their theories of global warming and the American economy. Deals were offered and rejected as the possibility of 300 amendments and the actual debate on 47 of them exposed the failings of the president's anti-global warming plan to sunlight. We believe that, thanks again to Joe's determination, the Democratic cap-and-trade freight train went off the rails, and a major threat to America's economy was stopped dead.

Last month, Joe rejected and killed the deal brokered by Henry Waxman to allow the Obama Administration FCC to regulate the Internet for the first time.

Finally, we want to also note that among Republicans in the House, it was Joe alone who fought against the Speaker's unfair committee membership ratios and won. His pressure resulted in the Democrats conceding the addition of a slot that was then filled by the highly capable Steve Scalise of Louisiana, one of our most productive members.

Our friend and committee leader has been a principled conservative who you can count on in committee and on the floor. He served one term as our chairman, and we believe it is essential to the new mission of all Republicans in the House that he have the opportunity to serve a second term. Our members are going to be banking on strong, reliable leadership like Joe's as we begin to pick up the pieces of the two-year liberal free-for-all. We encourage the members of the Steering Committee to support Joe's selection to the Energy and Commerce chairmanship in the 112th Congress, and we hope we can count on your support.

Sincerely,

Ralph M. Hall John Shimkus
Lee Terry Marsha Blackburn
Cliff Stearns Michael C. Burgess
Joe Pitts Steve Scalise