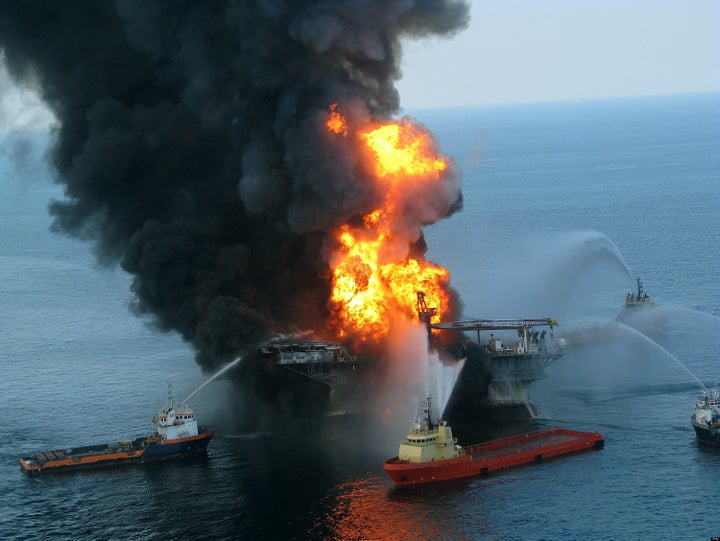 In just five short months, on April 20, 2011, we will commemorate the anniversary of the Deepwater Horizon oil rig explosion and we will honor the 11 individuals who lost their lives that day. These 11 brothers, fathers, sons, and husbands died because BP's culture of recklessness, a corporate approach willingly accepts significant risk to BP's employees, the environment, and countless innocent individuals whose livelihoods could be lost by the company's actions.
However, the national attention has been caught by elections and power shifts and we seem to have forgotten Deepwater Horizon -- a very clear example of how big oil's impressive lobbying power can impact lives. Today, we are no longer inundated with images of the oil slick or shuttered businesses. Today, the nightly news no longer contains B roll of cleaning crews and oil booms attempting to contain this massive spill. Personally, I can't forget the pained face of Mike Williams, Chief Electronics Technician for the Deepwater Horizon, as he recounted the terrors of his escape from the burning rig. As he recalled thinking, "all these things that are supposed to protect us are failing. And nothing is going right." And I can't get the images of oil soaked birds, weighed down and choking, stranded on the Louisiana shoreline, out of my mind.
Mistakes can happen and can have serious consequences as a result. But, this is not simply a case of one rig, one blowout preventer, one bad batch of cement or one bad call. The reason why so much went so wrong is because BP is guilty of encouraging a culture of recklessness on its rigs. We don't have to dig too deep to find alarming evidence of their recklessness. On another deepwater drilling rig, BP's Atlantis, a whistleblower alerted the Minerals Management Service that he believed that BP did not have proper documentation and approval of its subsea components. BP itself acknowledged that this could "lead to catastrophic operator errors."

And the list goes on: In March of 2005, an explosion and fire at the BP Texas City refinery resulted in 15 deaths and 180 injuries. Investigators from the U.S. Chemical Safety and Hazard Investigation Board (CSB) believe this explosion could have been avoided had it not been for the "organizational and safety deficiencies at all levels of the BP Corporation." Since safety does not appear to be a valued part of their mandate, BP refused to change its practices.
And it's not as though BP is deterred by the costs of these errors: In 2009 the Occupational Safety and Health Administration (OSHA) fined BP $87 million for hundreds of safety violations at the Texas City refinery, many of which were originally identified after the 2005 explosion at the facility but never addressed. As recently as March 2010, BP was fined another $3 million dollars for violations at a Toledo, Ohio refinery similar to those that contributed to the 2005 Texas City refinery explosion. Again, just like in 2005, no steps were taken to correct the safety violations.
And the culture of recklessness is prevalent at BP's operations all across our country: In 2006, failure to conduct necessary pipeline maintenance resulted in spills of over 200,000 gallons of crude in Prudhoe Bay, Alaska. Once again, BP did not follow established safety regulations, ignored warning signs, and was reluctant to make the necessary fixes once the problem was discovered. Major problems continued in 2008 and 2009 in the region, some of which resulted in major gas leaks, oil spills, injuries, and deaths. All of this following a $500,000 fine in 2000 for failing to report illegal dumping of hazardous materials by one of its contractors between 1993 and 1995.
I say enough is enough, which is why I introduced and won an amendment to the Department of Defense Authorization bill which would require that the Secretary of Defense consider debarring BP from Defense Department contracts if he finds that BP is not a "responsible source." The definition of "responsible source" includes the provision that a prospective contractor must have "a satisfactory record of integrity and business ethics" and I am confident that the evidence will show that BP does not meet this requirement.
Barely a month has passed since the Obama administration lifted the deepwater drilling moratorium and already the oil companies believe that the Department of the Interior (DOI) should have an express lane for approving permits. The DOI has even been taken to court over this matter. What's the rush?
I support Secretary Salazar in taking his time to review and approve these permits. We have seen what rushing ahead brings us and we have seen what too many permits and too few investigators bring us. The oil companies need to chill and acknowledge that the pre- Deepwater Horizon status quo is unacceptable. We simply cannot continue approving permits that are rife with false claims such as support from experts who have long since passed away or environmental impact reports on animals that don't even reside in the region.
Imagine if we accepted this kind of recklessness in other industries. Would it be acceptable if the airline industry was allowed to build planes out of materials that had not completed stress tests? What if the pilot on the plane you take home for Thanksgiving decided only to lower half the plane's wheels during landing?
While the limelight on the Deepwater Horizon and BP's culture of recklessness has faded, we must do everything we can to ensure that we are never again faced with another massive oil spill. Even if BP refuses to learn the necessary lessons and insists on repeating costly mistakes, we must know better and do better. Part of moving away from BP's culture of recklessness is to understand and accept that the DOI must have the tools and time it needs to properly review permit requests. I strongly support Secretary Salazar's efforts to make the permit review process more demanding and I hope that the oil companies will step up and realize that rig safety starts with them.
Calling all HuffPost superfans!
Sign up for membership to become a founding member and help shape HuffPost's next chapter