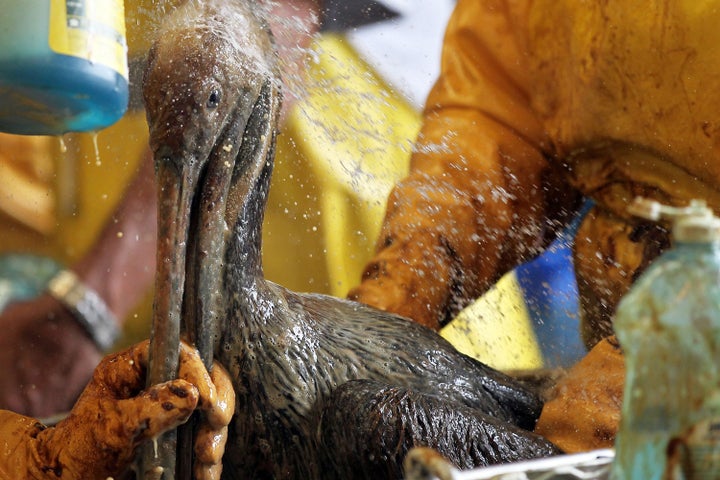 Less than two months ago, BP pledged to donate any money it earns through the sale of oil recovered from the massive spill in the Gulf to a new wildlife restoration foundation. Since then, the oil giant has partly honored its pledge.
Shortly after the announcement, BP decided to switch gears in favor of a new plan that will allocate the money instead to the respected National Fish and Wildlife Foundation (NFWF). The oil giant has already endowed the NFWF with two $5 million grants, BP's Director of Climate and Transport Energy Policy Mark Proegler told HuffPost.
Proegler also outlined BP's upcoming donation to the NFWF, which will be substantially larger than the previous grants -- donating 100 percent of the net revenue from the oil recovered so far, which is defined as the revenue from BP's share in the Deepwater Horizon rig minus a 19 percent royalty payment.
With crude oil prices hitting $81 dollars a barrel on Monday and approximately 800,000 barrels worth of oil already recovered, BP is currently on the hook for $52,488,000, which is subject to change as the amount of recovered oil increases and the price per barrel of crude oil fluctuates.
One of BP's partners in the rig, Anadarko Petroleum, told HuffPost that it will donate any money it makes from its share of the recovered oil to unnamed groups. That could be complicated by Anadarko's current dispute with BP over payment for clean-up operations -- Anadarko has refused to pay a $1 billion bill sent them by the oil giant.
Calling all HuffPost superfans!
Sign up for membership to become a founding member and help shape HuffPost's next chapter