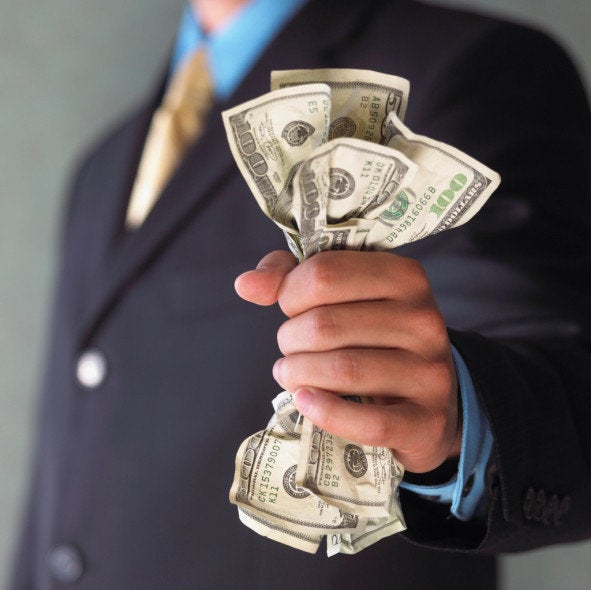 NEW YORK -- On the first anniversary of the Deepwater Horizon oil spill that killed 11 workers, oil giant BP revealed via mandatory disclosure forms that it spent at least $2 million on federal lobbying in the first quarter of 2011 on a wide range of issues, from advocating for an end to the offshore drilling moratorium imposed by President Barack Obama in the wake of the spill to caps on its contributions to the restoration of the Gulf Coast.
BP tapped five well-connected lobbying firms -- Alpine Group; Fierce, Isakowitz & Blalock; the Podesta Group; Stuntz Davis & Staffier; and the Duberstein Group -- to ply their influence on Capitol Hill and at federal agencies in the wake of the four-month-long spill, which devastated the environment and leaked more than 205 million gallons of oil into the Gulf of Mexico. Executive-branch agencies targeted by the beleaguered oil behemoth, which faces a criminal probe by the Justice Department, included the Environmental Protection Agency and the State and Treasury departments.
BP also lobbied Congress on the Put the Gulf Back to Work Act, the legislation passed last week by the House Natural Resources Committee under the leadership of chairman Doc Hastings (R-Wash.) which speeds up the approval process for new drilling permits. That bill prompted Interior Secretary Ken Salazar to accuse House Republicans of having "amnesia" about the oil spill.
Among other issues of interest to BP: the Restoring American Offshore Leasing Now Act, which requires Salazar to conduct certain offshore oil and gas lease sales; financial reform legislation and proposed rules; and liability protection for producing and retailing motor fuel that contains 15 percent ethanol. In addition, the oil company lobbied on several proposed EPA rules relating to greenhouse gas emissions and ambient air quality standards, and lobbied Congress on energy tax issues, corporate tax reform and the export of Caspian gas into European markets.
Earlier this week, it was revealed that BP broke its self-imposed moratorium on political donations in the wake of the spill. The oil giant gave $5,000 contributions to House Speaker John Boehner (R-Ohio), House Majority Whip Kevin McCarthy (R-Calif.), and House Energy and Commerce Committee Chairman Fred Upton (R-Mich.), among others. On March 1, BP's political action committee also doled out $5,000 to both the National Republican Congressional Committee and the National Republican Senatorial Committee, according to the Center for Responsive Politics.

Popular in the Community