Down in the Louisiana bayou, the fall season is changing with the north winds. Millions of ducks, geese and migratory birds are arriving as they have throughout the millennia. Shrimp are slowly abandoning the nourishing coastal marshes as cooler water pushes them out to sea.
On the surface, life appears normal. But all is far from normal more than six months after the worst maritime oil spill in history. Many residents here are in a fight for their lives. Things have not changed much for them since that fateful day on April 20 when the Deepwater Horizon blew a fireball of oil and gas into the air, killing 11 men and creating an 87-day gusher of undersea oil that captured the world's attention.
Now the press is gone and the world has moved on. But fishermen and businesses in the Gulf are struggling. Demand for once-prized Gulf shrimp and crab is as low as a brown pelican skimming the sea searching for its next meal. The American public isn't buying the PR campaigns or government claims that the seafood is safe. Fishermen are having a hard time paying their bills after the most disastrous season since Katrina.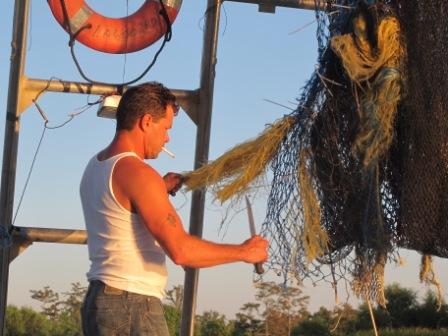 Photo by Rocky Kistner/NRDC
Meanwhile, the clean-up work continues at a slower pace. Many locals are being laid off from work, sometimes replaced by cheaper, out of area contractors. That doesn't sit well with folks around here.
"There's a war brewing down here," says JJ Creppel, an out of work fishermen who never got a chance to work for BP's lucrative cleanup program. "BP doesn't know what they've got on their hands. People have had enough."
Money is tight and the BP claims process is mired in a morass of thousands of missed payments and public confusion. The local press is now supporting the removal of the once exalted claims czar Ken Feinberg. The Mobile Press-Register called for Feinberg's ouster on Sunday, featuring a political cartoon of the Boston lawyer garbed in a bird suit feeding crumbs to pigeons. Cartoonist JD Crowe blogged on it this way:
Fly away, Ken Feinbird.

Your BP claims droppings have been an insult to the good folks on the Gulf Coast whose livelihoods are dying as a result of the oil spill disaster. You promised fair and fast payments. You may as well have promised fuzzy puppies and unicorns.

You've been paid millions to make payments to oil spill victims from BP's $20 billion feed bag. You seem to enjoy holding the bag more than spreading the love. We know you're getting paid to pay. Are you getting paid more not to pay?

You're just another buzzard. Fly away and feast off the bones of someone else.
Complaints over claims payments are not the only gut-wrenching problem for residents down here. Many look out into the choppy Gulf waters and wonder what happened to the 200 million gallons of oil spewed into the sea. Is it largely gone like many government officials are saying? Could hydrocarbon-eating bacteria really be that ravenous? But many think much of the crude is still there, lurking on the bottom and rolling in with the tides. Science has yet to provide the answer and likely won't for many months to come.
Mistrust among residents and fishermen continues to rage.
"I call it the immaculate deception," says Louisiana Shrimp Association President Clint Guidry. "Nothing's really changed here since the beginning as far as getting real information."
Recent headlines have added to the concerns of those who think the damage here is still to come. A report in the Christian Science Monitor last week had this to say:
Oil is still being discovered along the shorelines of all four coastal states, even appearing in areas that were once cleaned, a frustrating situation caused by unpredictable tidal patterns.

In an Oct. 27 briefing, the oil spill response command said 93 miles of coastline had moderate to heavy oil. Two months earlier, on Aug. 24, that number was 135 miles.

There is no determination yet on how to define when the job will be finished. Officials say beach cleanup efforts will likely end by early 2011. But critics say that despite the cosmetic cleaning being performed by work crews, oil will continue to smear shorelines for the foreseeable future.
"They have seen oil in the gills of shrimp," said William Hogarth, dean of South Florida's marine sciences college and former assistant administrator for fisheries with the National Marine Fisheries Service, referring to varied reports of scientists along the Gulf coast. "There may not be an immediate effect on species right now, but we could be seeing such an effect in a year, three years, five years from now."
Questions are still being raised by people along the Gulf coast about the toxicity of poorly-studied dispersants sprayed across vast areas of surface and subsurface waters. Mother Jones reporter Kate Sheppard recently had this story about new research by Peter Hodson, an aquatic toxicologist from Queen's University in Ontario, that raises questions about how these dispersants react with oil.
The problem, explains Hodson, is that the dispersed cloud of microscopic oil droplets allows the PAHs to contaminate a volume of water 100-1,000 times greater than if the oil were confined to a floating surface slick. This hugely increases the exposure of wildlife to the dispersed oil. "EPA was presenting only part of the risk equation," he told the meeting. "They're trying to sugar-coat the message. In trying to understand the risks of dispersed oil, we need to understand exposure."
While the scientific debate marches on, the people here on the front lines are pushing their public officials for more information. Mississippi resident and grandmother Linda St. Martin, a thorn in the side of petrochemical-funded politicians like Gov. Haley Barbour, has driven thousands of miles over the past six months to areas impacted by this historic oil disaster. Last summer, she laughed out loud during comments made by public officials at a town hall meeting and was promptly hauled out of the meeting by police and charged with disorderly conduct. Her court hearing is this Wednesday in Ocean Springs, MS. Local environmental groups are promising a huge turnout. [Update: the judge has postponed Linda's court appearance until Dec. 15. Local groups say they will turn out and support her then.]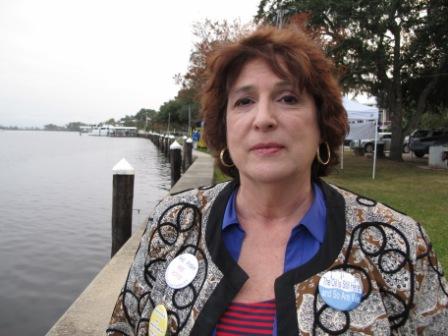 Photo by Rocky Kistner/NRDC
I caught up with Linda yesterday at a fund-raising festival for fishermen sponsored by the Louisiana Environmental Action Network (LEAN), which has been documenting and testing for oil impacts across the state.
"They can do what they want to me, but they can't hide the truth," Linda told me. "This will be a long battle but we're ready to fight it. Years from now I don't want my kids to ask me what I did during the oil wars and have nothing to say. This is way too important for them and for the future of the planet."
People like Linda and LEAN's Executive Director Mary Lee Orr are tireless in their fight against monstrous refineries and petrochemical complexes that dot the Gulf, belching clouds of gas and smoke into the air each day. But much of their attention now is focused on the tentacles of ever-expanding oil and gas pipelines and offshore drilling rigs that stretch into deeper waters, exacerbating the dangers to the vanishing Gulf wetlands and coastlines.
As Congress debates legislation to strengthen oil pollution prevention laws, people here on the front lines are taking up the fight. Winston Churchill said it best: "A nation that forgets its past is doomed to repeat it."
It's good to know there are individuals here bound and determined to make sure we all never forget.
Support HuffPost
The Stakes Have Never Been Higher
Related
Popular in the Community