LONDON, July 8 (Reuters) - The number of claims filed against BP Plc's oil spill compensation fund has risen by 18 percent over the last six weeks to a total of 195,403, according to the claims website - even though payouts began almost a year ago and the fund will be accepting claims until next April.
The increase in claims that are set to contribute billions to BP's final spill bill has followed a period in which lawyers encouraged businesses and individuals to make claims for the 2010 disaster that killed 11 men in a rig explosion.
BP has complained repeatedly this year that the terms of a 2012 settlement reached on compensation with a class action set of claimants are being misinterpreted by Patrick Juneau, the claims administrator, allowing unaffected business to receive payouts.
Its appeals have so far been rejected, but its latest attempt to get the so-called business economic loss tranche of payouts stopped while an inquiry is launched will be heard by an appeals court later on Monday.
"Not only is the claims administrator's misinterpretation contrary to the plain language of the settlement agreement and the intent of the parties, but it has ignited a feeding frenzy among trial lawyers attempting to secure money for themselves and their clients that neither deserves," Geoff Morrell, BP's head of U.S. communications, said in a statement ahead of the appeal in New Orleans.
"We are asking the Fifth Circuit (court of appeals) to follow established legal principles of contract law and interpret the agreement as written and intended: paying only those claimants who suffered actual losses."

Much of BP's argument against the way Juneau is making the payouts hinges on an interpretation of accountancy terms that BP says is too loose.
Under the terms of the settlement, for a claimant, proof of a connection with impact from the spill itself is not necessary in most cases. Eligibility for a so-called business economic loss claim is instead triggered by the ability to show a lower revenue, higher expense, or both, during and/or after the oil spill, compared with other periods. Each side will be allotted 20 minutes to present its case.
A court filing against BP on behalf of claimants and Juneau said: "This appeal is the latest in a series of post hoc attempts by BP to introduce a subjective causation element that would deny recovery to class members whom BP had previously agreed should be compensated, according to negotiated, objective criteria, in exchange for a class-wide release."
BP has a total provision of $42.2 billion in its accounts set aside for clean-up costs, fines and compensation. The compensation BP is arguing about may end up as a relatively small part of the total final bill. Other developments - such as being found grossly negligent by the judge in the main trial, Carl Barbier, instead of simply negligent as BP argues - could increase its liability by much more.
However, the nature of the payments - many, small and individual - means that unlike other future costs, recovering them through further litigation would be next to impossible, BP has argued. That, along with the unpredictability of the final amount, could leave BP "irreparably harmed," it has said.
In April, BP added $500 million to its best guess of compensation payouts under the settlement, based on what it knows so far, for a total $8.2 billion of business economic loss and other compensation claims.
It has $1.7 billion left in the $20 billion pot it has set aside for paying these and other costs. After that is gone, BP has said it will take future compensation money straight from its net profit - which could mean a charge as early as next year if payments continue at the same rate until then.

Before You Go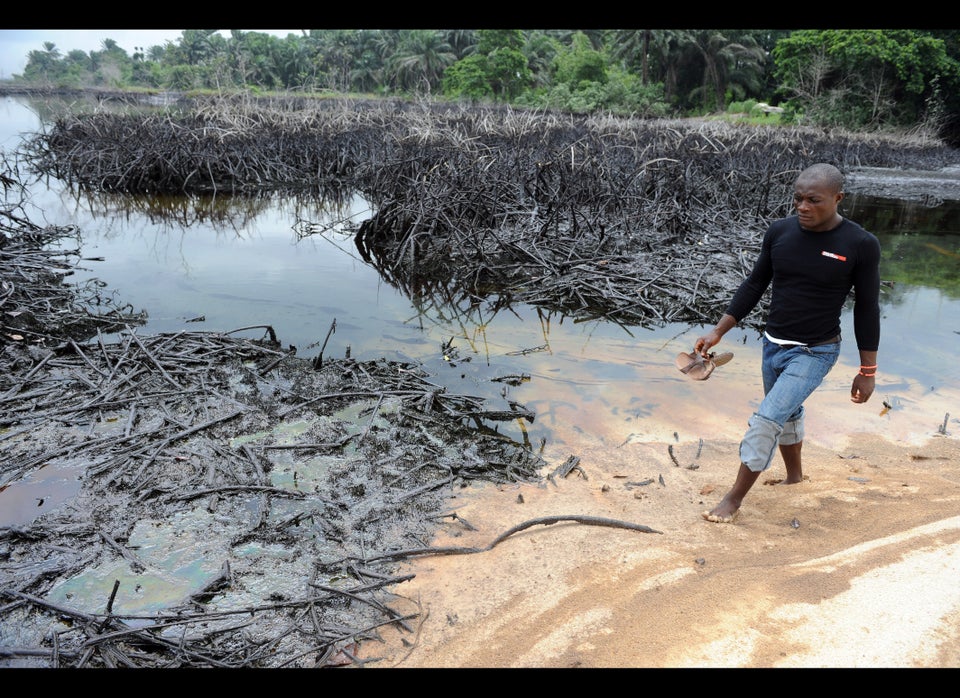 Oil Spills Since The Gulf Disaster
Popular in the Community