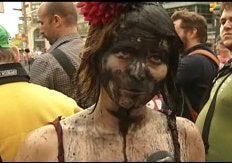 Protesters in New York City descended on a BP gas station in SoHo on Friday and demanded a boycott of the oil company.
The group condemned BP for its response to the oil spill and the damage company is causing to the environment. Some carried protest signs and covered themselves with chocolate syrup and black food coloring to mimick the crude that's washing up along the Gulf Coast.
According to MyFox New York, the owner of the station does not work for BP and says that he is disappointed with the company's response to the spill. The owner has noticed a drop in business.
WATCH:
Popular in the Community