 WASHINGTON, Oct 5 (Reuters) - Senators from the U.S. Gulf Coast urged President Barack Obama on Friday to ensure that any legal settlement for the 2010 Gulf of Mexico oil spill does not undermine a recently passed law that would funnel billions of dollars worth of fines to their states.
The U.S. Justice Department and BP Plc have discussed a potential settlement for damages caused both to Gulf waters and the coastline, which could be worth billions of dollars to states still trying to recover from the worst offshore oil spill in U.S. history.
While the details of those discussions have been kept under wraps, Democratic and Republican senators from the region said they have "grave concerns about developments of the settlement terms" that have been cited by local media outlets.
Senators pointed to recent press reports that the Justice Department and BP are discussing settlement terms that would maximize penalties to be paid under Natural Resource Damage assessments, and minimize those paid under the Clean Water Act.
The RESTORE Act, signed by President Barack Obama on July 6, directs that 80 percent of Clean Water Act penalties paid by BP be placed in a new trust fund for restoration efforts in the five coastal states damaged by the worst U.S. offshore oil spill: Louisiana, Alabama, Mississippi, Florida and Texas. (FACTBOX at )
In a bipartisan letter - a rare sight ahead of the Nov. 6 presidential elections - eight senators told Obama they are worried the Justice Department is considering allowing the bulk of fines to be assessed under the Oil Pollution Act for damages assessed to the coastline, with a minority of fines assessed for damages under the Clean Water Act.
Fines arising from Clean Water Act violations could reach $21 billion, if BP is found to be grossly negligent of causing the April 20, 2010, explosion aboard the Deepwater Horizon drilling rig that killed 11 rig workers and unleashed 4.9 million barrels of oil that soiled the shorelines of four Gulf Coast states. BP has adamantly denied any accusations of gross negligence, and declined to comment on the senators' letter.
Without the bill, federal Clean Water Act fines would have gone straight to the U.S. Treasury. Anywhere from $4 billion to $16.8 billion could flow into states' coffers under the bill's terms.
The Mobile (Alabama) Press-Register first reported the proposed deal earlier this week, citing unnamed officials who had been briefed by the Justice Department.
The potential settlement could be attractive to BP, because fines under the Oil Pollution Act are treated more favorably by the U.S. tax code than are Clean Water Act fines, congressional sources said.
"Not only would the federal government have final say as to what qualified as environmental damage but BP, who is responsible for this, would also get a tax deduction that could write off millions," Representative Jo Bonner, an Alabama Republican, told Reuters. "The audacity of giving BP a tax write-off."
A Justice Department spokesman had no comment on either negotiations nor the criticisms from elected officials.
Senators told Obama the trade-off would mean less money allocated through a formula lawmakers negotiated in the RESTORE Act, legislation which puts decisions on how the money is spent in the hands of states and local governments.
"Circumventing the will of Congress by short changing the RESTORE Act is wholly unacceptable to us. We urge you to reject such an approach," said the letter, signed late on Friday by Mary Landrieu, a Louisiana Democrat, and Richard Shelby, a Republican from Alabama, who co-authored the legislation.
Shelby is concerned that Alabama's two coastal counties could lose out on planned recovery projects if the settlement was skewed toward Oil Pollution Act damage assessments, aides told Reuters.
"We urge you to negotiate a robust settlement that does not achieve a higher amount under one of these statutes at the expense of the other," said the letter, also signed by Florida senators Marco Rubio, a Republican, and Bill Nelson, a Democrat.
Republicans Jeff Sessions of Alabama, Thad Cochran and Roger Wicker of Mississippi, and John Cornyn of Texas also signed the letter.
Louisiana, which bore the brunt of environmental damage from the spill, expects to be compensated for damages regardless of the legal means, said Garret Graves, senior environmental advisor to Louisiana Gov. Bobby Jindal.
"Every statistic that's out there in regard to the impact of the spill clearly points to a disproportionate impact on the state of Louisiana, and Louisiana's focus will be ensuring that we fulfill our legal obligation to address all of these impacts to the Gulf," Graves said. (Additional reporting by David Ingram in Washington, Verna Gates in Birmingham, Alabama, Kathy Finn in New Orleans and Emily Le Coz in Tupelo, Mississippi; Editing by Chris Baltimore and Gary Hill)

Related
Before You Go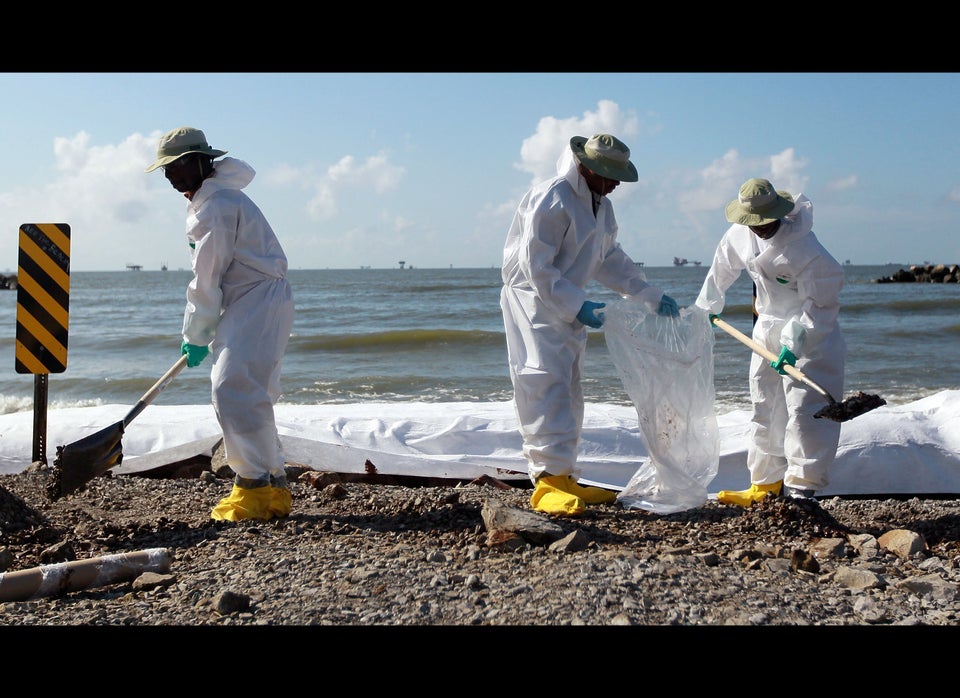 Gulf Oil Spill-- Looking Back
Popular in the Community