* BP admits felony misconduct over Deepwater Horizon
* Company to pay $4.5 billion in penalties
* Deal could resolve significant share of BP's liability
* BP still faces damages sought by U.S. states, others
By Chris Baltimore and David Ingram
HOUSTON/WASHINGTON, Nov 15 (Reuters) - BP Plc will
pay $4.5 billion in penalties and plead guilty to felony
misconduct in the Deepwater Horizon disaster, which caused the
worst U.S. offshore oil spill ever.
The settlement includes a $1.256 billion criminal fine, the
largest such levy in U.S. history, the oil company said on
Thursday. U.S. Attorney General Eric Holder called the deal a
"critical step forward" but was adamant that it did not end the
government's criminal investigation of the spill.
The government also indicted the two highest-ranking BP
supervisors aboard the Deepwater Horizon during the disaster,
charging them with 23 criminal counts including manslaughter.
The April 2010 explosion on the rig in the Gulf of Mexico
killed 11 workers. The mile-deep (1.6 km) Macondo oil well then
spewed 4.9 million barrels of oil into the Gulf over 87 days,
fouling shorelines from Texas to Florida and eclipsing in
severity the 1989 Exxon Valdez spill in Alaska.
The company said it would plead guilty to 11 felony counts
related to the workers' deaths, a felony related to obstruction
of Congress and two misdemeanors. It also faces five years'
probation and the imposition of two monitors who will oversee
its process safety and ethics for the next four years.
Wall Street analysts said the deal will allow BP to focus
again on oil production, while one U.S. senator from Louisiana
said he hoped the settlement would not prevent his state and
others from collecting civil penalties.
U.S.-listed BP shares gained about 0.3 percent on
Thursday while its London-traded shares were flat.
BP, which replaced its chief executive after the spill as
its market value plummeted, still faces economic and
environmental damage claims sought by four Gulf Coast states and
other private plaintiffs.
"It certainly is an encouraging step," said Pavel Molchanov,
oil company analyst with Raymond James. "By eliminating the
overhang of the criminal litigation, it is another step in
clearing up BP's legal framework as it relates to Macondo."
The disaster has dragged BP from second to a distant fourth
in the ranking of top Western oil companies by value.




PROBATION AND MONITORS
The settlement could also prompt a debate in Congress about
how funds would be shared with the Gulf Coast states. Congress
passed a law last year that would earmark 80 percent of BP
penalties paid under the Clean Water Act to Louisiana,
Mississippi, Alabama, Florida and Texas.
"With these unprecedented criminal penalties assessed, I
urge the Obama administration to be equally aggressive in
securing civil monies that can help save our Louisiana coast"
through other avenues, Louisiana Senator David Vitter said in a
statement. "I certainly hope they didn't trade any of those
monies away just to nail this criminal scalp to the wall."
Larry Schweiger, president of the National Wildlife
Federation, called the settlement a "good down payment" on what
BP should ultimately pay, which the environmental group argues
is tens of billions of dollars more.
BP said the payments would be spread over six years, adding
it expected to be able to handle the payments "within BP's
current financial framework".
The company has sold $35 billion worth of assets to fund the
costs of the spill. Matching that, it has paid $23 billion
already in clean-up costs and claims, and has a further $12
billion earmarked for payment in its spill trust fund.
The oil company said it has not been advised of any
government authority that intends to debar BP from federal
contracting activities as a result of the deal.

'RECKLESS MANAGEMENT'
BP's settlement does not resolve civil litigation brought by
the U.S. government and U.S. Gulf Coast states, which could be
considered when the case convenes in February 2013.
Alabama Attorney General Luther Strange, who represents
other spill-hit states in the case, said he intends to prove
that BP's actions were grossly negligent - a charge that would
bring billions of dollars in extra liability if upheld.
Holder said at a news conference to discuss the criminal
settlement that while the government and BP had held talks to
resolve the civil claims, the sides had not been able to agree
on a "satisfactory" number. He said a deal was still possible
but the government was moving ahead to the February trial.
Negligence is a key issue. A gross negligence finding could
nearly quadruple civil damages owed by BP under the Clean Water
Act to $21 billion in a straight-line calculation.
Chief Financial Officer Brian Gilvary said the company's
provisions should be enough to cover liabilities, provided it
avoids a conviction for gross negligence, and that it had
shareholder support to fight the case should that happen.
"I can boldly defend where we are in the provisions today.
If something were to happen in the trial that read across to
gross negligence ... then we would certainly take that to
appeal," he said on a conference call with analysts.
Still unresolved is potential liability faced by Swiss-based
Transocean Ltd, owner of the Deepwater Horizon vessel,
and Halliburton Co, which provided cementing work on the
well that U.S. investigators say was flawed.
Halliburton said it "remains confident that all the work it
performed with respect to the Macondo well was completed in
accordance with BP's specifications for its well construction
plan and instructions. Halliburton has cooperated with the DOJ's
investigation." Transocean was not available to comment.
According to the Justice Department, errors made by BP and
Transocean in deciphering a pressure test of the Macondo well
are a clear indication of gross negligence.
Transocean disclosed in September that it is in discussions
with the Justice Department to pay $1.5 billion to resolve civil
and criminal claims.
BP has already announced an uncapped class-action settlement
with private plaintiffs that the company estimates will cost
$7.8 billion to resolve litigation brought by over 100,000
individuals and businesses claiming economic and medical damages
from the spill.

Related
Before You Go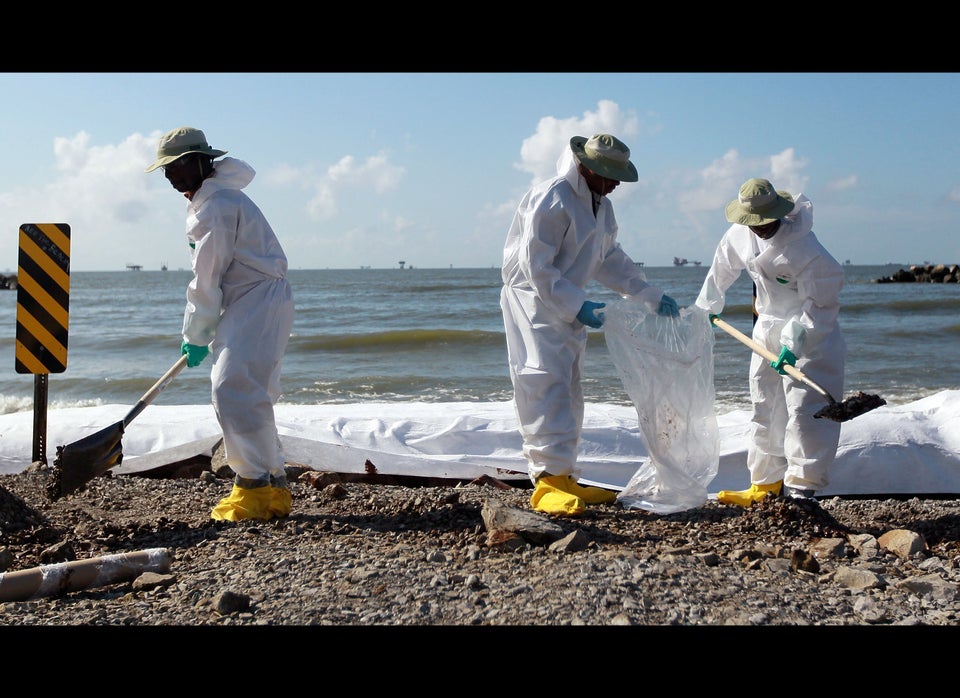 Gulf Oil Spill-- Looking Back
Popular in the Community