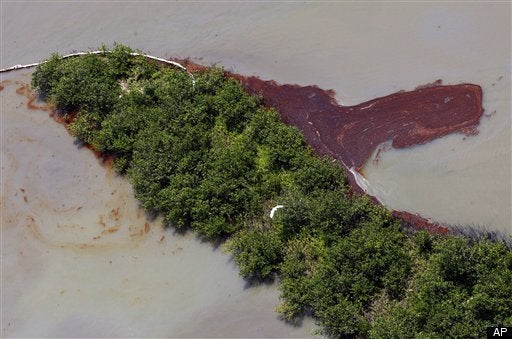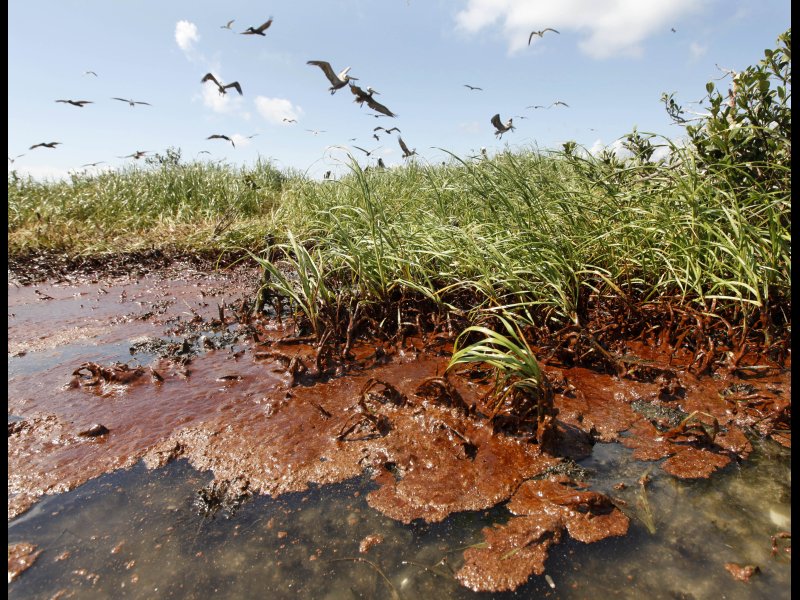 Someone needs to hold BP accountable for the devastation of the Gulf Coast. If the federal government won't do its job, which is to protect our country, there are environmental advocacy groups that will do theirs.
This deadly combination directly imperils 32 threatened or endangered species including the sperm whale, gulf sturgeon, manatee and five kinds of sea turtles, as well as the waters, coastal wetlands and wildlife refuges that many of these species call home.
The Endangered Species Act prohibits the "take" of endangered species. According to the law, to take means "to harass, harm, pursue, hunt, shoot, wound, kill, trap, capture, or collect, or to attempt to engage in any such conduct."
According to the joint press release, the Fish and Wildlife Service and National Marine Fisheries Service have interpreted "harm" as meaning "an act which actually kills or injures fish or wildlife. Such an act may include significant habitat modification or degradation where it actually kills or injures fish or wildlife by significantly impairing essential behavioral patterns including breeding, spawning, rearing, migrating, feeding or sheltering."
Mike Senatore, vice president for Conservation Law at Defenders of Wildlife made the following statement:
"BP must be held accountable for the grave threat posed to sea turtles, whales, seabirds and other endangered wildlife as the result of the Deepwater Horizon disaster. Not only does the oil gushing into the Gulf of Mexico pose an immediate and long-term threat to endangered wildlife in the Gulf of Mexico, but the company's unprecedented application of chemical dispersants poses additional risks."
Yesterday, the EPA prohibited BP from using the dispersants, but the company refused to comply, saying that it would use a safer alternative if there was one.
Catherine Wannamaker, attorney for Southern Environmental Law Center added:
"We're concerned about the oil-covered wildlife that we may see onshore, but we're also extremely concerned about what's happening below the surface of the Gulf of Mexico. This is shaping up as an unprecedented disaster for the people and wildlife of the Gulf. From plankton to endangered sperm whales to fishermen, BP has put an entire ecosystem at risk and must be held accountable."
The same groups filed suit against the Department of the Interior's Minerals Management Service last week for continued lax oversight of oil drilling operations.
Included on the list of endangered or threatened species named in the suit are five species of whale, five species of sea turtle, seven species of beach mice, seven species of bird, four species of fish, two species of coral, the Florida salt marsh vole and the West Indian Manatee. Several hundred other species not yet on the endangered list are also threatened by this catastrophe.
Many more additional lawsuits should be expected to follow. An oil company the size of BP (which paid a quarterly dividend just under 8% yesterday) has deep pockets and that is one way that the company might be expected to compensate for the tremendous harm it has caused and continues to case with every passing day.
However, experience shows that collecting damages from a company of this size is easier said than done. Take the example of Texaco and the massive damage it caused across an enormous area in Amazonian Ecuador, polluting rivers and forests, generating cancer clusters among a number of indigenous tribes, some of which had never had any contact with modern civilization before this. (This story is the basis for the documentary film Crude and the eco-thriller Vapor Trails.) A class action lawsuit seeking damages in the neighborhood of $27 billion was initiated in 1993. Texaco's parent company, Chevron has successfully managed to prolong the litigation for seventeen years, using one legal maneuver after another in order to avoid paying the damages and in the hope of eventually depleting the legal resources of the plaintiffs so that they will have to drop the action. Many of the original plaintiffs have since died and their children wonder if they will live to see restitution paid. Chevron's general counsel stated that he would "fight until hell freezes over and then skate it out on the ice."
Now is the time to take action to ensure that this won't happen in the Gulf of Mexico. As Thomas Friedman said, this is Obama's 9/11 moment. He has the attention and the support of the entire world on this issue. Now is the time to put in place actions that will rein in the excessive power of these oil giants and to put us firmly on a safe path to clean energy. Please don't just tell us to go shopping.
RP Siegel is an author, inventor and community activist.
Popular in the Community