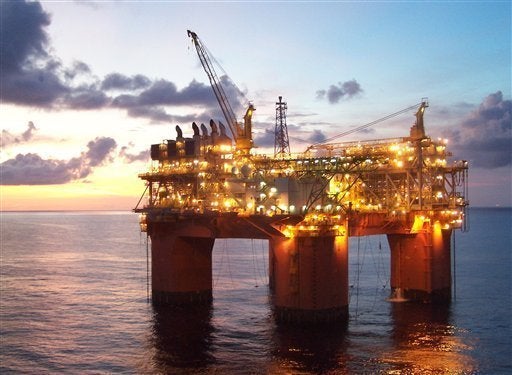 This story has been updated
As the federal and congressional probes continue into the causes of the Gulf oil rig explosion, new information is coming to light about the failure of a key device, the blowout preventer, to shut off the gushing well, which could have prevented the growing catastrophe.
And new questions are being raised about the testing of the preventers. At today's hearing before a House subcommittee, Rep. Henry Waxman, D-Calif., revealed that the blowout preventer had a leak in a crucial hydraulic system and had failed a negative pressure test just hours before the April 20 explosion. And at a hearing in Louisiana on Tuesday, the government engineer who gave oil giant BP the final approval to drill admitted that he never asked for proof that the preventer worked.
In addition, an oil industry whistleblower told Huffington Post that BP had been aware for years that tests of blowout prevention devices were being falsified in Alaska. The devices are different from the ones involved in the Deepwater Horizon explosion but are also intended to prevent dangerous blowouts at drilling operations.
Mike Mason, who worked on oil rigs in Alaska for 18 years, says that he observed cheating on blowout preventer tests at least 100 times, including on many wells owned by BP.
As he describes it, the test involves a chart that shows whether the device will hold a certain amount of pressure for five minutes on each valve. (The test involves increasing the pressure from 250 pounds per square-inch (psi) to 5,000 psi.) "Sometimes, they would put their finger on the chart and slide it ahead -- so that it only recorded the pressure for 30 seconds instead of 5 minutes," he tells HuffPost.
Mason claims that a BP representative was usually present while subcontractors performed the tests.
The 48-year-old veteran oil worker claims that in the oil industry, particularly at BP, "the culture is basically safety procedures are shoved down your throat and then they look the other way when it's convenient for them." He claims that oil operators often wouldn't report spills and that when he spilled chemical fluid in 2003, he was told by his superiors not to report it. Mason, who now runs a small operation hauling freight in the Alaskan bush and owns guest cabins, says he was fired by a drilling company in 2006 after he wrote a letter to the editor of the Anchorage Daily News to condemn the firm for incorporating overseas and thereby avoiding taxes.
Mason and another oil worker provided sworn statements in a 2003 lawsuit that rig supervisors "routinely falsified reports to show equipment designed to prevent blowouts was passing state-mandated performance tests," reported the Wall Street Journal in 2005.
Mason was interviewed by the Alaska Oil and Gas Conservation Commission in 2005 during a probe into allegations that Nabors Drilling, a subcontractor to BP, falsified such tests, among other claims that BP failed to report blowouts at the massive Prudhoe Bay oil field. The probe was spurred by oil industry critic Charles Hamel, who forwarded his allegation to then-Senator Ted Stevens of Alaska.
Hamel claims that BP is at fault for the falsification because "Nabors had nothing to gain by shortening the time because they got paid, and BP rep was on rig at all times." He adds that BP was the beneficiary of a falsified test, claiming that the company rushes work and cuts corners to save money.
Hamel sent a letter to Bart Stupak (D-Mich.), the chairman of the House Oversight and Investigations subcommittee, in advance of Wednesday's hearing into the Gulf oil rig disaster, urging him to ask BP about the falsification claims:
"You and your fellow Committee members may wish to require BP to explain what action was ultimately instituted to cease the practice of falsifying BOP tests at BP Prudhoe drilling rigs. It was a cost saving but dangerous practice, again endangering the BP workforce, until I exposed it to Senator Ted Stevens, the EPA, and the Alaska Oil and Gas Conservation Commission."
After a four-month-long investigation, the commission in Alaska found that a single Nabors employee "violated rules regarding testing of blowout prevention equipment ("BOPE") on Rig 9ES by falsifying test results with a practice referred to as "chart spinning." The AOGCC proposed a $10,000 cost assessment on Nabors to reimburse it for the expenses incurred during the investigation.
As part of the probe, BP officials were interviewed, says AOGCC investigator Jim Regg, but the company was not assessed any costs or found to have committed any violations in its role as operator of the well. The commission did not find any evidence of the other allegations regarding BP. A spokesperson for BP did not return repeated calls for comment.
AOGCC commissioner Cathy Foerster explains that investigators didn't find widespread evidence of such falsification at oil drilling operations, calling it "an isolated incident" and adding, "It cost the state $50-60,000 and all that came of it was this poor kid got fired."
Foerster, who said that the commission is funded through a surcharge assessed on oil operators, dismissed industry critic Hamel's allegations regarding malfeasance in the oil industry: "It's a light breeze and he declares a Category 5 hurricane." She added that there is usually a "shred of truth" to his claims, before warning that reporters who misrepresent her comments could face "legal ramifications."
Hamel, who is on the board of the Project on Government Oversight and formerly worked as an oil trader, has a long history with BP -- the company was forced to pay more than $1 billion in safety-related improvements to the 800-mile Alaska pipeline as a result of investigations prompted by Hamel.
Alyeska Pipeline, the company which operated the pipeline on behalf of BP, responded by hiring a private security firm, Wackenhut, to conduct surveillance on Hamel in the 1990s.

"They tapped my phone at my home in Alexandria, Virginia, had keys to my house -- I discovered that they went into my house twice," he says. And he claims that they sent a group to follow him up in Alaska, including a woman dressed provocatively who tried to get him into a hotel room with her.
A congressional hearing was called to examine the spying of Hamel and Wackenhut later settled a lawsuit filed by Hamel. And Alyeska apologized to him in full-page newspaper ads.
"These oil interests are very powerful -- they will stop at nothing to stop you."
Related
Popular in the Community