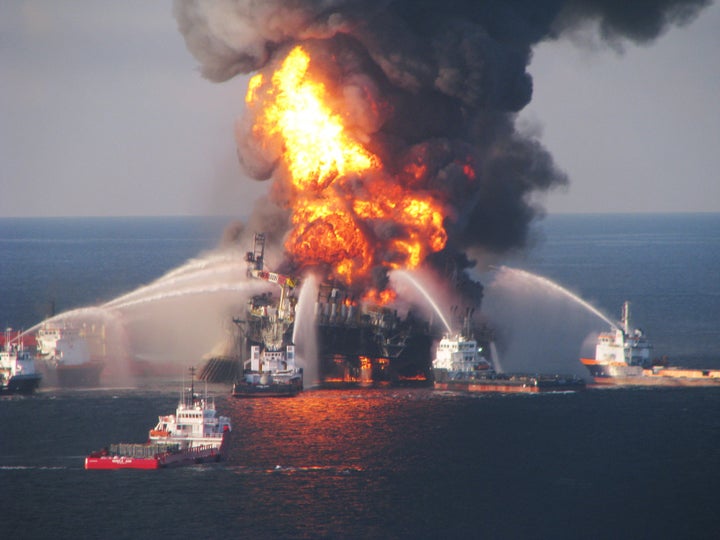 This story has been updated
Some of the most-anticipated witnesses at key oil spill hearings -- including BP's top official on the Deepwater Horizon who was involved in an argument with other rig workers over a crucial procedure just hours before the explosion -- have been no-shows.
Donald Vidrine, BP's "company man," overruled the rig's chief mechanic and driller and pushed to speed up the process by remove the drilling mud faster to save BP money on the day of the tragic explosion, according to testimony from rig owner Transocean's Doug Brown on Wednesday.
"Well, this is how it's gonna be," Vidrine allegedly said when confronted by the other workers, according to Brown's testimony, reports the Houston Chronicle.
Vidrine did not testify as scheduled on Wednesday, citing an unspecified medical condition. The other top BP official on the rig, Robert Kaluza, also declined to testify, invoking his 5th Amendment right not to incriminate himself. And a third witness, James Mansfield, Transocean's assistant marine engineer on the Deepwater Horizon, also called in sick, the Coast Guard said.
The decision by Kaluza "for the first time raises the specter of criminal liability in the April 20 explosion that killed 11 and continues even five weeks later to spew hundreds of thousands of gallons of oil into the Gulf of Mexico each day," reports McClatchy Newspapers.
At a hearing in Kenner, Lousiana today, Transocean's Jimmy Harrell testified that the day before the explosion, at a morning meeting, he expressed his concern to Kaluza that a new drilling plan did not include a negative test to measure pressure.
When that test was eventually performed, it was supervised by Kaluza, who later told Coast Guard investigators that his experience was largely in land drilling and that he was on the rig to "learn about deep water" drilling, the Wall Street Journal reported in a comprehensive account of that fateful day.
Kaluza's lawyers told the WSJ: "Bob did no wrong on the Deepwater Horizon, and we will make ... sure that this comes out at the appropriate time."
At the hearing, more details emerged about that fateful day, including the claim that driller started having trouble with pressure from the well about 20 minutes before the fatal explosion -- but no one attempted to shut off the well. And the rig's master testified that visiting BP officials were playing a video simulation game minutes before the gas burst out of well and exploded, reports the New Orleans Times-Picayune:
When he got to the bridge, he said found visiting executives from BP there. The rig's master, Curt Kuchta, testified the V.I.P.s were "basically playing a video game," a simulator of rig controls, and Kuchta said he was giving the visitors a tour. The other top officer on the rig, Offshore Installation Manager Jimmy Harrell, testified that he was in the shower.

Vidrine and Kaluza could not be reached for comment.
Calling all HuffPost superfans!
Sign up for membership to become a founding member and help shape HuffPost's next chapter