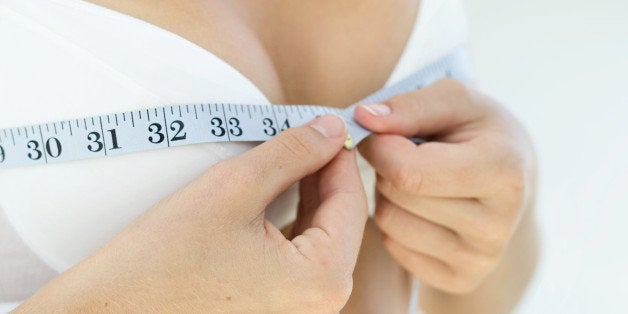 Every woman knows that having great bras is important; it's a necessity, not a want, and one that can be a bit costly these days. When choosing a great bra quality should be at the top of the list, but we all love to look and feel sexy. Who knows when we may need to "suddenly" toss our shirts off, afterall!
Buying the right bra can be a bit tricky though -- half the time it's because instead of focusing on the fit, we tend to focus on designs, styles, and brands, leaving fit to be a last minute consideration. With the price tags on some of the most popular brands out there, realizing that we missed the mark on fit can be an irritating and costly mistake.
For those with a smaller bust, finding the right fit can be even more challenging than finding a reliable brand that offers high quality, affordable bras.
If you are one of the unfortunate cases who has to deal with the inability to even find a bra that has your size at all, consider going into the store, trying a bra on that is as close to your size as possible, and getting it altered later on. You can work with a seamstress who can alter the bra for you, or you can fill it up the old fashion way.
How Do I Know If the Fit of My Bra Has Been Compromised?
The Band
Can you stick two fingers underneath the band comfortably? Make sure that it fits nicely on the middle hook, in case of weight gain or loss.
Your Shoulder Straps Should Stay Put
Do your shoulder straps keep falling off your shoulder? Or are they digging into your skin? If after adjusting you find no relief, then you have the wrong bra on.
The Tug
Do you find yourself tugging the cups up? Maybe your nipples keep popping out or your breasts are puffing out awkwardly, the cups shouldn't be baggy either, rather they should hug your breasts comfortably.
Even Small Chested Women Need Great Support
I don't know a woman who wouldn't love to be able to take her bra off and strut around in a tank without having to worry about the big "droop" affect, as I like to put it. Yes, even small chested women can accelerate sagging without proper support.
Think of wearing a bra as a preventative measure for later on down the line, like wearing sunscreen on your face before walking out into the scorching sun.
Your Bra Size Can Change
Our bodies are constantly changing, whether it's from natural functions like our menstrual cycles or simply age, stress, or a vacation to your ultimate foodie destination. Never assume that you will always be the same size, and try to get a fitting at least once a year to make sure that you are wearing the right bra for you.Go Overboard
Quality Matters, so Don't Go Cheap but There's No Need to Go Overboard
Spending big bucks on a bra may not be in everybody's budget, but this is one of those scenarios where quality matters over quantity. If you are just starting out, create a budget that will allow you to buy a few great bras over a 6 to 12 month period. Have more than two or three bras sitting around, this will help to extend the life of your bras and give you a little more flexibility with style and wear.
Know the Signs of a Great Bra
The fabric piece between the fabric and your breast, called the bridge, should lie completely flat.
Your breasts sit comfortably in the cups without gaps or unsightly bulges.
The underwire is flat against your ribcage.
The band is straight across your back, not squeezing.
Affordable Brands That Specialize in Small Busted Women
There are great brands out there that specialize in bra's for the small busted woman. They not only offer amazing bras at a reasonable price, but offer a lot of tips to simplify bra shopping for women.
Lula lu bra sizes range from size 32AAA to 38AAA and they offer beautiful and comfortable lingerie for petite women.
They have a great blog that offers a wide range of advice, that including the best small bust wedding dresses, and Straps and Bands, how to find the perfect fit.
Lula lu Tips For Determining Bra Size
STEP 1: Determining Band Size

Wear a lightly lined or unpadded bra.

Take the measuring tape and place your fingers on the 8″ mark of the tape with your right hand (the 8″ mark is just a placeholder for your hand and is not part of the calculation).

Bring the tape behind your back with your right hand.

Place your left hand behind your back.

With your right hand, pass the tape to your left hand, following the bottom edge of the back of your bra band.

With your left hand, pull the measuring tape to the front of your body, towards the top of your breastbone.

With your right hand, pull the tape to the front of your body as well, meeting your left hand at a point at the top of your breastbone.

Do not pull the tape too tight or too loose at your breastbone.

If the number is even, then that is your band size (i.e. 34").

If your measurement is an odd number then add 1". (i.e. if you measured 31," then round up to 32″).

STEP 2: Determining Cup Size

To ensure accuracy, we recommend you measure yourself while wearing an unpadded bra. Using a measuring tape, measure around your body across the fullest part of your bust. Again, this should not be too tight or too loose. To calculate your cup size, subtract your band size from Step 1 from your cup measurement.
The Little Bra Company $54-$80
A little pricier than Lula lu, The Little Bra Company has just as much to offer, offering a wide range of styles. TLBC stores are easily available, from California and Alaska, to Trinidad and Tobago, and they offer great tips and support on their blog. They range in size from 28A to 34C.
Mimi Holliday definitely takes the cake in term of style in my opinion, offering amazing combinations and options. This UK brand does offer international delivery to the U.S. for $13, with shipping taking 5 to 7 business days, but this review from The Lingerie Lesbian will keep you entertained while you wait.
There are some great brands that offer amazing bras, even for small busted women, it just takes a little research. It's also important to make sure that the fit of the bra is correct, no matter the size of your bust.
Do you have a favorite brand that you find yourself going to over and over again?