Boobs and bras are hot topics here at HuffPost Style. Whether we are discussing the latest sideboob on the red carpet (we're looking at you, Michelle Dockery), discussing how to best dress our own bosoms or debating how often to wash bras, it's safe to say that, much like a teenage sleepover, we are still talking about breasts.
We arrived early in the day at the Murray Hill location of Linda's. After a few moments of admiring the new collection of swimwear, Kim asked us if we'd like to see the back room. Umm, duh. Of course we wanted to see the inner workings of one of the most famous bra salons in New York City. We were ushered into the back room, which was in fact a small warehouse, with bras of all shapes, sizes and colors stacked almost to the ceiling. Kim walked us through the range of sizes, which blows the average department store selection out of the water. Linda's carries bras up to a size 50N, whereas most mass retailers only carry up to a 38D.
Once we picked our jaws off the floor, Kim declared that it was time for the fitting. Yes, as you can imagine, that means it was time to take our clothes off. All in the name of journalism, ladies. Kim followed me into the fitting room where I told her that I was a 34B, and had been since my teens. That's correct: I was under the assumption that my boobs were the same size -- through weight gain, weight loss, two pregnancies and breastfeeding -- that they had been when I was 15 years old. Kim looked incredulous. She told me that she could tell just from eyeballing me that I was not a 34B.
She was right. Once I disrobed, Kim wrapped a measuring tape around my bust, right under my breasts. I asked her how she was going to measure my cup size (fearing that some serious manhandling was in my near future), but that was also something Kim knew from sight. She informed me that I'm actually a 30E. Apparently, I had committed a very common mistake and that, in fact, the majority of women are wearing the incorrect size bra. Kim said, "People invest in clothes and hair, but their underwear is last on the list of priorities, and it only gets worse as we get older. When you're 20, you want the cute jacket. Then you have kids and they become the priorities. It's not until your boobs are in your shoes that you take moves to find the right bras."
There are three important factors to consider when purchasing a bra. The band is the numero uno, most important, thing. "All the support is in the band," Kim told us. Many women wear bras that are too big because they don't like the discomfort of a bra that sits flush on the skin, but the result of an ill-fitting band is that the bra moves around during the day and offers little to no support. Once you figure out your correct size, it's important to wear your bra on the last clip. Then, as it stretches out, you can move the clip in to compensate.
Then it's time to figure out your cup size. Remember: Not all cups are equal. If you go down in the band size, you need to go up a cup size for a proper fit.
As far as the straps are concerned, Kim had strong opinions, too. She laughed as we pulled our straps over our ears to show just how stretchy they were. She said, "Straps are just there to keep everything flush, not to hold them up." That said, you shouldn't be able to fit much more than a few fingers under the straps.
Lastly, know how to put on a bra. Most women are guilty of "slapping on a bra," said Kim. "Even worse is the crush-and-flip, where women crush the cups by putting them on at their waists, destroy the elastic by swiveling them around our waists and then ruin the wire by flipping the cups." Kim said, "The proper method is straps first, breast tissue in and then hook it in the back." In fact, she recommends leaning over to properly place the breast tissue. Once I had the underwire flush against my skin and my breast tissue forward, I was ready for the big reveal.
Upon seeing my new-and-improved bra (and my new-and-improved cleavage as a result) Kim exclaimed, "There they are!"
Lastly, a word on how you wash and store your bras. Bras should be hand-washed every five to six wears in a basin with lingerie soap. Then should then be hung to dry (step away from the dryer, ladies!). And as far as storage goes, Kim told us, "Stack bras one on top of the other. Never fold bras up; you want to avoid crushing the cups."
Click through to see our bra fitting at Linda's Bra Salon.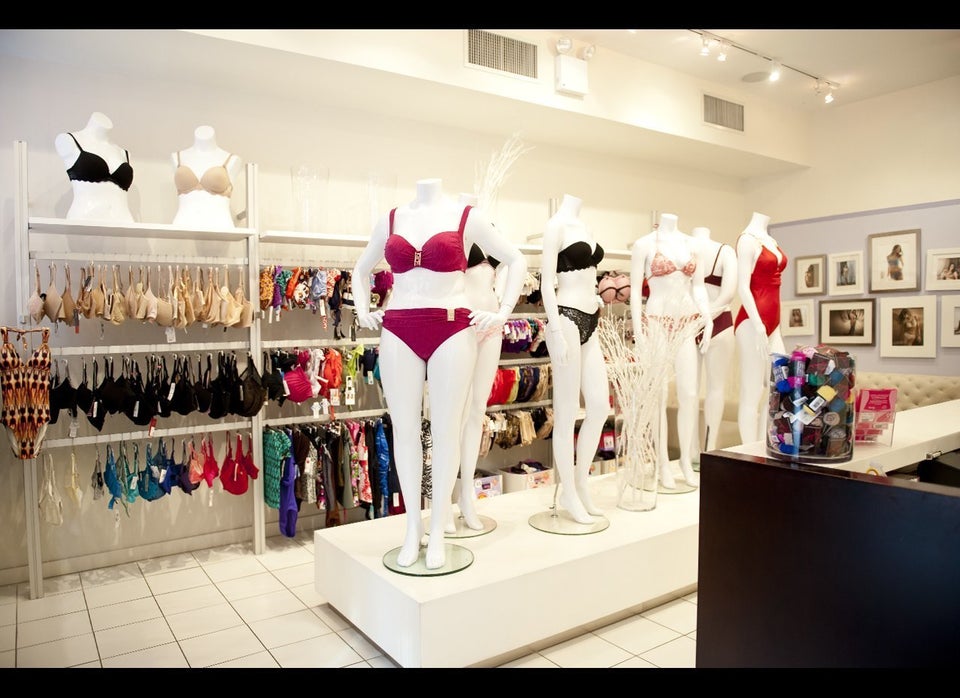 Bras
Want more? Be sure to check out HuffPost Style on Twitter, Facebook, Tumblr, Pinterest and Instagram at @HuffPostStyle.
--
Do you have a style story idea or tip? Email us at stylesubmissions@huffingtonpost.com. (PR pitches sent to this address will be ignored.)
Support HuffPost
A No-B.S. Guide To Life
Related
Popular in the Community