We're kind of obsessed with bras these days. Through extensive interviews (okay, just talking to our busty friends), we've learned that a good bra is tantamount. Think of it the way an artist would think of a clean palette: Invest in your undergarments and the rest of your clothing will look great. So bra shopping should be as important as buying that new pair of boots. You probably know your size, right? Wrong. It turns out that most women don't know their true band and cup size, and that's just one of the mistakes that women make when shopping for bras.
We reached out to Kim Caldwell, the marketing director at Linda's Bra Salon, for some "braducation." Linda Becker and her New York City store became famous after a New York Times profile described the detailed fitting services and knowledge of Linda and her staff. Knowledgeable is an understatement -- we ended the interview amazed by the amount of surprising information about our undergarments.
1. Work with a professional. If you can, go to a lingerie store and be fitted. Kim says, "You go to a lawyer for legal advice and a doctor for medical queries, go to a bra professional for the right undergarments." It's a more efficient experience with a properly trained fitter: They can measure you and help you navigate the over 250 brands and styles of bras out there to determine which is best for you. If you can't make it to a specialty store, Linda's offers an online measuring tool and professionals who can talk you through the process of choosing and purchasing a bra over the phone, online or even via instant messaging.
2. All cups are not created equal. Know your back-size-to-cup-size ratio. The bigger the back size (and thus the band of the bra), the bigger the cup size should be. For instance, a 38D is one cup size bigger than a 36D. Kim says, "I'm a 30DD. If I were a 32, I'd be a D. The back size and band are where you get the support. Women go down in the back and up in the cup size. The mistake most women make is wearing band sizes that are too big. And they don't know the cup size."
3. Shop small if you can. Small lingerie-focused boutiques that is, where the salespeople are more likely to be experts. One of the reasons that women are wearing the wrong size is that they are shopping in stores that only carry sizes A to D. Kim calls this limited range of sizes "department store sizing." She explained the disconnect between women's needs and what the lingerie industry is selling: "We offer bras in sizes up to a N cup. But most bra manufacturers aren't bra fitters. The female body has changed, and department stores haven't caught on yet, which is why they offer such a limited size run."
4. Hand wash your bras. Wash them every four to five times you wear them. Hand wash, air dry and use special garment soap to save the elastic. Use soap for silken lingerie: Put a capful in a basin and let them soak for 30 minutes to an hour. This will help them last longer.
5. Invest in your bras. Kim says, "You can buy bras for 10 dollars, but they won't last very long and they won't do their job of properly supporting your breasts. Most of our bras are between $55 and $80. Our best-selling bras are $89 and $43, but we do carry bras that start at $26. Most of the time the cost difference is the material and the design, and a cheaper bra may not last as long. Bras are completely made of elastic." $50 is a good goal to spend on a bra.
Here, 15 bras to get you started on your odyssey to finding the perfect bra.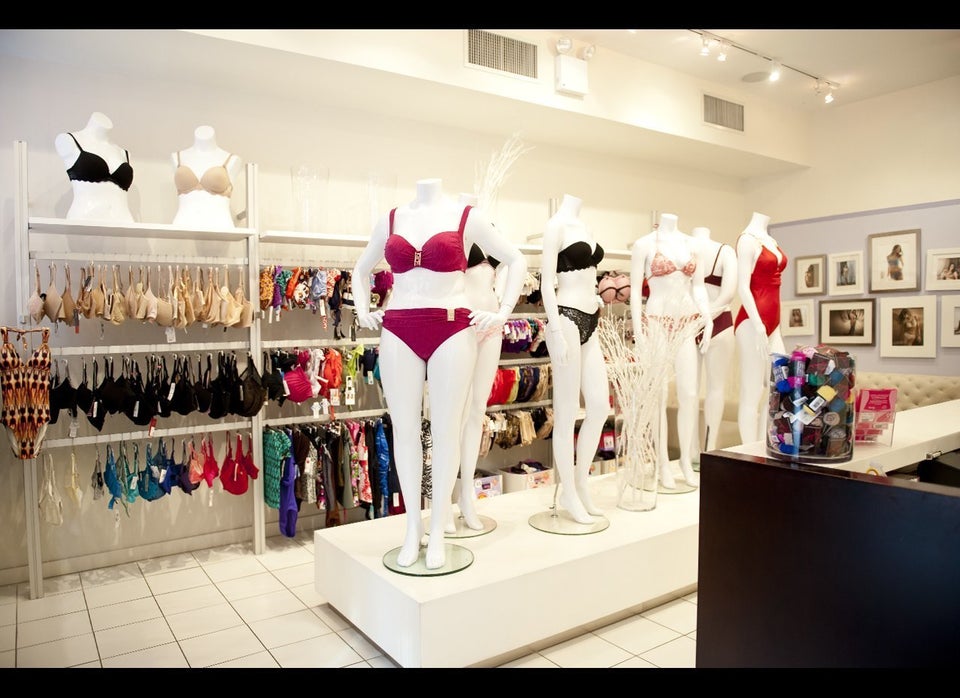 Bras
Related