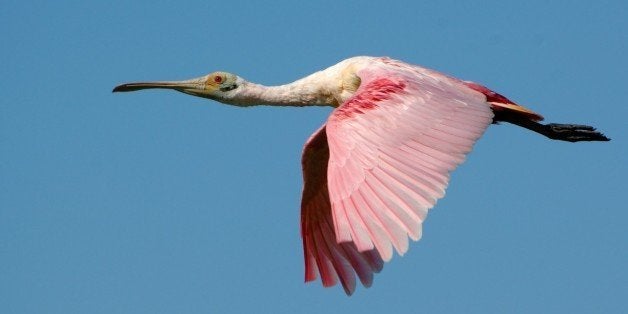 Ten years ago this week, Hurricane Rita -- the strongest hurricane ever recorded in the Gulf of Mexico -- made landfall on the Gulf Coast, wreaking terrible destruction across the entire Louisiana coast and well into Texas. Rita's storm surge exceeded 18 feet, and the storm caused approximately $12 billion in damage. Rita made landfall less than a month after Hurricane Katrina had devastated the Gulf Coast, killing more than 1,200 people and causing a staggering $108 billion dollars in damage.
Half the world's human population lives within about 40 miles of a coastline. And of course, the world's coasts also harbor enormously productive natural ecosystems. For many of us, life on land is also life at the edge of land.
And so, in an age of sea-level rise, increasingly stronger storms, and densely populated coastlines, a very big, very important question as we consider Sustainable Development Goal 15 is how we will protect people, reverse loss and degradation of coastal land, and preserve biodiversity in ecosystems on the edge?
Today, coastal land is disappearing all over the world, damaging ecosystems and economies and putting people's lives at risk. One of the starkest examples is right here in the United States, along the coast of Louisiana.
Since the 1930s, Louisiana has lost nearly 1,900 square miles of land. That's enough land to make up the entire state of Delaware. Rich, productive forests -- once life-saving rest stops for millions of birds that fly nonstop across the Gulf of Mexico twice each year -- are gone. Coastal prairies and wetlands are gone. Islands are gone. And as the land disappears, the people of the Gulf Coast become more and more vulnerable to the sea. Sixty miles of wetlands can reduce the height of a storm surge by an estimated 20 feet. But if the land is gone, the water roars in.
Several factors are driving the collapse of Louisiana's coast, from saltwater intrusion and erosion caused by the digging of oil and gas canals to the leveeing of the Mississippi River, which has cut off land-building sediment from the river's vast delta in southern Louisiana. Without the replenishing sediment, Louisiana's soft, young soils sink inexorably into the sea.
The dramatic collapse of land across the region contributed directly to the economic damages and human suffering caused by Hurricanes Katrina and Rita in 2005. And in something of a vicious cycle, the hurricanes also further damaged Louisiana's fragile land, leaving it even more vulnerable.
For example, Audubon's oldest and largest wildlife sanctuary is the Paul J. Rainey Wildlife Sanctuary in southwest Louisiana. Our sanctuary lost hundreds of acres of marsh because of Hurricane Rita, and many thousands of additional acres were lost across the rest of southwestern Louisiana. The salty storm surge killed vegetation, and subsequent wind and storms simply rolled it up like carpet, leaving open water behind.
Rainey Sanctuary provides vital migratory rest stops and nesting grounds for more than 200 species of birds, including threatened species like Whooping Cranes, Mottled Ducks, Reddish Egrets, King Rails, Piping Plovers, Least Terns and others. It also buffers inland human communities from storms like Rita.
So we knew giving up on Rainey was not an option. In the aftermath of Rita, we set out to rebuild damaged habitat within the sanctuary and to execute an ambitious plan to help address Louisiana's land-loss crisis for the good of birds and people.
We turned Rainey into a living laboratory to help develop science and best practices for restoring coastal wetlands. Eighty-five percent of land in Louisiana's 10-million-acre coastal zone is privately owned, so restoring the coast depends in no small part on solutions that other landowners can apply to their own properties. We developed a two-pronged approach:
1. We partnered with our neighbors and the regional nonprofit Coalition to Restore Coastal Louisiana to repair and protect one of the worst-damaged areas with a "terracing" strategy that built tiered earthen barriers and planted native marsh grasses to stop loss of land and let it slowly begin to heal.
2. We also began actually building land at Rainey with the John James mini-dredge. The dredge strategically deposits sediment to build land over time. With the support of Louisiana State University, the team planted native marsh grasses to strengthen this new land and help it take root. The dredge has been so successful that it has attracted new partners, new funding, and new technology, and it is providing a model for other landowners to address land loss on their own properties.
We also helped start the Restore the Mississippi River Delta Coalition to advance large-scale, science-based coastal restoration in Louisiana.
Changing course in Louisiana will require unprecedented cooperation among federal, state, and local partners, industry, and individual landowners. Louisiana's visionary 50-year master plan charts a course.
Louisiana is a model for others around the world who face the challenges of ensuring sustainable human use and protecting biodiversity in terrestrial ecosystems along the world's coastlines. We must rely on shared knowledge, strategic partnerships, and innovation to build a strong, sustainable future for coastal communities worldwide.
This post is part of a series produced by The Huffington Post, "What's Working: Sustainable Development Goals," in conjunction with the United Nations' Sustainable Development Goals (SDGs). The proposed set of milestones will be the subject of discussion at the UN General Assembly meeting on Sept. 25-27, 2015 in New York. The goals, which will replace the UN's Millennium Development Goals (2000-2015), cover 17 key areas of development -- including poverty, hunger, health, education, and gender equality, among many others. As part of The Huffington Post's commitment to solutions-oriented journalism, this What's Working SDG blog series will focus on one goal every weekday in September. This post addresses Goal 15.
Calling all HuffPost superfans!
Sign up for membership to become a founding member and help shape HuffPost's next chapter