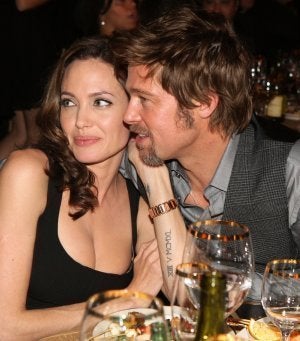 Did Brad Pitt and Angelina Jolie get married? Rumors are surfacing that the pair married in New Orleans Saturay, and Star Magazine is the first publication to firmly state it as fact. A Star rep told ETP that the news had been confirmed by two sources. OK! magazine is reporting it as a rumor, and reports that Pitt's rep claimed to have "no idea" if the news was accurate. Us Magazine is also jumping on the speculation and reporting that rumors are swirling, but People is firmly denying it, as a "source" tell them there was "no wedding." TMZ just reports what Star and People say. (NB: Star's report was timestamped before 8 p.m. on Saturday and OK! had posted in time for our original 9:40 p.m. post; Us and People did not weigh in until around midnight.)
Update: Brad Pitt's publicist Cindy Guagenti also told us via email that she had "no idea" if the wedding had occurred. (That was at 10:03 p.m. on Saturday night; Guagenti has not responded to a follow-up email requesting more information. )
Update II: More news outlets are getting on the bandwagon: The New York Daily News picks up Star's report (it has since been taken down), and gossip site X17 says that Star confirms what it heard from its own sources. For what it's worth, the South Asian Women's Forum is also on the Brangelina wedding case.
Update III, Sunday morning, 9:30 a.m.: Us is now reporting that the couple did not marry, with a source who called the rumor "complete and total bulls--t." Star, meanwhile, has added details to their report, saying that they wed yesterday afternoon in the French Quarter in New Orleans, noting that the location was Pitt's favored choice: "Brad had long wanted the ceremony to take place in the city devastated by Hurricane Katrina, while Angelina preferred a small, intimate ceremony in France. Clearly Brad won out as the planned ceremony took place in the French Quarter Wedding Chapel."

Update IV, Monday morning: Star is now retracting their firm, two-source claim of the Brangelina wedding, saying that "Sources in a position to have information" regarding the wedding had confirmed...and then retracted: "After further investigation, the sources are not standing by their story." Wrote "Amy" in the comments section: "I'LL BELIEVE IT WHEN I READ IT ON TMZ."

Backstory: Pitt had previously vowed not to marry until everyone in the United States had that same option (a vow which Donald Trump thought was pretty clever). In September 2006, Pitt was quoted by Esquire magazine saying "Angie and I will consider tying the knot when everyone else in the country who wants to be married is legally able."
The couple has four children together: Maddox, 6; Zahara, 2; Shiloh, 1; and Pax, 4. To call their family diverse is an understatement: Maddox, Zahara and Pax were all adopted (from Cambodia, Ethiopia and Vietnam respectively), and all originally by Jolie. Pitt legally adopted Maddox and Zahara in 2006, giving them the surname "Jolie-Pitt"; Pax was adopted in 2007 by Jolie alone because Vietnamese law makes it difficult for unmarried couples to adopt, but his name was subsequently changed legally to "Jolie-Pitt." Shiloh was born to Jolie and Pitt in May 2006 (as a Jolie-Pitt), amid much publicity; Jolie is currently pregnant, possibly with twins.
If the marriage reports are true, it will be the second for Pitt, who was previously married to Jennifer Aniston; Jolie was married to actors Johnny Lee Miller and Billy Bob Thornton, which, as OK! points out, "means this would mark the first time that Angelina married someone without three names." It would also mean that the unborn little Jolie-Pitt might actually just be a Pitt, depending on what decisions Jolie and Pitt make about how marriage will affect their surnames and the surnames of their children. Their first names, however, will forever be linked as Brangelina.