A restaurant owner in Boise, Idaho, says he just wanted to promote his pizzeria ― but the way he did it ended up being pretty tasteless.
Brad Breakell owns Pizzalchik, a restaurant that specializes in pizza, salad and chicken (hence the name). He's known for promoting his eatery through wacky videos where he dons wigs and costumes and assumes cartoonish personas.
His latest video, posted Monday, was supposed to piggyback on a shark exhibition at a local museum. It made a big splash, but not in the way he intended, according to KBOI TV.
That's because Breakell decided to dress up as a character named "Jacklyn Jaws." The costume consisted of a cardboard shark body with a cutaway in the mouth for Breakell's face.
Breakell painted his face black to blend in with the mouth, and painted his lips bright red for contrast. 
The result made Breakell look less like a shark's mouth and more like... well, a guy in blackface.
It didn't help that many people who saw the video thought he was calling himself "Chocolate John" instead of "Jacklyn Jaws," according to the Idaho Statesman.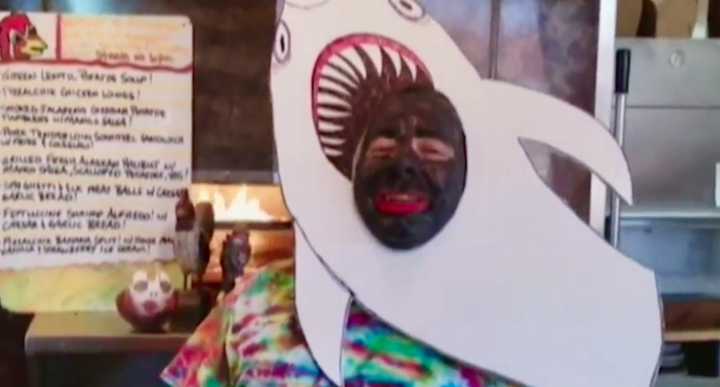 Breakell's video made waves on Facebook. It was viewed more than 30,000 times before he removed it on Monday, and many viewers accused him of racism.
Breakell told KBOI "there was no intent of being blackface."
He added: "People said, 'Do you know what blackface is?' Of course I know what blackface is, but because I'm so not that way, it didn't even cross my mind."
The negative publicity has been hard on his family, he said.
"My children have taken harassing phone calls," Breakell told the station. "People have been phoning and ordering hundreds and hundreds of dollars' worth of pizza with no intent of coming down to pick any of this stuff up."
"I am so sorry if I have offended anybody," he says in the clip. "I hope you can see that I am genuine in my apology to those of you who I've hurt, because this is not who I am."
In an interview with KTVB TV, Breakell said: "I was talking like Julia Child presenting a menu inside a shark. And I can understand, I guess, how some people viewed that as the 'blackface' thing and like I said I'm sorry. It's not my intent, not my intent at all. My restaurant is about peace, love, having fun, entertainment, good food and a really relaxed, fun environment. I am not what they depicted me to be in this backlash on my Facebook page."
"It wasn't even on my mind, I didn't think about it, I don't think about blackface, I don't think about any of these things. I was just trying to have a little fun with a character I made up," he went on. "I don't discriminate against anybody, no race, creed, religion, sexual preference, I don't care. I'm open to everybody."
It's possible that Breakell ― like all of us ― has some room to improve in terms of cultural sensitivity. In February, he posted a video for National Tortilla Day where he wore a tortilla chip mask and spoke with an exaggerated Mexican accent.
REAL LIFE. REAL NEWS. REAL VOICES.
Help us tell more of the stories that matter from voices that too often remain unheard.
BEFORE YOU GO
PHOTO GALLERY
Ridiculous Examples Of Accidental Racism