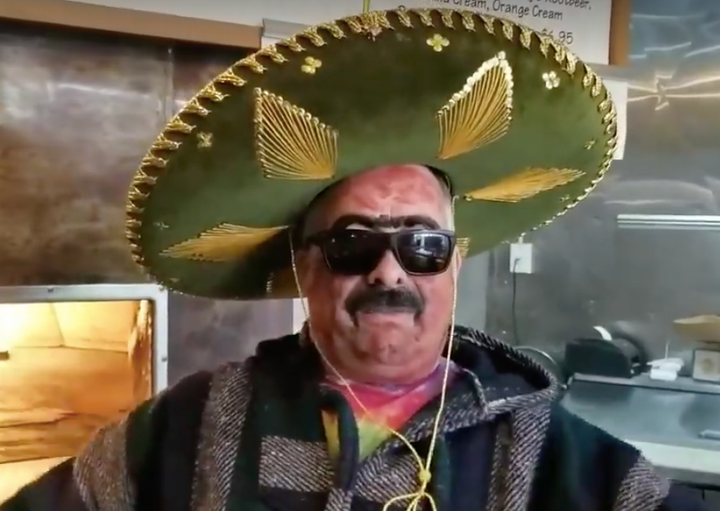 A restaurant owner in Boise, Idaho, is under fire for promoting a burrito menu in a truly tasteless manner.
Pizzalchik owner Brad Breakell recently filmed a promotional Facebook video in which he dressed as a stereotypical Mexican named "Billy Burrito," complete with sombrero, brown face paint and exaggerated accent. He talks about his restaurant's menu and name drops his friends "Tony Tortilla" and "Lenny the Landscaper."
Although the video was filmed around Christmas, Breakell only took it down this past weekend after receiving complaints that it was racist.
Breakell has a history of promoting Pizzalchik by posting wacky videos in which he dons wigs and costumes and assumes cartoonish personas. This is not the first time his advertising has led to accusations of racism.
Last summer, he made a big splash when he decided to dress up as a character named "Jacklyn Jaws." The costume consisted of a cardboard shark body with a cutaway in the mouth for Breakell's face.
However, when he painted his face black to blend in with the mouth and his lips bright red for contrast, he looked less like a shark's mouth and more like a guy in blackface.
When Breakell took down that video, he also posted an apology on Facebook, trying to explain his intent. "I am so sorry if I have offended anybody," he said in the clip. "I hope you can see that I am genuine in my apology to those of you who I've hurt, because this is not who I am."
What a difference half a year makes, because Breakell seemed more defiant when HuffPost contacted him on Monday.
"This is a menu for selling burritos and Billy Burrito is an acting part," he told HuffPost. "It's not racist. It's a character so I'm not being racist."
Breakell offered another apology of sorts: "Sorry if I offended anyone, it's not my intent. I'm just trying to market a menu."
That's unlikely to appease Yelp reviewers, who have been complaining about the video for the past five days. Comments include: 
"The flavors of racism overshadow cheese on these pizzas. Don't support this business."

"Racist owner who posts black face video, apologizes, proceeds to post a brown face video."

"The owner has repeatedly used racist black and brown face costumes, with heavily stereotyped accents to promote his restaurant."
Breakell's comments to HuffPost suggested that he still doesn't get why Mexicans or anybody else might be insulted by "Billy Burrito."
"Should I be insulted when people find out I'm Canadian and say, 'Eh. How 'aboot' that'?"
Calling all HuffPost superfans!
Sign up for membership to become a founding member and help shape HuffPost's next chapter
BEFORE YOU GO
PHOTO GALLERY
6 Mexicans Defy Hateful Stereotypes In Powerful Photo Series