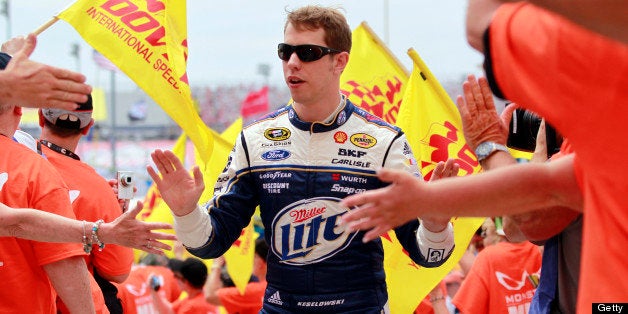 In nearly a decade of competing as a NASCAR driver, Brad Keselowski has developed a reputation as an outspoken, sometimes provocative presence (he recently said he would support an openly gay driver). The defending Sprint Cup champion is a self-professed lover of Army tanks, once live-tweeted during a Daytona 500 stoppage and infamously drank beer during a TV interview.
And while his behavior may seem like that of someone with poor impulse control, Keselowski suggested that his off-kilter image is by design: He wants his audience to see him drinking beer or starring in SportsCenter commercials.
"I think other drivers thought it was crazy, and I think the fans loved it," Keselowski told The Huffington Post of his tweeting episode. "You know you're doing things right when people think you're crazy."
The nine-time winner, who drives for Penske Racing, also seems to have been quick to speak out (perhaps too quick) recently when he was highly critical of two of his team's competitors, Joe Gibbs Racing and Hendrick Motorsports, suggesting those outfits had been poaching talent. Roger Penske himself later said Keselowski had made those remarks based on "misinformation".
Keselowski's persona as a daredevil who makes snap judgments is belied by the fact that he is well aware of the sport's inherent dangers. A day in the life of a NASCAR driver can quickly become hazardous: where other athletes may worry about concussions, ACL tears or broken bones, drivers incessantly worry about their very lives. And Keselowski suggested an indifference to that danger is a job skill, if taking risks means winning.
"You know the day's gonna come when you're gonna have to make a move that might put the other guy in danger, and you need to do it without hesitation," Keselowski said. "You need to be able to do that and walk away without a conscience ... You can hurt other people. Sometimes you have to put another person at risk to be successful. And you better do it."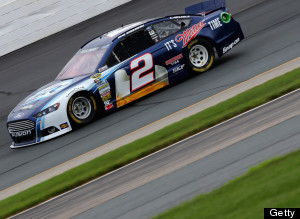 Keselowski, the current Sprint Cup champion, could become just the second-ever defending champion to miss the Chase. (Getty Images)
But taking such risks hasn't paid off yet for Keselowski so far in 2013. He may in fact miss the Chase, which would make him only the second-ever defending champion to do so. His recent performance aside, Keselowski seems determined to join the likes of Dale Earnhardt, Jeff Gordon or Jimmie Johnson as a household name.
"I don't want to be a one-time champion," he adds. "I'm nowhere having checked a significant amount of items off my bucket list ... Until I've checked all the items off my bucket list, there's gonna be desire."
At 29 years old, Keselowski may be too driven to compete. He told HuffPost that he doesn't leave his cut-throat driving style on the track, where at least other drivers are accustomed to fighting for position.
"I'm definitely aggressive on the road," he said. "I'm full-out aggressive. I'm the guy you don't want to be around in traffic. You're not supposed to [bump other drivers], but I definitely have. I get a lot of looks, mostly a lot of panic ... I feel like sometimes I work just as hard to have fun."
Email me at jordan.schultz@huffingtonpost.com or ask me questions on Twitter at @Schultz_Report. Also, be sure and catch my NBC Sports Radio show, Kup and Schultz, which airs Sunday mornings from 9-12 ET, right here.
REAL LIFE. REAL NEWS. REAL VOICES.
Help us tell more of the stories that matter from voices that too often remain unheard.